Antique, classic vehicles to roll down city roads on Sunday; route winds from SoBo to Bandra-Kurla Complex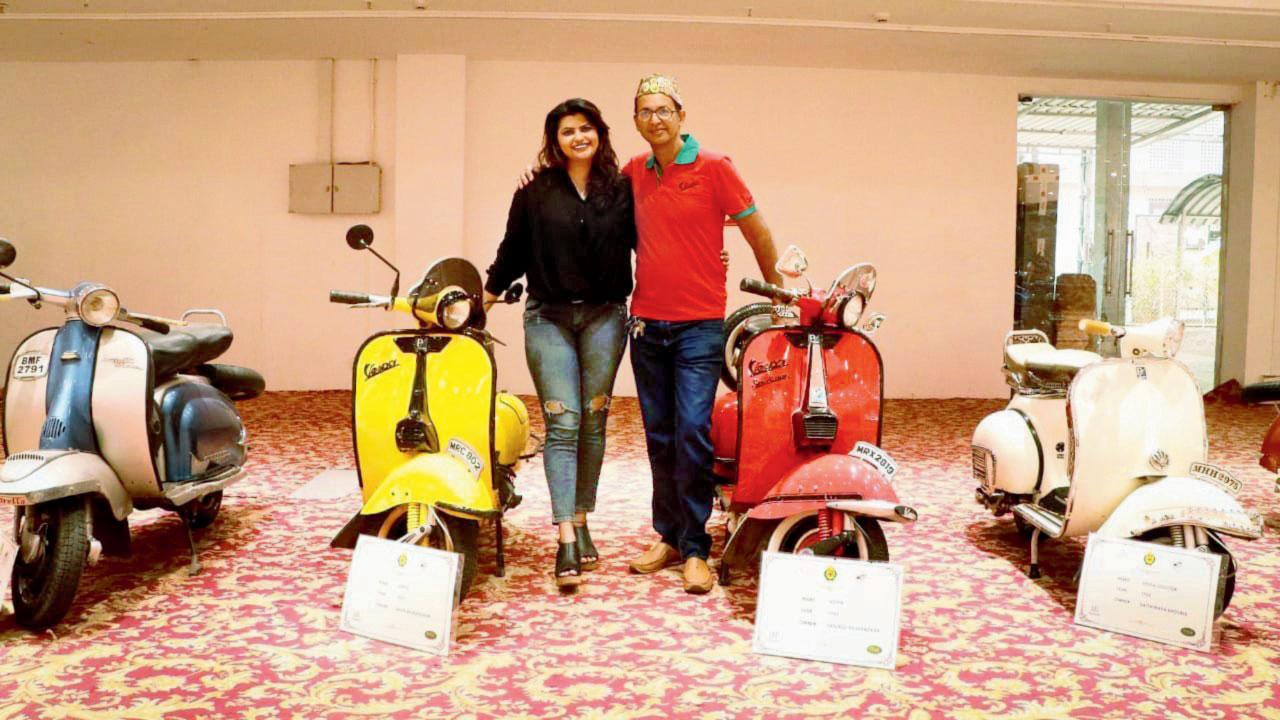 Saili Bhiwandkar with her father, Sanjeev, and the haldi-kumkum combine
Saili Bhiwandkar from Girgaum is going to ride her trusty 1967 Vintage Vespa scooter in the Vintage and Classic Car Club of India (VCCCI) annual vintage car fiesta on Sunday, February 12. The rally will see golden oldies starting from Cuffe Parade, moving to Bandra-Kurla Complex (BKC) and back, a distance of 50 km.
Tortoise
ADVERTISEMENT
Saili, 31, a freelance fashion designer said that distance is just a fraction of her recent bike ride, Mumbai to Goa, in December for India Bike Week (IBW). She recalled, "There I was on my vintage Vespa [150 CC] scooter, surrounded by mostly men riding 300 CC to 3000 CC bikes. Here was the tortoise amidst the hares! The tortoise was keeping up though, and at times, the hares were chasing the tortoise," she laughed.
Saili's scooter belonged to her late grandmother. She said, "My father's mother used to ride this to work and for odd jobs. I lost my grandmother a few years ago. My father, Sanjeev Bhiwandkar, is also a rider and passionate bike collector. People would ask dad, why do you have so many bikes? You ride them currently, but who is going to ride them later? You do not have a son. We are two sisters."
Also read: Vande Bharat not terribly fast but it offers comfort
Sass
That spurred Saili on to riding bikes, which she started when she was 18. The easy rider said, "I told my father, I will ride those bikes." It is evident that Saili, who also is the lead at the famous Gudi Padwa two-wheel rally in Girgaum, which is an amalgamation of tradition and some new age swag, has inherited the same sass that her scooter riding grandma had. "We never sold gran's scooter. It has a special place in all our hearts. I ride superbikes, in fact, all kinds of bikes, but this granny's vintage scooter is really for me. I feel her spirit when I ride it. She garnered a lot of eyeballs when she rode it, as during that time [she would have been 80 now] not too many women rode two-wheelers," laughed Saili.
Safety
Though the scooter may be vintage, Saili cautioned, "Safety must always be in tune with the times. I tell all riders, always wear a helmet, that actually goes without saying, and I have also customised my leather jacket with unique features that I wear on rides."
Her father, Sanjeev Bhiwandkar developed a passion for bikes after working in his father's workshop, when he was a student. Sanjeev said, "Among several bikes, I also have a Vespa Sportique 1963 Limited Edition, 4-speed red scooter. When I ride that scooter, along with my daughter who is on her yellow scooter, we are called 'haldi-kumkum' because of the colour combination. Once, at a Pune rally, the announcer shouted, "haldi-kumkum are the winners. It was then that I realised our scooters have been nicknamed." Over 150 owners of classic and antique vehicles will be participating on Sunday, which is the 40th Annual Vintage Car Fiesta.