Parents demand change of SSC centre from Wadala school which has asbestos sheets for a roof making it unbearably hot, has benches and desks meant for primary schoolers and is surrounded by noisy shanties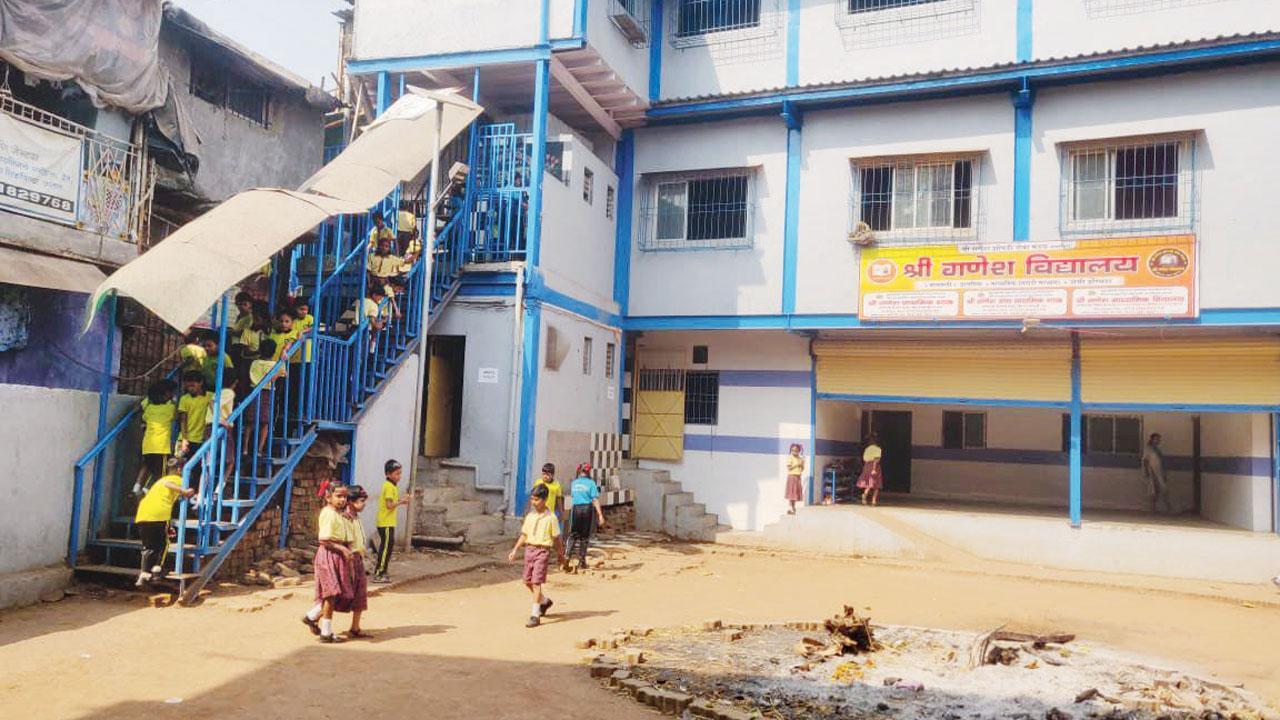 Ganesh Vidyalaya in Wadala
An exam centre, bang in the middle of shanties and shops along with insufficient fans and ventilation, has SSC students and parents of the Dadar Parsee Youth Assembly High School demanding  an immediate change of exam venue. The school administration on Thursday wrote to the Maharashtra state board of Secondary and Higher Secondary Education's (MSBSHSE) Mumbai division seeking the change. A total of 170 schools have been allotted exam centres at Ganesh Vidyalaya in Wadala.
According to parents who did not wish to be identified, the centre allotted to their wards at Ganesh Vidyalaya does not have proper infrastructure. There are not enough fans, and desks are marrow making it inconvenient to write on. "If one leans out of a window, one can touch the houses next to the school. These structures also block ventilation. The weather is already hot and students have to sit in those classrooms with asbestos sheet roofs that aggravate the heat. There is noise at times from the vicinity. How can one can have an exam centre in such a place? Still, our children appeared for three exams from the centre. We have complained to the school," a parent said.
ADVERTISEMENT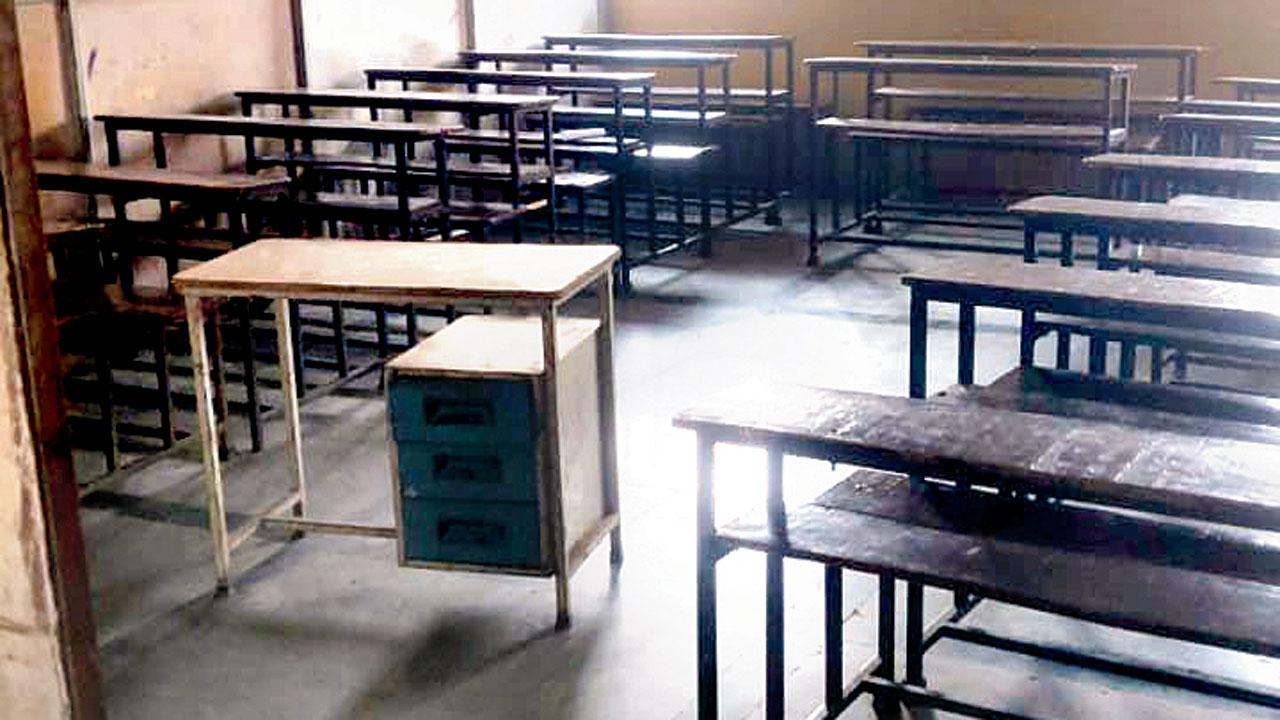 A classroom with narrow benches and desks and an asbestos roof that makes the room extremely hot
In a letter to Dr Subhash Borse, secretary of MSBSHSE's, Mumbai division School's Principal R Parelwalla stated, "This is regarding complaints received from students and parents of our school who have been allotted a centre at Ganesh Vidyalaya, in Wadala. It has no proper infrastructure, benches and desks are small and meant for primary schoolchildren. They have holes in them, causing inconvenience while writing. Also, there is too much disturbance from outside as it is located in a slum area. There are no fans, and no proper ventilation in the examination blocks. The roof is made of asbestos sheets, making the room unbearably hot for children to sit there for three hours. Children sweat profusely and are unable to concentrate on the exams. We request that you take immediate action...," the letter read.
Also Read: Once a dropout due to Covid-19, this Maharashtra SSC student is overcoming language barriers to prepare for board exams
After being approached by a few parents, members of Yuva Sena visited the school and found the situation as mentioned in the school's complaint letter. "Ganesh Vidyalaya does not seem to be fit for an exam centre for a board exam. How did the state board's Mumbai division let it conduct board exams? Have board officials visited the school or blindly allotted it as a centre for the SSC board exam? We have demanded that the board change the centre for these students," said Pradeep Sawant, Yuva Sena leader and former senate member of Mumbai University.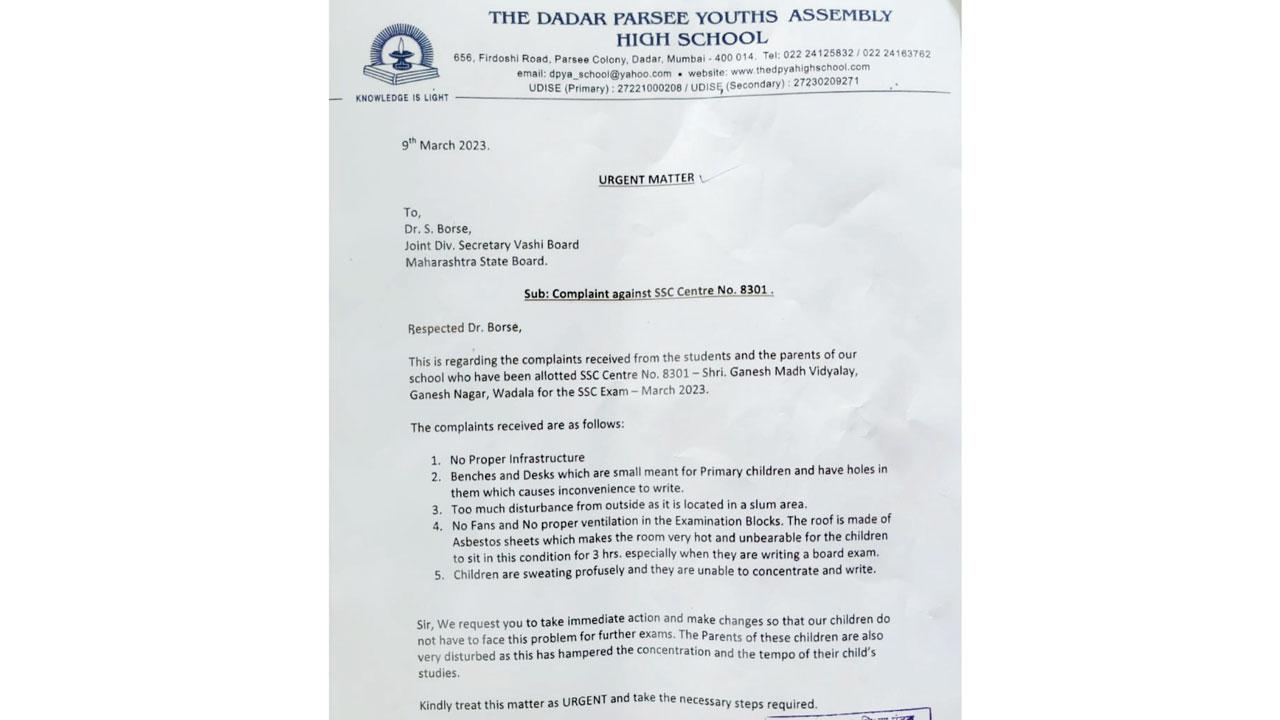 The letter written by the management of Dadar Parsee Youth Assembly High School
Of the 170 students, 20 are from The Dadar Parsee Youth Assembly High School. When contacted, board officials said they had informed the centre in charge, and they would ensure that students were not inconvenienced henceforth. Dr Subhash Borse, secretary of MSBSHSE's Mumbai division, said, "We informed the education inspection of the south zone, who sent an official to the exam centre for review and inspection. We have already spoken to the school administration and the centre in charge to make necessary arrangements and ensure students are not inconvenienced."
170
No of SSC students giving exams from the centre
"Exciting news! Mid-day is now on WhatsApp Channels

Subscribe today by clicking the link and stay updated with the latest news!"
Click here! Do you agree with the management`s decision of only letting devotees offer jal abhishek at Babulnath temple?