BMC passes proposal to build a four-lane flyover from Juhu circle to Mayor Hall which is expected to reduce travel time from Juhu circle to WEH to 10 minutes from current 45 minutes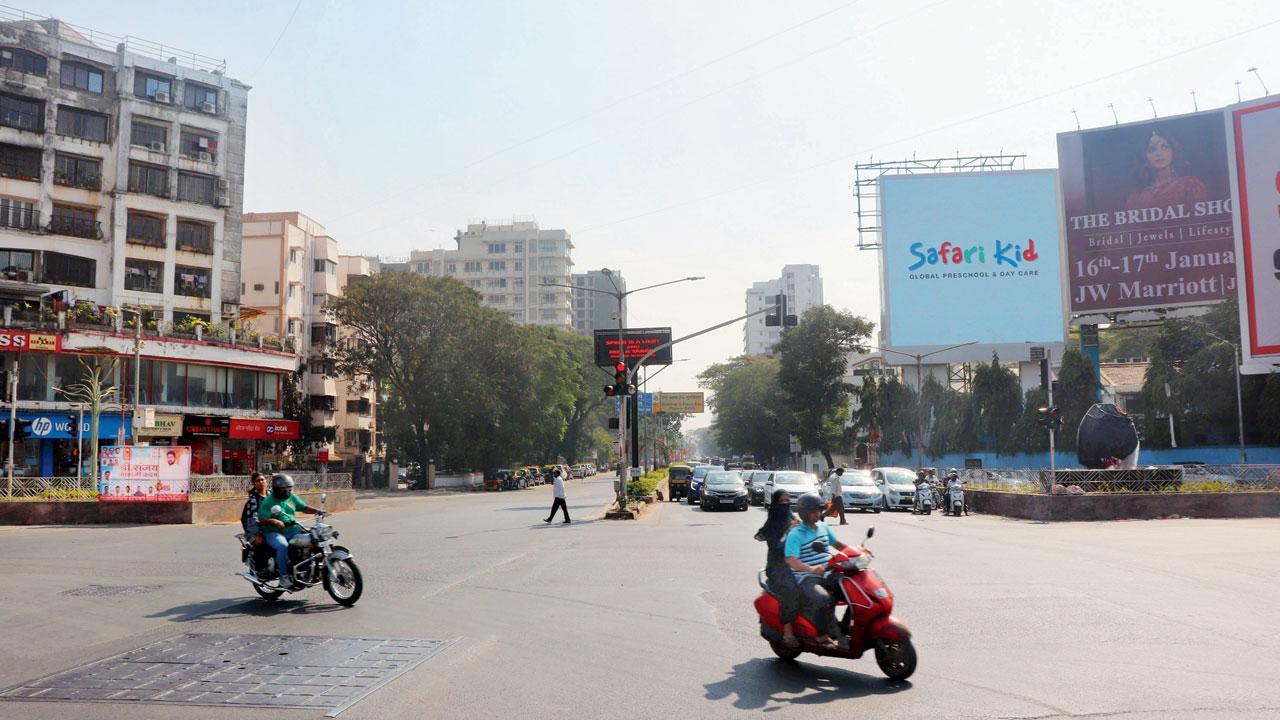 Once the flyover is ready, the travel time from Juhu circle (in pic) to Western Express Highway will be reduced to 10 minutes. Pic/Anurag Ahire
The BMC has finally passed the proposal to construct a flyover from Juhu Vile Parle Development (JVPD) Scheme circle, popularly known as Juhu Circle, to Mayor Hall on Barfiwala Road. The 1.65-km-long flyover, which has been in talks since 2016, will be built at a cost of R650.90 crore and will reduce the travel time from Juhu to Western Express Highway to 10 minutes from the existing 45 minutes.
The Brihanmumbai Municipal Corporation started planning for this flyover in 2016 and accordingly appointed two consultants. Due to the presence of a Metro station, the civic body changed the path of the flyover so that it passes parallel to the Metro line. This route goes over land owned by the Airport Authority of India. The proposal passed last week by BMC chief Iqbal Singh Chahal stated that the civic body has paid Rs 11.16 crore to the Airport Authority of India for allowing construction of flyover pillars on their land.
ADVERTISEMENT
Also read: Mumbai: Hawkers take over footpath guardrails meant for citizens
Civic officials said that it would take 36 months, excluding monsoon, to construct the flyover. As per officials, the flyover will be a four-lane one with two-lanes on each side and will help decongest the busy Juhu circle. The work on the bridge was delayed as nobody had taken interest in the earlier tenders floated by the civic body. The BMC had first invited bids for the project at an estimated cost of Rs 350.13 crore on August 8 last year. After there were no responses, the civic body learnt that the estimated cost was calculated based on rats from 2018. The BMC then modified the project cost to Rs 414.10 crore and floated fresh tenders on September 29. 
The civic body finalised on a bid of Rs 436.29 crore, which brings the total project cost to Rs 650 crore which also includes Rs 87 crore paid for consultancy and Rs 11.16 crore paid to the airport authority. 
Rs 650.90 cr
Total cost of the project