People from places like Dombivli, Mira Road, Vasai-Virar, the worst affected by lockdown, embrace reopened locals, even as city stations see low footfall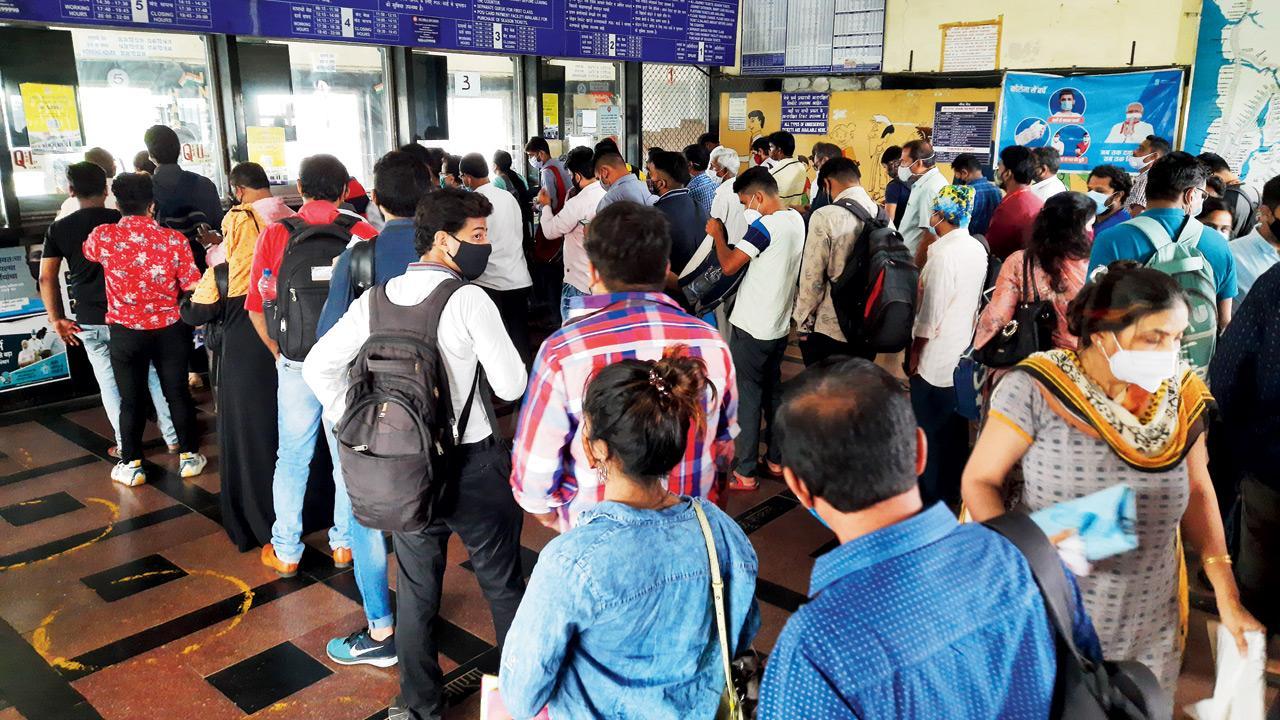 The ticket counter at Mira Road station witnessed large crowds on Tuesday
Even as stations within Mumbai saw only slightly more commuters on Tuesday than Sunday and Monday, those in the Mumbai Metropolitan Region (MMR) saw a huge rush of people getting their vaccine certificates verified and buying season tickets. With a majority of the people who live in MMR relying on Mumbai for jobs, commuters had been desperate for trains to resume operations. As more people get vaccinated and become eligible to travel, officials across stations are expecting crowds to increase in the coming weeks.
On the first proper working day on Tuesday since trains resumed for the fully vaccinated, railway stations did not see much crowding though there was a rise in passenger footfall. Commuters heaved a sigh of relief at getting some convenience back into their daily commute.
ADVERTISEMENT
The increase in crowds was more pronounced at booking counters as many turned up with their vaccine certificates to get their monthly passes. The top stations for sale of passes were Dombivli and Borivli.

The helpdesk to verify vaccine certificates at Andheri station on Tuesday. Pic/Pradeep Dhivar
"I will be travelling from today and hence am getting the pass. I did not do it earlier because there was some confusion about dates. I did not want to lose any days," Narendra Bhatkar, a commuter at Thane station said.
Dadar
At Dadar, while all entry and exit points were still barricaded, there was no strict system to check the eligibility of every passenger entering the station. However, at ticket windows, the rules were followed.
Kirti Deshpande and Anuradha Golipkar, travelling from Dombivli to Malad via Dadar, were more than happy on Tuesday. "Yes, this comes with restrictions, but these many are fine. This might encourage vaccination too," said Golipkar, who works for the FDA (Food And Drug Administration). "Train travel may also decrease the fear among people who continue to be at home," said Deshpande, who boarded a train after a long time. "Since the first lockdown, this is the first time that I boarded a train. It feels like life is coming back on track," she added.
Geeta Gupta from Thane, however, questioned the requirement of full vaccination. "My workplace is in Dadar and physical work has begun after August 15. But I still have to wait as I am yet to take my second dose. What is the guarantee that the infection won't spread after taking the second dose? I know people who have been vaccinated even after the second dose," said Gupta, who was taking a bus from near Dadar station.