Mumbai local trains: The Western Railway said that during the jumbo block period, some Up and Down suburban trains will remain cancelled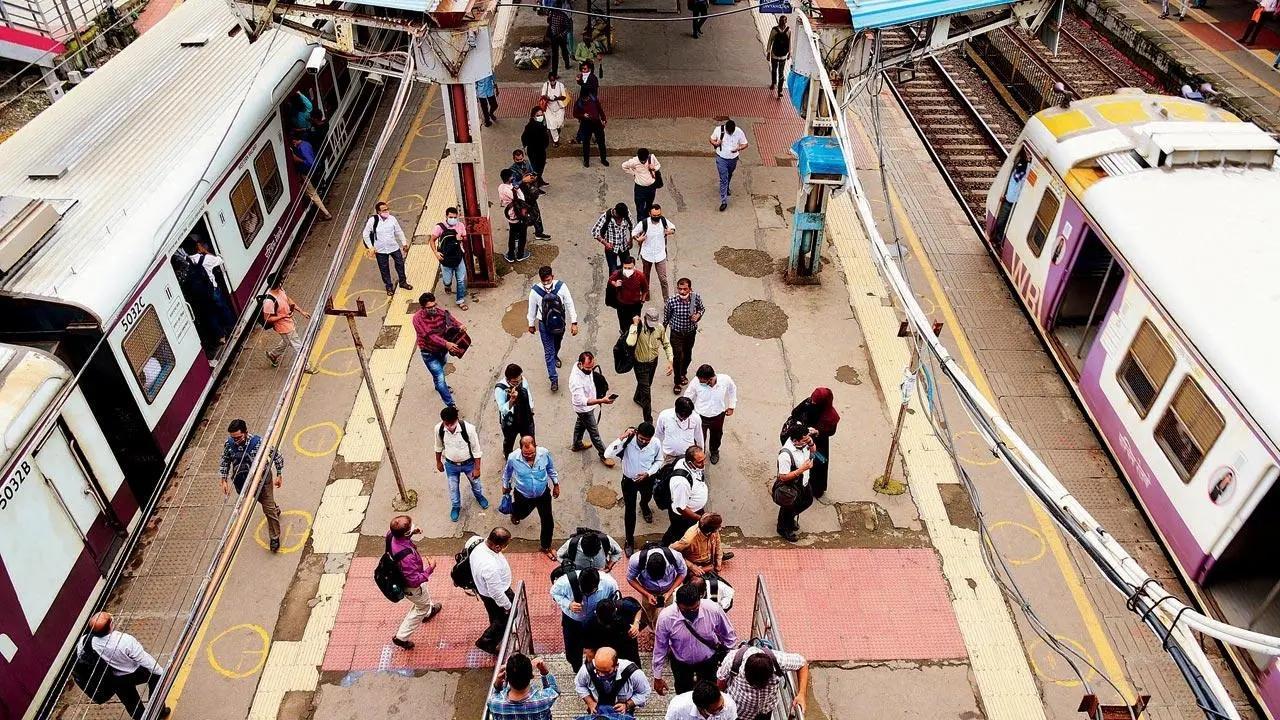 Representational Pic/File
Listen to this article
Mumbai local trains: Western Railway to operate 4-hour night block between Vasai and Bhayander
x
Western Railway on Thursday said that it will operate a 4-hour long jumbo block
During the block period, some Up and Down suburban trains will remain cancelled
There will be no block in the day time over Western Railway suburban section on Sunday
Mumbai local trains: Western Railway on Thursday said that it will operate a 4-hour long block on its Mumbai division on Sunday, October 1.
According to a statement, the Western Railway said that to carry out maintenance work of tracks, signaling and overhead equipment, a jumbo block of four hours will be taken on Up Fast Line from 23.30 hrs to 03.30 hrs and Down Fast Line from 01.15 hrs to 05.15 hrs between Vasai Road and Bhayander station on the intervening night of Saturday/Sunday, i.e. on 29th/30th September, 2023. 
ADVERTISEMENT
According to a press release issued by Public Relations Department of Western Railway, during the block period, all Fast line trains will be operated on Slow lines between Virar and Bhayander/Borivali station.
During the block period, some Up and Down suburban trains will remain cancelled. Detailed information to this effect is available with concerned Station Masters.
Passengers are requested to take note of the above arrangements.
Therefore, there will be no block in the day time over Western Railway suburban section on Sunday, 1st October, 2023.
Meanwhile, in an another statement, the Western Railway said that in anticipation of the heightened travel demands during the Eid-E-Milad and Gandhi Jayanti festivals, Western Railway is set to operate Special Trains on a Special Fare route between Mumbai Central and Laxmibai Nagar. This decision aims to facilitate the convenience of passengers and ensure smooth travel during the festive period, the Western Railway said in a statement on Thursday.
According to the Public Relations Department of Western Railway, the key details of this special train service are as follows:
Train No. 09053/09054 Mumbai Central – Laxmibai Nagar Superfast Special (02 Trips)
Train No. 09053 Mumbai Central – Laxmibai Nagar Special will depart from Mumbai Central on September 30, 2023, at 21:35 hrs, reaching Laxmibai Nagar at 11:00 hrs the next day.
Similarly, Train No. 09054 Laxmibai Nagar – Mumbai Central Special will depart from Laxmibai Nagar on October 1, 2023, at 16:50 hrs, arriving at Mumbai Central at 05:20 hrs the following day, the Western Railway said on Thursday.
"Exciting news! Mid-day is now on WhatsApp Channels

Subscribe today by clicking the link and stay updated with the latest news!"
Click here! Should housing societies be more cautious with their elevators and sewer lines?