A wildlife lover's actions led to arrest; the accused sought reptile's meat, oil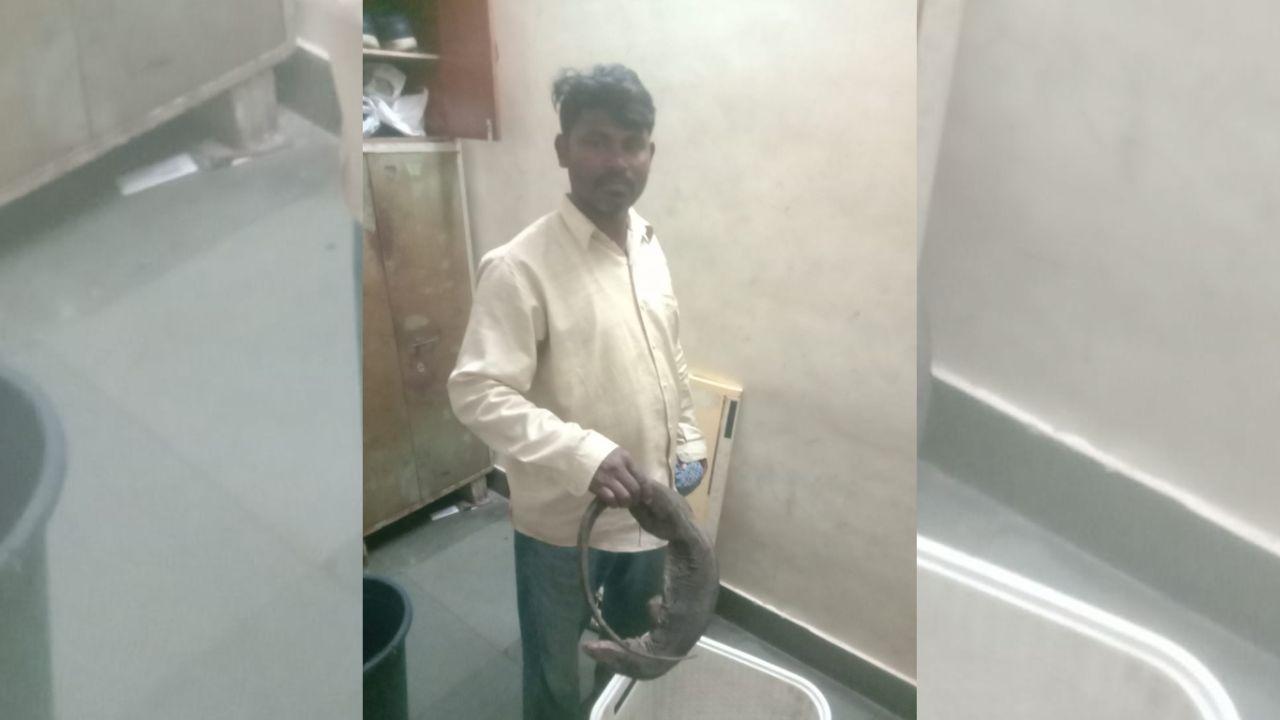 The accused has been arrested
A wildlife lover who resides near Aksa beach has helped the police and Maharashtra forest department to nab a person who was illegally smuggling a dead Indian monitor lizard with the intention of consuming meat and extracting oil for 'medicinal purposes'.
The accused has been arrested and the forest department is looking into whether he was involved in similar crimes. 
On the morning of September 14, Nathuram Suryavanshi, a nature enthusiast who had worked on a temporary basis with the Mangrove Foundation and is employed as a lifeguard at Aksa beach, was walking near a forest patch close to the beach when he saw a person holding a monitor lizard.  On spotting the lifeguard, the man quickly shoved the animal into a plastic bag.
Suryavanshi immediately informed the forest department and local police station about what he had witnessed. As the police station was close by, the authorities reached the spot and detained the person for questioning. However, it was found that the reptile had died.
Range Forest Officer (RFO) Rakesh Bhoir, of the forest department's Mumbai Range, said, "The accused was arrested on September 15 under various sections of the Wildlife Protection Act, 1972."
The accused has been identified as Gorakh Chakhoji Jadhav (35), a resident of Malhar chawl at Malad.
Also Read: Mumbai: Beach-goers, steer clear of beautiful bluebottle jellyfish
 
The investigating officer Narayan Namdev Mane, the round forest officer of Andheri, said, "Jadhav was produced before the court, which sent him into the custody of the forest department. During our investigation, the accused confessed that he had captured the Indian monitor lizard for its meat and to extract oil, as there is a belief that it brings relief to those who suffer from knee and joint problems. We are investigating the matter and trying to find two other people whom we suspect to be involved in the case."
 
Expert speak
Kedar Gore, director of The Corbett Foundation, said, "Wildlife poaching and trade in lesser-known species is a huge problem which should be addressed with utmost urgency. While all attention is generally given to mega species such as tigers, monitor lizards, pangolins, jackals, lorises, bears, tortoises and owls, many other species are being hunted at an alarming rate."
He added that continuous conservation awareness across all sections of society could play an important role in minimising wildlife trafficking incidents that are mostly triggered due to superstitions and myths. "If the demand is stopped, the supply will also stop. All enforcement agencies have to work together to control this. We need more stringent punishments in India for crimes against wildlife," Gore said.