Associate and assistant professors from four civic and one dental college say they are directly affected by the increase of retirement age of senior professors from 62 to 64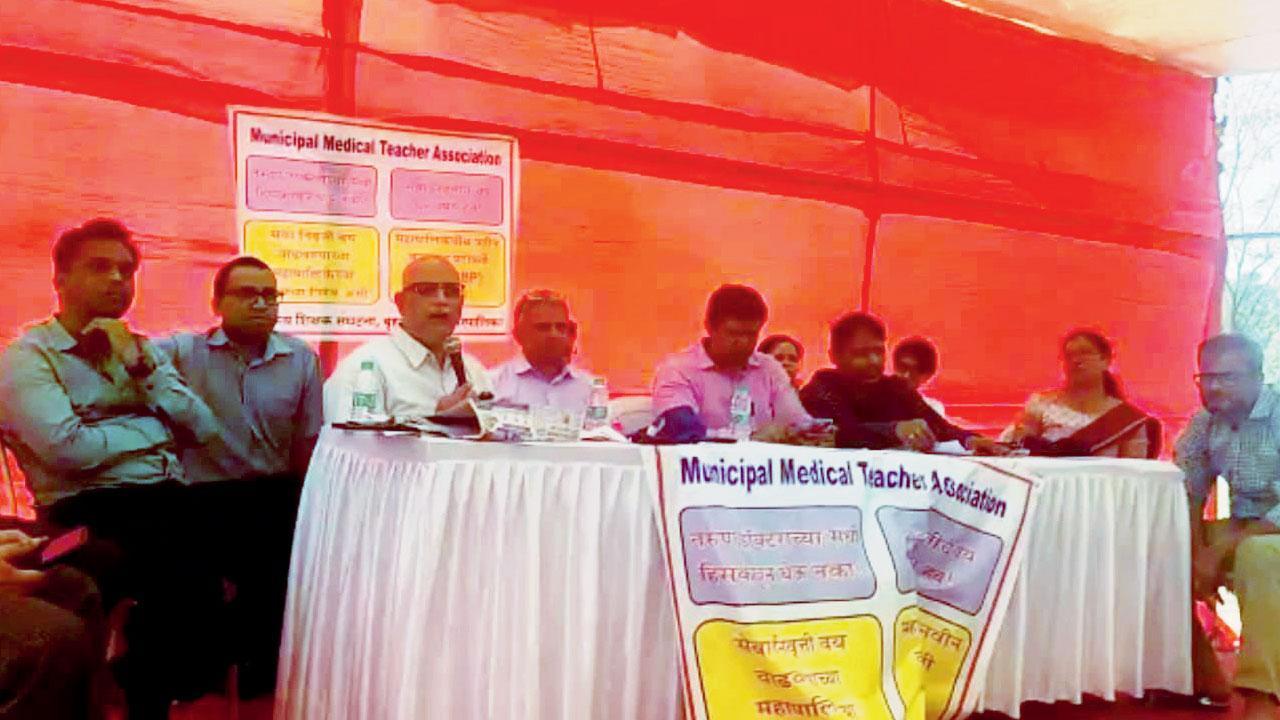 MMTA members stage a protest at Azad Maidan
Come April 1, agitations and court cases will be weapons the teaching faculty of four BMC hospitals and a dental college (members of the Municipal Medical Teachers Association) will use against BMC in opposition to an order increasing retirement age from 62 to 64 years. The order has directly affected the fate of hundreds of associate and assistant professors, who have been deprived of their promotions as professors and associate professors for over a decade.
The MMTA members had a recent meeting with Municipal Commissioner Iqbal Singh Chahal and even protested at Azad Maidan on Tuesday but claimed that they are being victimised by superiors at their respective medical colleges, forcing them to refrain from participating in the protest. They are also being threatened with adverse remarks in their confidential service records, which will ruin future prospects, said a senior doctor from MMTA.
ADVERTISEMENT
"We have been vocal about issues that directly affect the future prospects of our teaching faculties, who were COVID warriors in the true sense. Instead of applauding their sacrifice, this reward is being given to those who are on the verge of their retirement and are responsible for compelling the MMTA to raise their concerns, thereby adversely impacting healthcare services. We have no option but to move a writ petition in the Bombay High Court soon if our of demands are not fulfilled," said Dr Ravindra Deokar, secretary, MMTA. He added, "Out of 846 vacant posts, there are 170 professor posts vacant from the MPSC's side."
Also Read: Mumbai: City gardens to get toilets, drinking water, assures CM Eknath Shinde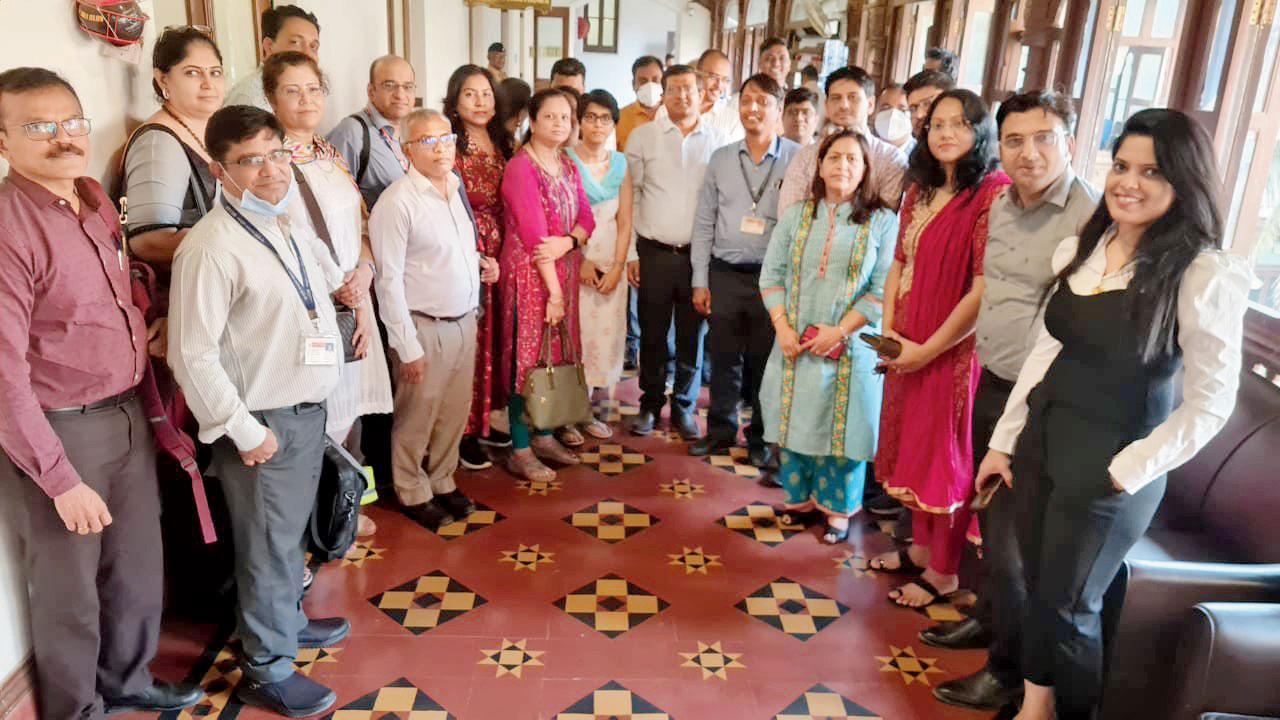 MMTA members met civic chief Iqbal Singh Chahal on Tuesday
MMTA has alleged that the deans of the civic-run medical colleges wrote a self-recommendation letter to increase the age from 62 to 64 years on February 27, 2023, and got it approved by Chahal, who used his discretionary powers, the very next day. "We are vehemently opposing this," said Dr Roshan Wade, associate professor at KEM hospital and joint secretary, MMTA. However, Dr Mohan Joshi, dean of LTMG hospital, has refuted these claims.
LTMG hospital dean reacts
Asked about the reason for a writing self-recommendation letter to increase the age of deans and getting it approved at lightning speed, Dr Joshi, one of the letter's signatories, said, "The fact is that it is not about increasing the age of mere deans, but of every teaching faculty in municipal medical colleges. Moreover, the decision to increase the age of deans and others in civic-run medical colleges and hospitals was mooted long ago by our predecessors and the decision has only come now after a lot of consideration at both the civic and state government level, which we are obliged to accept."
Dr Wade, however, said, "It was during the pandemic era that Chahal used his discretionary power and gave an extension of one year of service, citing COVID, and assured the agitating MMTA union that there wouldn't be any further extension of age. Also, the same civic commissioner passed an order, stating that senior teaching faculties at medical colleges above 55 years would not be working in COVID wards. So giving an extension of an additional year was meaningless and a waste of manpower." 
On vacancies
Dr Joshi stated, "We have 846 vacant posts under the MPSC at different levels and we must understand that one professor's post lying vacant means stalling nine postgraduate students' entry, which will diminish drastically if this continued. At present, the intake of undergraduate students at LTMG has been increased from 60 to 200, KEM 180 to 250, Nair 180 to 200 and Cooper 100 to 200. We are in the process of filling  teaching faculty vacancies."
When informed that vacancies have been piling up over the years since 2003 in civic-run medical colleges, Dr Joshi downplayed the issue, stating, "We cannot have temporary teachers, who as per norms have to be put on a break after completion of two or three years and hence will be soon opting for hiring them."
Dr Wade said, "It is surprising that statistical data on vacancies are used as per the dean and directors' convenience. The fact is that MPSC had given a waiver in the recruitment policy to the BMC between 2018 and 2021, wherein the civic body could directly recruit assistant professors, associate professors and professors, easily filling posts. And it was only in 2022 after the MPSC chairman was appointed that the waiver was withdrawn.
Asked whether it was correct to deprive juniors of promotions by extending one's tenure, Dr Mohan Joshi, said, "We (the deans) are the academic planners of medical education and medical health system. I am 200 per cent certain and I accept the decision of the BMC and government, which is at par with other state government practices and it is in the larger interest of enhancing medical education and medical services. Only a few teaching faculty members associated with MMTA, mostly from KEM, are agitating and using the media to raise their concerns, which is not correct."
Dr Wade said, "The working conditions and service rules for state and civic-run medical colleges are completely different. Moreover, this clearly shows that the deans are self-centric, and the extension of age has been done purely out of self-interest motive. Speaking our concern in the public domain is our fundamental right and therefore the MMTA association has been formed to raise collective concerns."
Will extension really help?
Asked how two additional years will help overcome the crises, Dr Mohan Joshi said, "I have chalked out a lot of plans for the improvement of the existing systems. For instance, four new postgraduate seats in Surgical Gastro, Superspeciality in Nephrology, Blood transfusions, Hematologic Oncology, etc, have already been started this academic year at LTMG. Also due to our collective efforts, 85 DNB seats were created in six peripheral hospitals in the suburbs, of which 70 seats have been approved and 15 are expected soon. Also, construction work for setting up a new nursing college (LTMG a has nursing school), to increase the ward capacity to 3,000 from the present 1,750), is underway and will be completed in the next five years."
"Also the civic corporation has sanctioned R60 crore to start with construction work for a ground-plus-12 floor radiation oncology centre and we are in the process of obtaining required permissions from the Atomic Energy Regulatory Board. The building will have wards, ICUs and operation theatres for oncology treatment," explained Dr Joshi. According to Dr Wade, KEM and other civic-run hospitals were once amongst the topmost institutes in the country but have fallen drastically in terms of national ranking. 
"It is a well-established practice in all the topmost central medical colleges, including AIIMS, wherein the deans, director, heads of department and all administrative posts are relinquished after the age of 60 years and occupants are then given an extension . Also, when we as an association, raise our concerns openly, we lack open support of our members, as they are threatened and victimised, which is not possible in a central institute, as the administrative duties have to mandatorily relinquish their post at the age of 60. Then, the HOD or dean or director has to work under his junior, they, therefore, cannot victimise anyone."
Meanwhile, Dr Sanjeev Kumar, additional commissioner (public health), said, "We will sit with MMTA members and discuss their issues. We will see to it that hospital services are not hampered and people are not inconvenienced."
MMTA's demands
>> Immediate cancellation of circular on retirement age extension
>> Relinquishment of all administrative posts at age of 58.
>> Immediate mplementation of revised timebound promotions scheme in BMC.
>> Immediate recruitment to all vacant professor, associate and assistant professor posts.
Source: Dr Ravindra Deokar, secretary, MMTA
846
No of vacant posts under MPSC