While the second phase of Metro Line 2A and Line 7 have pleased many, some transport experts, commuters and stakeholders have a few suggestions to make the rides even smooth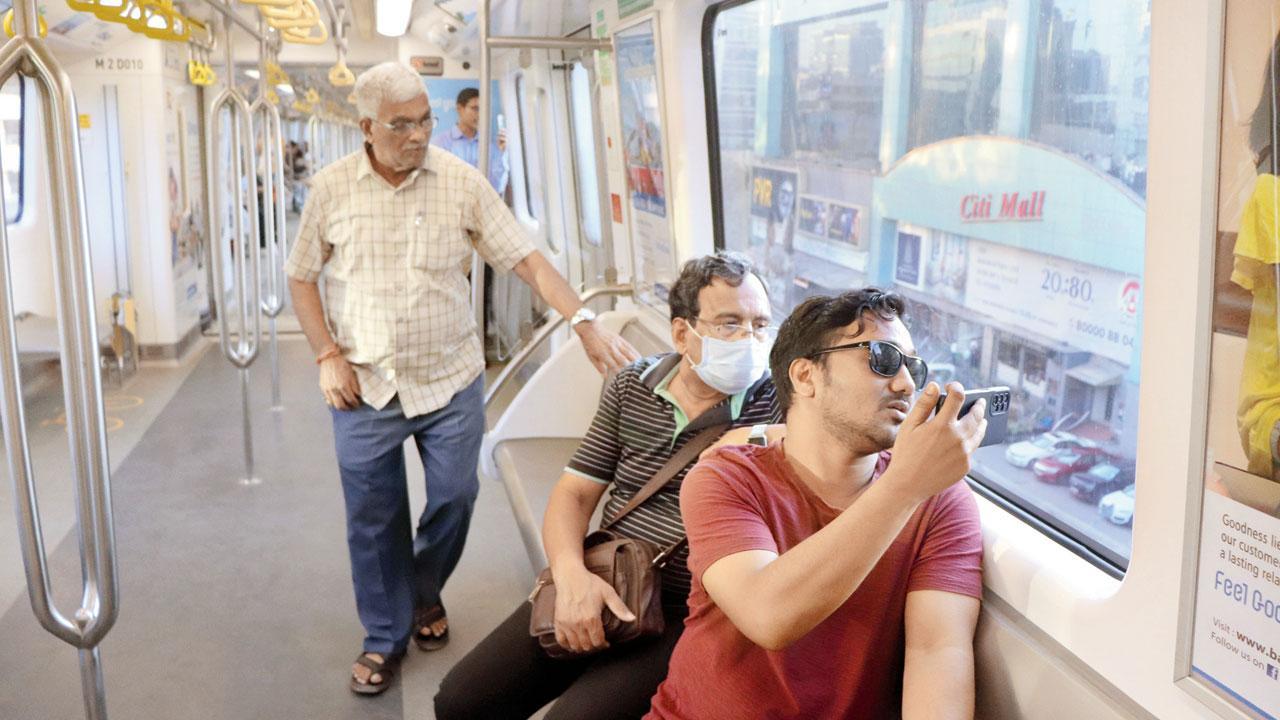 Commuters have largely enjoyed their ride on the new Metro lines. File pic/Anurag Ahire
A week after the two new Metro lines started in the western suburbs, changing the dynamics of commuting, transport experts, commuters and stakeholders have made a number of observations and a host of suggestions to further improve the services. "There have been many small and big changes since the new lines started. Auto rickshaw drivers have started to ply on shorter distances. They have started to wait below metro stations in anticipation of last mile connectivity. I have also observed a marginal increase in BEST bus speeds and in fact, feeder routes to metro stations will help increase metro passenger numbers. Slowly, the acceptance of Metro lines is picking up, probably because the cheaper ticket is attracting one and all. The travel speed of Mumbai Metro trains seems much slower in comparison to that of Delhi as some have commented. It can be further picked up to reduce travel time," Dhaval Shah, co-founder of Lokhandwala-Oshiwara Citizens' Association, said.
'Good connectivity'
ADVERTISEMENT
"I would like to thank the present government for having given us a New Year gift by starting the second phase of Metro Line 2A and Line 7. In the years to come, Mumbai will replicate Delhi as far as connectivity is concerned. The second phase of the two metro lines made life easier and the ride affordable and convenient for the common man," said consumer and human rights activist and transport expert  Mohammed Afzal.
Also Read: Mumbai: Have not been getting long trips since new Metro lines started, say auto drivers
"By having the share-an-auto facility, ridership on both metro routes will increase considerably till Kashimira from Dahisar east metro station. This could be possible if one-way auto fare is Rs 50 and 33% is added to this fare. Looking into the fact that three people will travel in each rickshaw, the total cost, R88, will be divided into three, costing each passenger Rs 29 for a one-way trip. The auto rickshaw driver will make an extra Rs 40, the citizen will pay Rs 21 less, benefiting everyone. It will be a win-win situation for all," Afzal added. He has also written to the chief minister's office about his suggestion.
'Maintain proper roads'
"I suggest to the BMC and BEST that they must ensure good road conditions below the Metro lines and also see those parallel routes like 229, C12, 40 LTD, 348 Ltd, etc. running as alternatives," commuter Ameya Mandrekar said. "This is the right time for Western Railway to start fast local trains that won't stop between Dahisar and Andheri. It will push passengers to the Metro and be beneficial to those traveling from places beyond Dahisar. Those who want to travel between Dahisar and Andheri on trains will have a slow train option," a local train commuter suggested. Do you often find yourself in the middle of office politics?