Autorickshaw drivers say long-distance customers have more than halved; overall, 2A thins traffic on Link Road, but Line 7 yet to impact peak-hour crush on Western Express Highway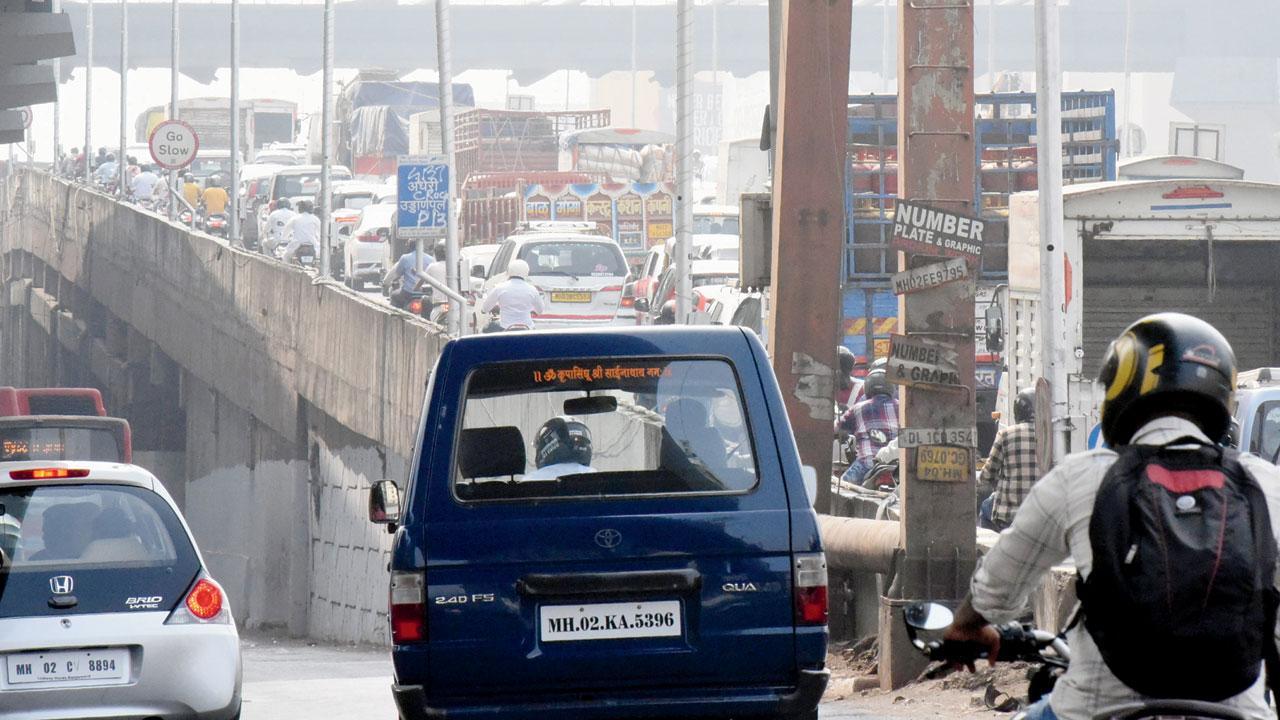 Traffic jam on Western Express Highway near Gundavli Metro station, on Monday. Pics/Sameer Markande
With the entire corridors of Metro 2A and 7 being operational for over a week, mid-day took to the roads along the lines to see the current situation. During the drive, the correspondents found that while there was reduced traffic movement on Link Road below Metro 2A, the situation did not change much for Western Express Highway along Metro 7. Auto rickshaw drivers said their business has been hit severely due to Metro services.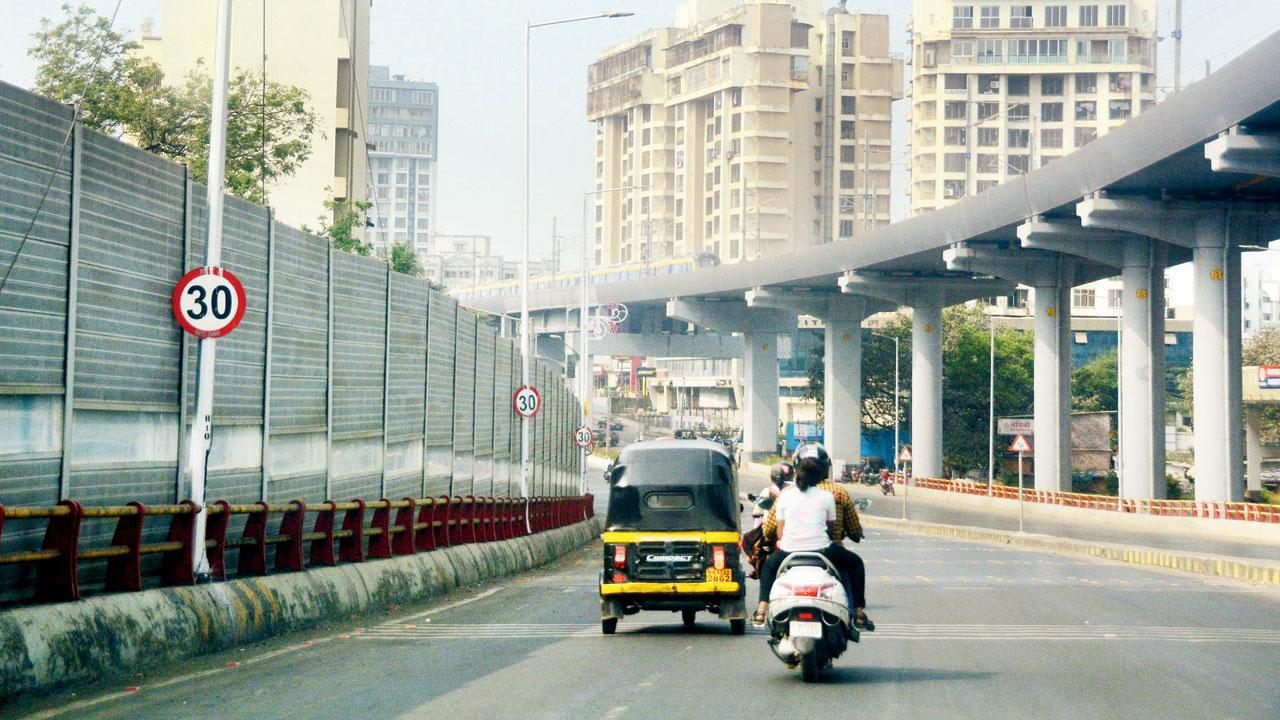 An empty Link Road along the Metro 2A corridor, on Monday. Pic/Sayyed Sameer Abedi
ADVERTISEMENT
The drive by mid-day saw that office-goers and daily commuters between Dahisar East and Gundavli in Andheri East and DN Nagar in Andheri West were happy with the Metro services, but auto rickshaw drivers along these routes were hit. 
Metro Line 2A
During the drive along Link Road below Metro 2A from Dahisar East to Andheri West, mid-day saw that there was significantly less traffic on the road. Only a few places, where the Brihanmumbai Municipal Corporation is carrying out road concretisation work, had slow moving traffic.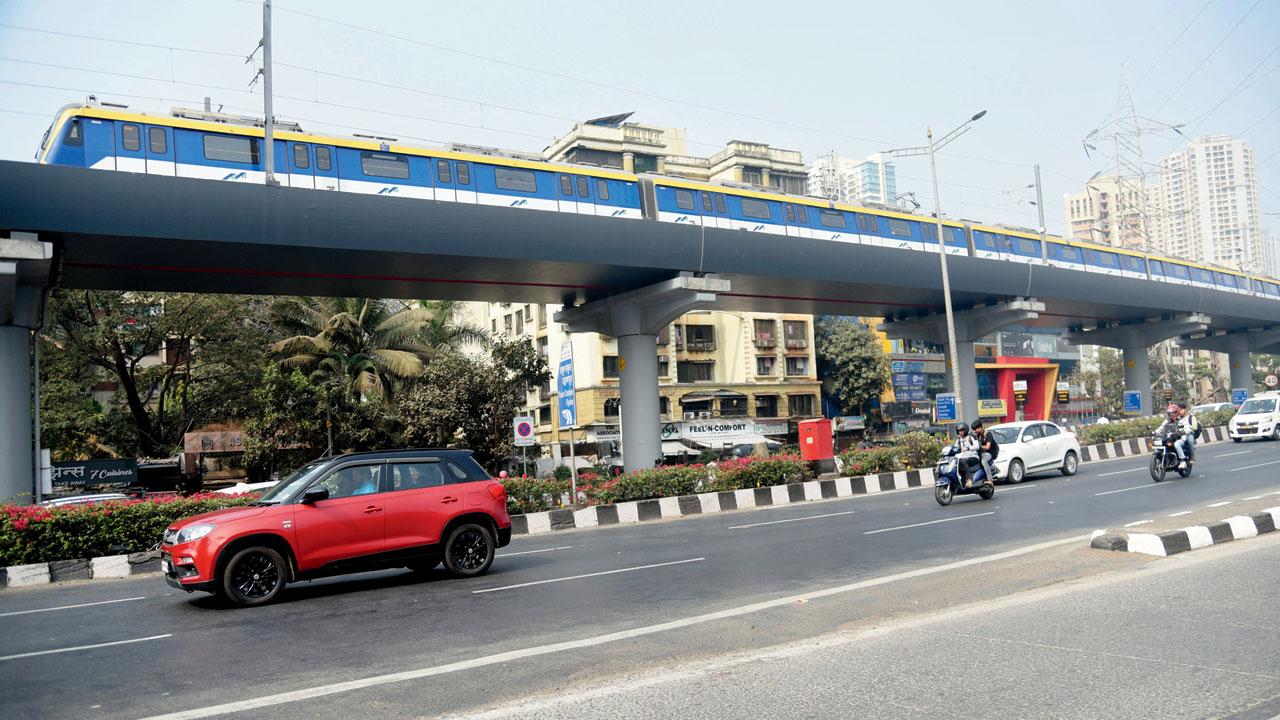 There were comparatively less vehicles on Western Express Highway near Magathane Metro station, Borivli on Monday, but cops and commuters said there has not been much of a change in the traffic movement on the highway. Pic/Sameer Markande
The correspondent also noted that below a few stations along this line, two-wheelers and four-wheelers were parked not only on the footpath but also on the road, causing inconvenience to the vehicles on the road.
Also Read: Mumbai Metro 2A and 7: Check timings, full schedule and fare
'Visibly less traffic'
Motorists travelling between Dahisar and Andheri via Link Road said that the journey, which used to take 60-90 minutes earlier, has now come down to 40-55 minutes. Musician Abbey Fizardo said, "I am happy that Metro 2A has started as it reduced the road traffic on Link Road. I have noticed that the number of autos and private cars on this stretch has decreased, which has helped other motorists like me. I think office-goers have started taking the Metro as it not only saves money but also time, especially during the morning and evening peak hours."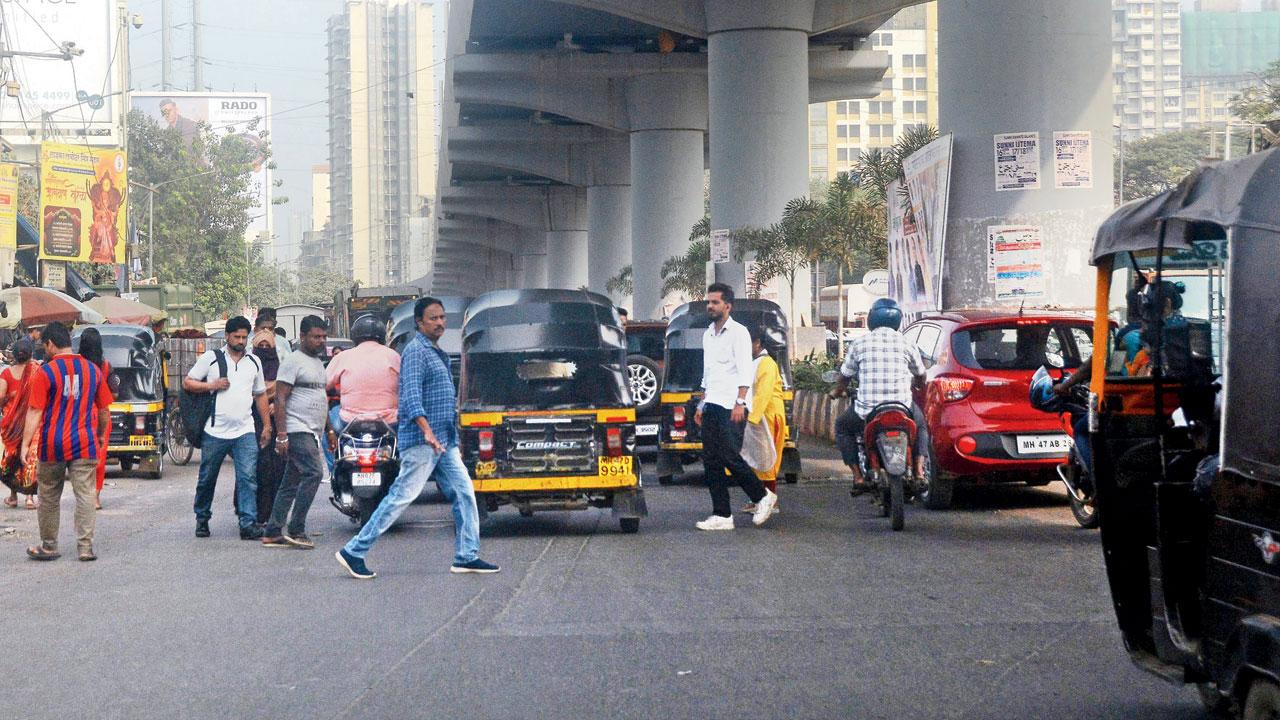 A shared auto rickshaw stand near DN Nagar station. Pic/Sayyed Sameer Abedi
Auto rickshaw drivers attributed the decrease in traffic to people preferring Metro over travelling by road. A new shared auto rickshaw stand has also come up below DN Nagar Metro station. The drivers illegally ferry four passengers from the station to Adarsh Nagar, Lokhandwala and other nearby places.
'Business badly hit'
The auto drivers mid-day spoke with said that their daily income has reduced a lot since the Metro services started. Some even said that they are seeing a 50 per cent dip in their income as the number of long distance journeys has decreased.
Sunil Ghandat, who has been driving auto rickshaws for the past nine years, said, "Before the Metro corridor was operational, I would frequently get long-distance passengers between Andheri and Dahisar. But now, we mostly get passengers for a short distance. The only good thing is that there is less traffic on Link Road since the Metro started, which helps us save fuel."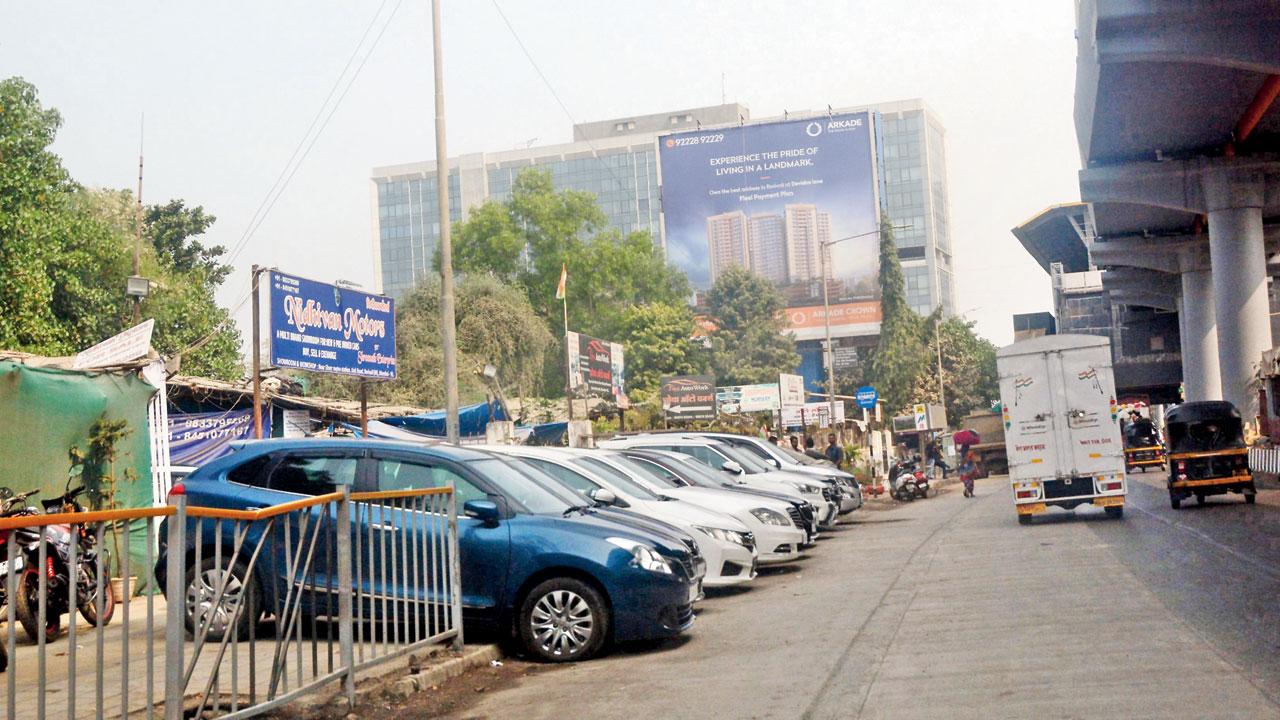 Four-wheelers parked on the road near a Metro station. Pic/Sayyed Sameer Abedi
"The ones to be badly hit by the Metro services are auto drivers like us. With the rise in CNG prices, our income was already affected. Though I have a few fixed long-distance fares daily, I am worried that even these passengers will shift to taking Metro over auto," said Sriram Prajapati, who has been driving rickshaws since 1996. 
Metro Line 7
Like Link Road along Metro Line 2A, a mid-day team on Monday travelled on Western Express Highway which runs along Metro Line 7. When the team spoke to other commuters, they said there has not been any significant changes in the travel time with a maximum reduction of 10 minutes. Auto rickshaw drivers, however, said their business has taken a serious hit since the Metro services became operational.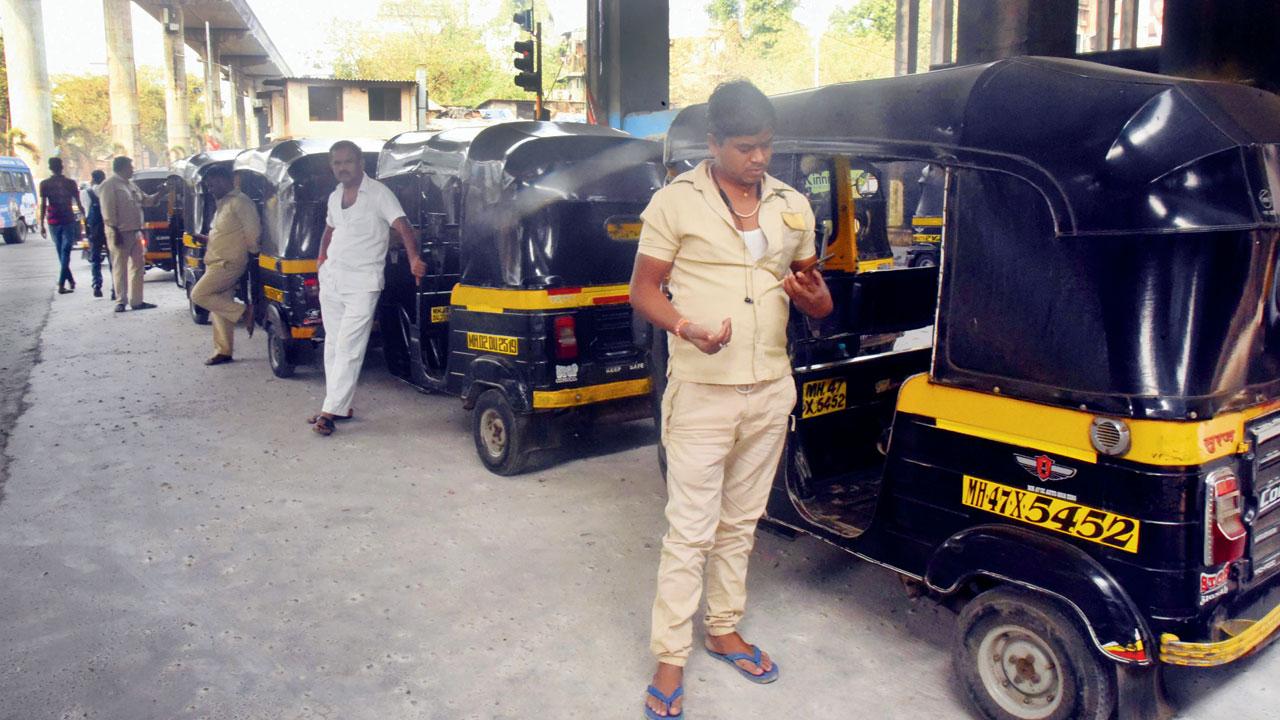 Auto drivers wait outside Gundavli station on Monday. Pic/Sameer Markande
No change on WEH
Traffic officials were seen on the field to mobilise traffic movement. Inspector Sanjay Lad, in-charge of Kandivli East traffic police station, told mid-day, "We have not witnessed any drastic changes in traffic on WEH. There is slow moving traffic at a few places due to ongoing civil works."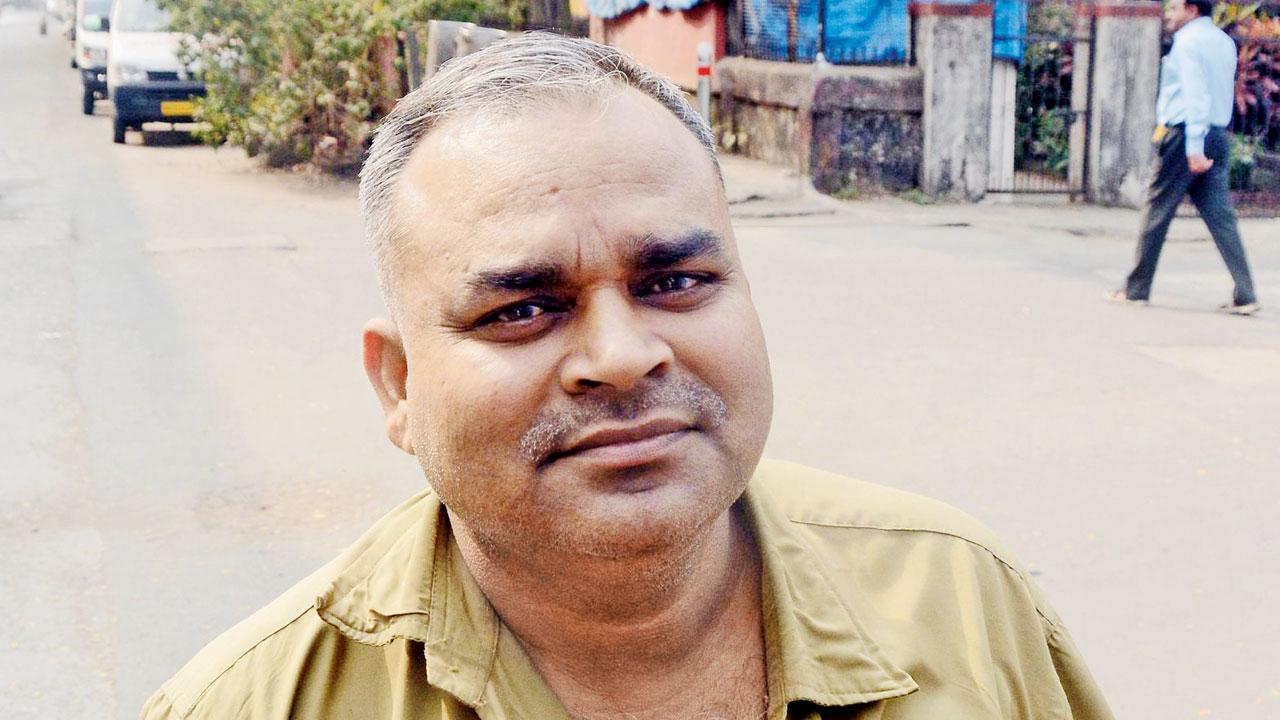 Another traffic official on the condition of anonymity told mid-day, "As of now, we have not seen any major reduction in traffic. As most of the offices are in Bandra Kurla Complex, where Metro services are not operational yet, office-goers prefer to take other modes of transport instead of taking a Metro and then taking another mode of transport to reach their destination. Many also travel from Palghar, which is not connected by Metro. In addition, there are many who prefer BEST buses as they are not only cheaper but have better access to inside roads."
'Lost almost 60% income'
Auto rickshaw drivers, however, told mid-day that Metro services have impacted their earnings. Krishna Kumar Yadav, an auto driver who was waiting for a passenger in Dahisar, said, "We have lost around 60 per cent of our income as we do not get passengers for long journeys." Another auto driver, Rakesh Shah, said, "Since the Metro started till Andheri, more people have started opting for it. It is difficult for us to get long trips now."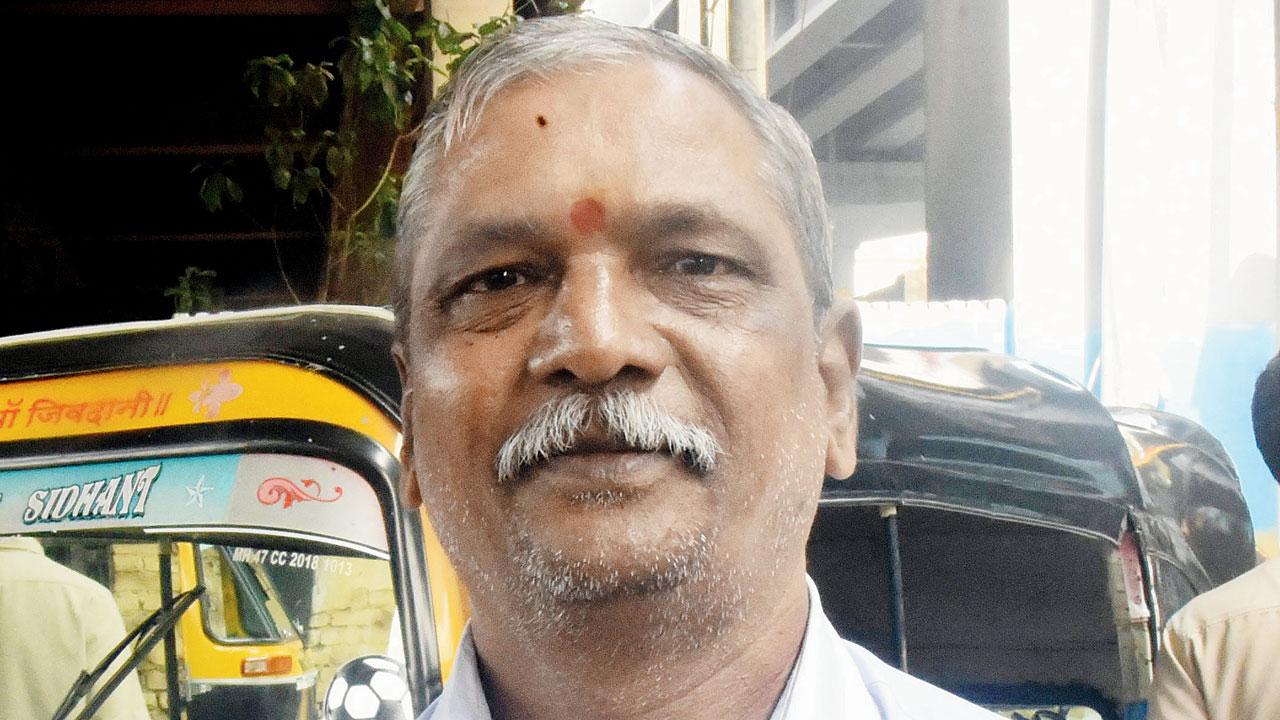 mid-day saw auto rickshaws queuing up under the flyover stretch of WEH in Andheri but there were hardly any takers. Samar Bahadur Yadav, who has been driving autos for the past 15 years, said, "I have been waiting for a passenger for the past 1 hour but no luck. Before the Metro services, I would often get fares for Jogeshwari, or Nesco and Hub Mall in Goregaon, but now the demand has decreased. Majority of the passengers we are getting now are school students or those travelling nearby."
Vilas Kumbhar, who has been driving autos since 1988, said, "The scenario has changed. Most people who travel alone opt for Metro instead of auto, as it is cheaper and faster. Even if we get long trips, say to Dahisar or Borivli, we have to return empty. It has indeed taken a toll on us." Do you often find yourself in the middle of office politics?