Mann, who was on a two-day visit to the metropolis to invite Industry and Business houses to the 'Progressive Punjab Investor Summit' to be organised in Mohali on February 20-23, met prominent industrialists and business houses across all sectors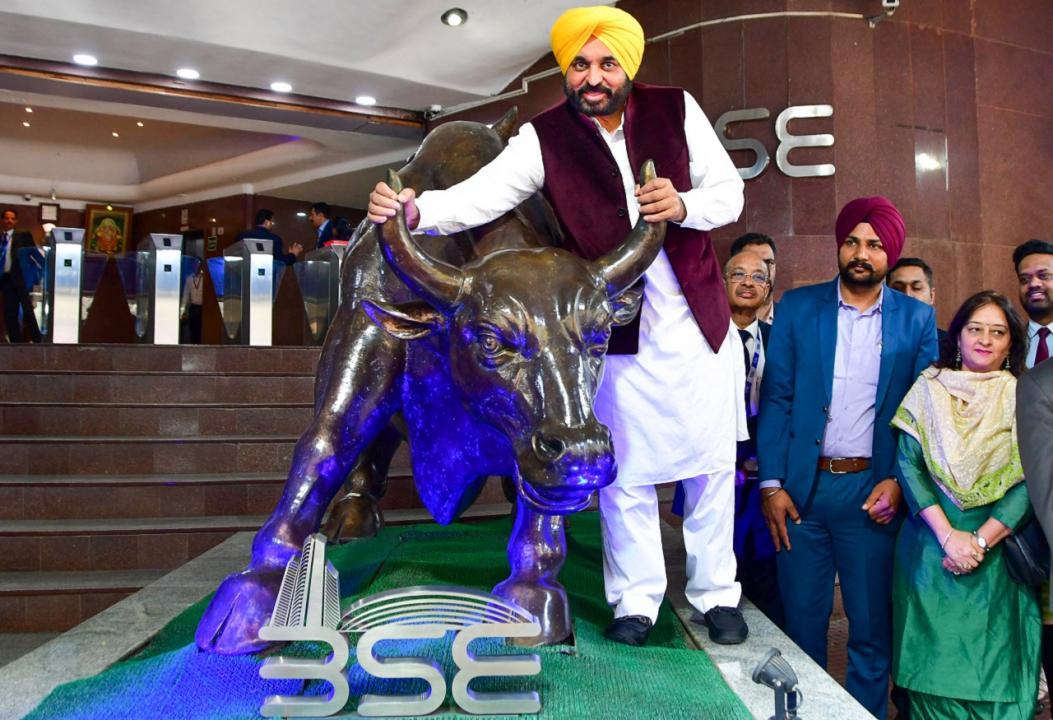 Punjab Chief Minister Bhagwant Mann poses with 'BSE Bull' installed, at Bombay Stock Exchange in Mumbai. Pic/PTI
Punjab Chief Minister Bhagwant Mann on Tuesday said that Mumbai needs an Aam Aadmi Party (AAP) government just like the one in national capital Delhi as Mumbaikars deserve better.
Mann, who was on a two-day visit to the metropolis to invite Industry and Business houses to the 'Progressive Punjab Investor Summit' to be organised in Mohali on February 20-23, met prominent industrialists and business houses across all sectors.
ADVERTISEMENT
Interacting with the media persons after performing the Bell Ringing ceremony here at the Bombay Stock Exchange, Mann showcased Punjab as a land of opportunities and invited companies to invest in the state.
Also Read: Here to connect Punjabi cinema and Bollywood: CM Bhagwant Mann in Mumbai
Mann said that entrepreneurs will immensely benefit by investing in his state, which, he said, is rapidly emerging as the industrial hub of the country. "Punjab has complete communal harmony, peace, and amity, which are mainly responsible for overall development and prosperity in the state."
The Chief Minister urged the industrialists to make optimum use of this congenial atmosphere backed by excellent infrastructure, power, skilled human resources and best industrial and work culture to spread their businesses.
He said that the day is not far away when Punjab will emerge as the industrial hub of the country. 
During his visit, Mann met with AAP party volunteers and "strategized" for the upcoming BMC elections.
"Just as we have an AAP Government in India's political capital Delhi, our financial capital Mumbai also needs to have an AAP government. Mumbaikars deserve better than uncertainty and corruption," he said, "Aam Aadmi Party will and is fully prepared to contest all seats in Mumbai."