Officials say spot outside Churchgate station not meant for crossing; citizens say subways too far away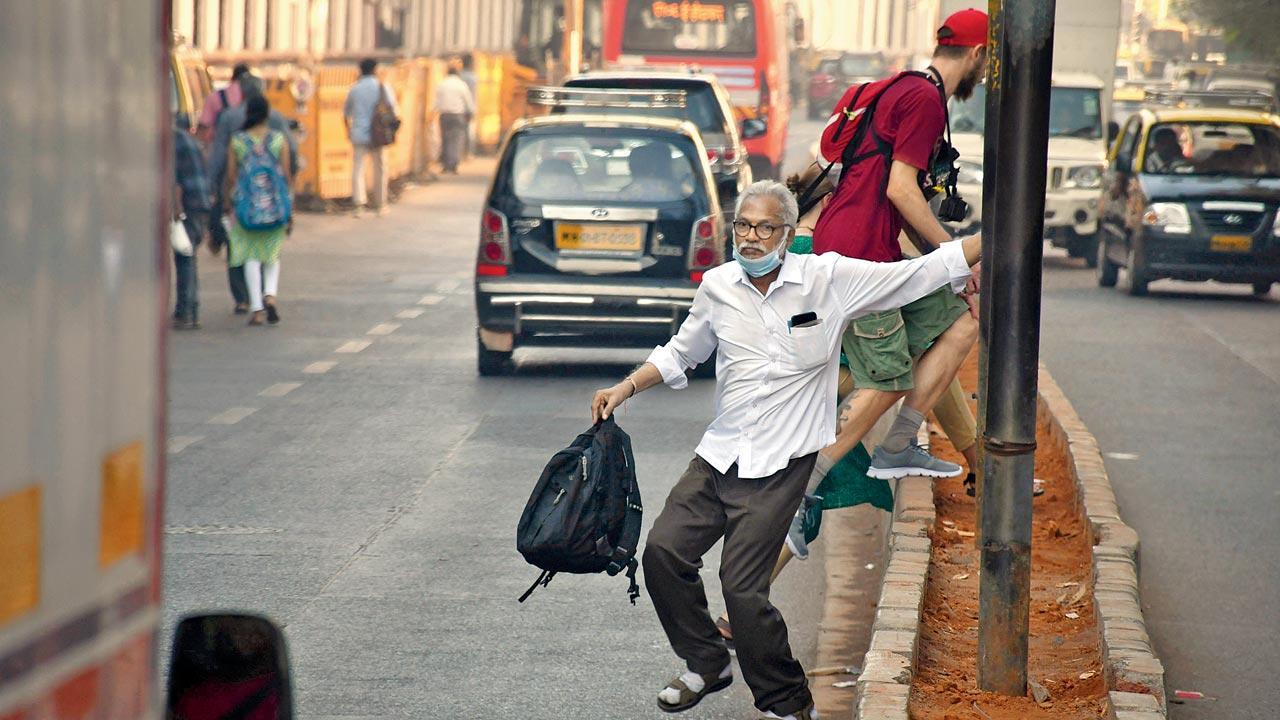 A pedestrian jumps over the divider in his attempt to get to the other side of the road at Churchgate. Pic/Ashish Raje
Crossing the road to get to Churchgate station from the other side of the footpath has suddenly become problematic for pedestrians, as the only small gap (as part of the central concrete divider was broken) in the barrier has now been filled up. The divider will eventually have plants in it and serve as a permanent barrier. While younger people have been jumping and hopping over the barricade, the older people and senior citizens are forced to take a detour of a few metres.
Brihanmumbai Municipal Corporation (BMC) officials said that Maharshi Karve Road was never meant for crossing, and there are subways at the Eros and Marines Lines ends for people to cross. Hordes of citizens crossing the road also slow down moving traffic, officials said.
ADVERTISEMENT
Pedestrians and commuters, however, insist that authorities make a way for them to  cross the road or create a gap at the spot where the barrier was broken.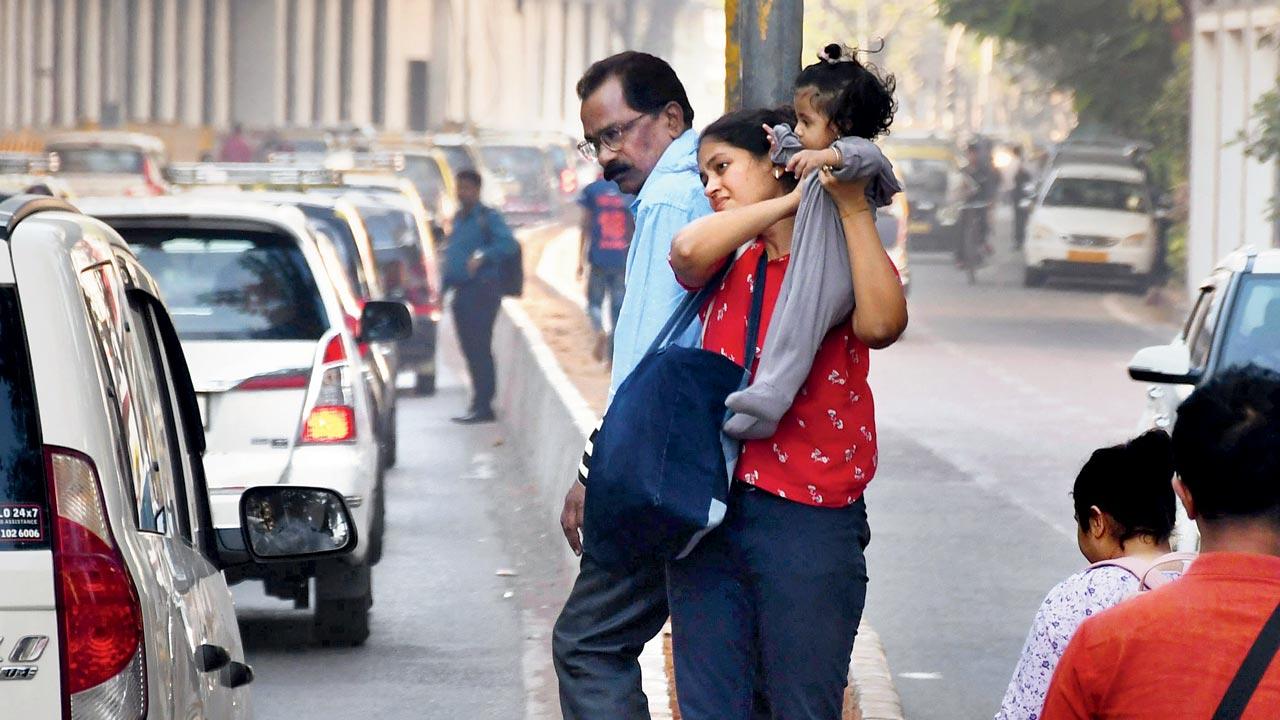 Pedestrians crossing Maharshi Karve Road are having a difficult time. Pic/Ashish Raje
"Authorities should make way for pedestrians as both subways are at the end. If we come from the north side, we can't use the subway which is located near the Central Excise office as it is directly connected with the station," a pedestrian, Mouzal Kazi said.
Also Read: Mumbai: Juhu flyover project finally takes off
"If I want to catch a bus and take the subway I will have to walk a long way. While planning for traffic, the authorities should consider pedestrians also," he added.
"Both subways are more than half a kilometer away. There was once a signal between the road near the station where pedestrians crossed. If they keep a small signal here again, pedestrians like me can cross easily. Most elderly citizens can't walk or can't climb stairs. The BMC should think about them," said an office goer, Nilesh Gupta.
A senior citizen, Muhammad Afzal said, "There was a traffic signal for pedestrians. We used to cross the road there. But now pedestrians only have the option to walk to the subway or risk their lives by crossing the divider. The BMC should think about this."
Himanshu Vibhakar, another pedestrian said, "I am not a regular visitor to this area. But whenever I come to Churchgate I avoid crossing the road and use the subway. BMC should think about an escalator for elderly people."
Deputy Municipal Commissioner of Zone 1 Sangita Hasnale did not respond to calls. A BMC official said that as barricades had become old, they were being removed and replaced by a divider which will be further beautified by planting shrubs. "There are two subways. Pedestrians should not take risks," the official said. 
What is being done
The old metal barricades at Churchgate are being removed and replaced with a concrete partition/divider with future plans to have plants in them. This will make it impossible for pedestrians and commuters to cross over them and they will compulsorily have to take the underground subway.
Taxis block road
Taxi drivers have been blocking the road just near the Churchgate station entrance. Cab drivers, bikers and motorists complained, cover two lanes of Maharshi Karve road. A biker said they block the road just next to the signal which causes more hurdles for motorists.