58-year-old elderly Andheri resident says she was beaten routinely and fed once in four days; Goregaon's SRV Hospital unable to trace either her son or daughter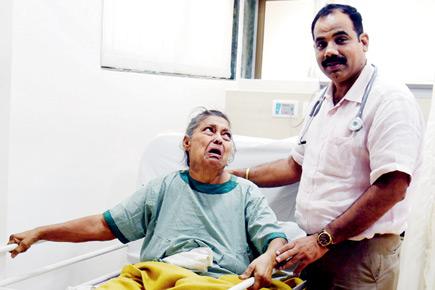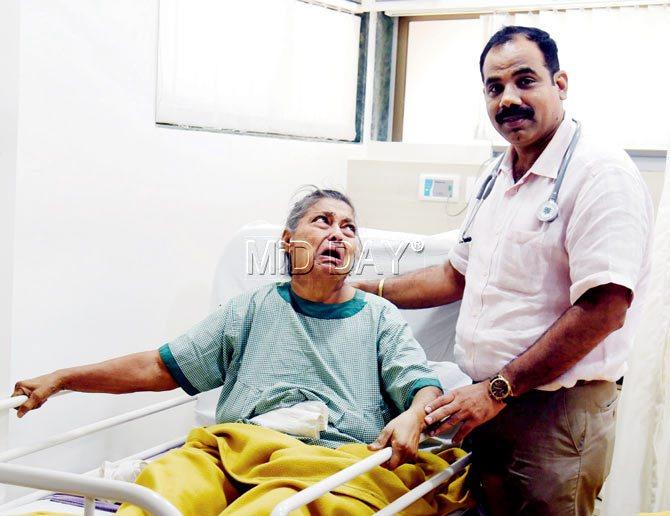 Geeta Kapoor at the hospital with a doctor. Pic/Nimesh Dave
She birthed them, nursed them, brought them up; they don't seem to give two hoots about her. This is the story of an elderly Andheri resident, Geeta Kapoor (58), who was brought to SRV hospital in Goregaon (West) last month by her son Raja, and then, allegedly abandoned. Doctors, after trying to trace Raja and her daughter Pooja for an entire month to inform them that their mother is now well and that they need to pay the treatment charges, have left the matter with the police, who are exploring legal options to take action against her son.
According to Geeta, Raja hatched the plan to get rid of her a few months back, and shifted her in a rented accommodation in Goregaon, "He used to beat me up as I did not approve of his philandering ways. He would give me food once in four days, and sometimes, even lock me up for several days. I was not ready to go to an old-age home, that's why, he planned all this. He deliberately kept me hungry and I fell ill. Then, he got me admitted and fled," she said.
Also read: Mentally challenged man beats mother to death
While Raja is a choreographer, Pooja is an air hostess, who shifted to Pune after marriage and hasn't bothered to check on her mother.
Also read - Mumbai Crime: Man who tortured 80-year-old mother, arrested
The victim's treating doctor, Dr Dipendra Tripathi, after failing to get Raja to return, got Pooja's number from the Kapoors' family doctor, but she hasn't come for her either.
Tripathi said, "Raja got her to us, lying about him being an army officer and she needing urgent treatment. He was asked to pay a deposit and complete the formalities. He left saying he would get money from the nearest ATM, but never returned. We had no option but to start the treatment as she was in a bad shape."
"I even sent an ambulance to their home to trace him. But the neighbours said the family had left the house that very day," he added.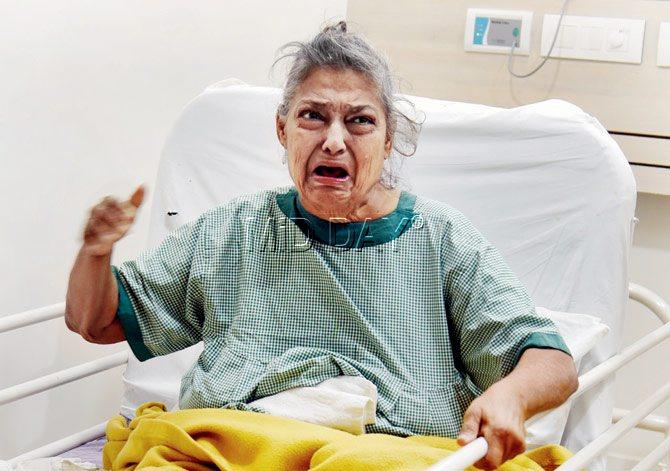 Geeta Kapoor at the hospital. Pic/Nimesh Dave
Empty promises
The doctor called him up on the number he had given while admitting her. Raja answered and said he would return soon. For the next 15 days, he did not respond to Dr Tripathi's calls. He then called him up from another number, which again Raja answered. The doctor told him that his mother was fine and that would have to come and settle the bill, which was over Rs 1 lakh.
Also read: 29-yr-old auto driver rapes mother while sleeping next to her
Raja again promised to turn up soon, but a month passed and he didn't show. "We were ready to send her home, but the son refused to turn up. We had no option but to inform the police," said Dr Tripathi.
While Raja's phone was found switched off, Pooja, when called, said 'wrong number' and hung up.