BMC finishes Rs 17-crore project that includes construction of two chambers in the low-lying area to help drain rain water and divert it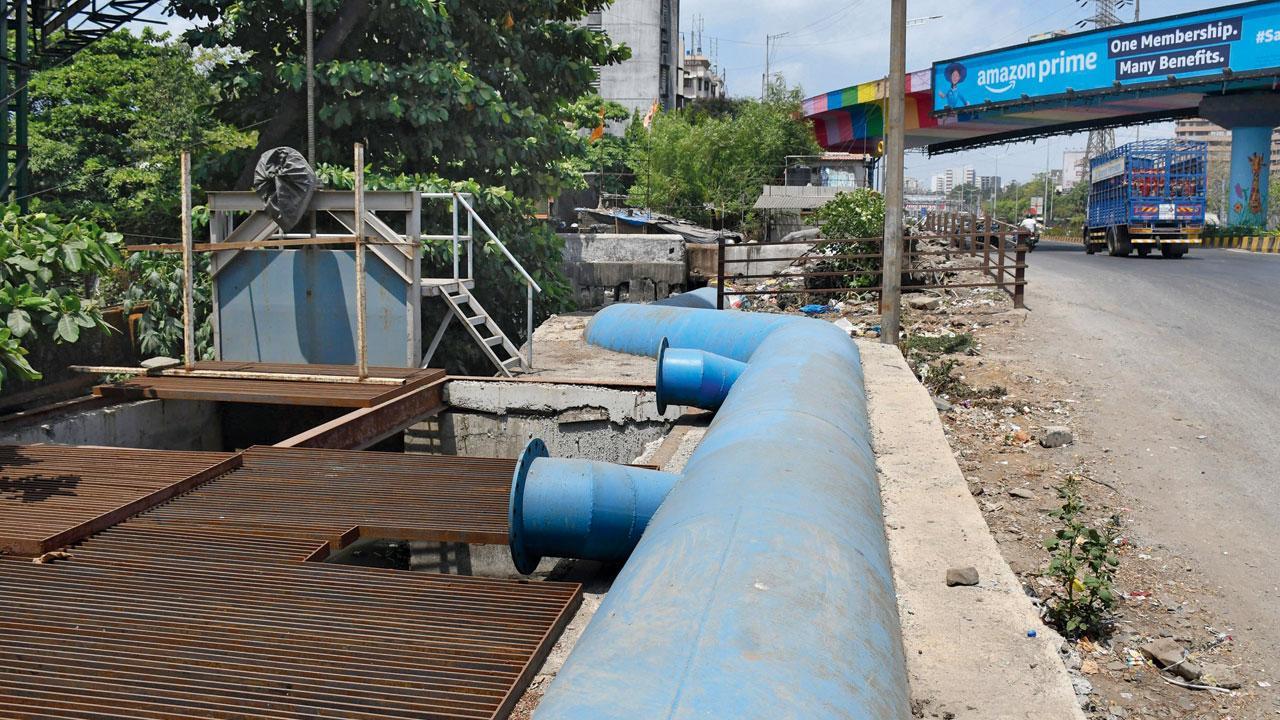 Pumps with high horsepower will be rented to divert the water to Rahul Nagar nullah that runs into Mahul creek. Pic/Ashish Raje
This monsoon, Sion and Chunabhatti could be free from flooding, as the BMC recently completed a Rs 17-crore project that involved building two chambers to drain out the rainwater from the low-lying area and divert it using high-capacity pumps. After the successful project at King's Circle, the Brihanmumbai Municipal Corporation (BMC) replicated the model on a small scale in other locations with chronic flooding in the rain. One such spot is Chunnabhatti. The station on the harbour line always goes under water at least three to four times every monsoon and the railway service has to be halted due to the flooding between Sion and Chunabhatti.
The problem
ADVERTISEMENT
The flooding also triggers massive traffic snarls on the Eastern Express Highway. It takes more than 8 hours for the water to recede. So last year, the civic body cleared a Rs 17-crore proposal to build a culvert and two chambers at the low-lying spot. As per the proposal, pumps with high horsepower will be rented for four years to divert the water to Rahul Nagar nullah. A small nullah near Somaiya ground runs into the Rahul Nagar nullah which ultimately meets the Mahul creek. When heavy rain coincides with high tide, the water in the nullah overflows and floods the surrounding area, including Chunabhatti station and the EEH.
Also Read: Mumbai monsoon: BEST issues advisory for citizens, check do's and dont's during rains
The solution
"As per the project we built two chambers (three by three metre pits) at Everard Nagar near IDEMI building and another at Rahul Nagar nullah. There are three high capacity pumps installed near IDEMI—3,000 cubic metres of water per hour, 1,000 cubic metres per hour and 500 cubic metres per hour—to pump out water from the small nullah into Rahul Nagar nullah. At another pit, we installed two pumps with 3,000 cubic metre per hour capacity and one pump with 500 cubic metre per hour capacity," said an official with the storm water drainage department of the BMC.
The pumps will be taken on rent during the rainy season until 2025. The water will be sent through a 1,200-mm drainage line to Rahul Nagar nullah, which will have iron floodgates near the IDEMI building to prevent the backflow of water when there is high tide. "The plan is based on the rainwater drainage system of the area, incidents of heavy rain and water level during high and low tide. Even if water accumulates it will be drained out quickly," said an official from the BMC.