The 55-year-old building in Santacruz was termed as 'precarious' and 'not safe for human habitation' in a structural audit in 2017, but no action had been taken; kin of deceased refuse to claim his body, seek compensation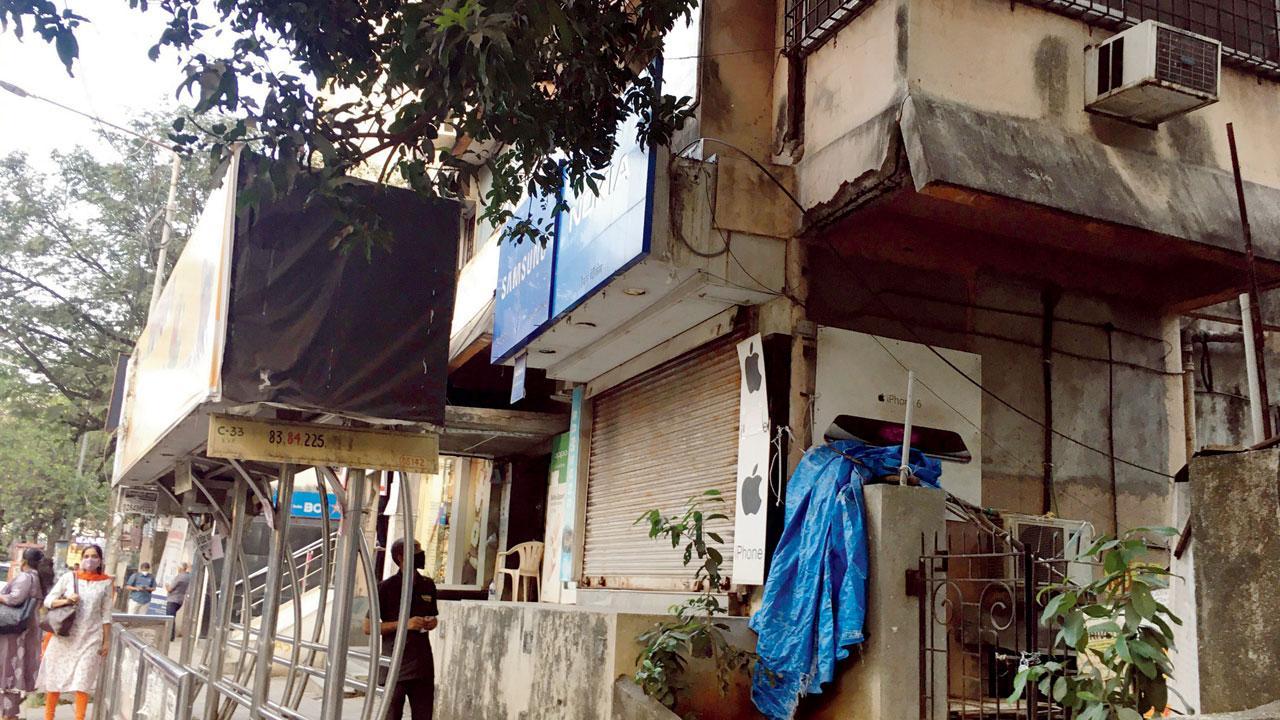 Part of the gallery collapsed on Pramod Yadav, the security guard of the building in Santacruz West, killing him. Pic/Atul Kamble
Inaction by housing society officials even after an internal structural audit termed the building as dilapidated and dangerous, led to the death of a security guard on Monday as part of a balcony collapsed on him. Meanwhile, family members of the deceased have refused to take the body till compensation is given to them.  The incident took place at Maheshwar Darshan CHS, a 55-year-old building, which houses 45 flats, shops along with a nursing home. 
Pramod Yadav, 40, was sitting near gate no. 2 of the society as part of his duty when the balcony wall of Smriti Nursing Home collapsed and fell on his head. Yadav was rushed to Ramkrishna Mission Hospital in Khar where he was declared dead on arrival. His body was thereafter sent to Cooper Hospital for a post-mortem. 
ADVERTISEMENT
Dnyaneshwar Ganore, senior inspector, Santacruz police station, said, "We have filed an accidental death report (ADR) in the matter and investigation is on. We will book those responsible if negligence is proved."  In 2017, an internal structural audit of the building termed the condition of the building as 'precarious' and 'not safe for human habitation'. It also emphasised on immediate repairs to restrengthen the building. 
Viraj Parekh, one of the garage owners in the society, said, "I have been following up with society officials over the condition of the building since 2019. The structural report in 2019 and 2021 pointed out the dangerous condition but nothing was done. Negligence by the society has led to this mishap." The building has also been termed as dilapidated and dangerous by the Brihanmumbai Municipal Corporation (BMC) based on the internal structural audit reports. 
"The society has spent Rs 35 lakh on terrace waterproofing and parking spaces, but not a single rupee was spent on structural repairs which were very urgently required as per structural stability report. A developer was also appointed for redevelopment in 2019 but no agreement has been executed yet," he added. Parekh added, "The police must take action against housing committee members for not doing any repairs despite repeated reminders from the BMC as well." mid-day contacted housing society president Mukesh Gandhi and secretary Harshal Patel, but both of them refused to comment. 
Won't accept body
Relatives of the deceased, meanwhile, have refused to claim his body. They have demanded compensation and expenses to take the body back to Bihar from the housing society. "The society's negligence led to Pramod's death. He died as the building is ill-maintained. He has three kids and a wife who is dependent on him, how will they survive now," asked Kunjbihari Kumar, Yadav's relative. "Until and unless they give us compensation we won't accept the body" he said.