Meeting to be held today to protest BMC notice seeking slice of 100-year-old St Peter's Seaside Cemetery, activist alleges criminal conspiracy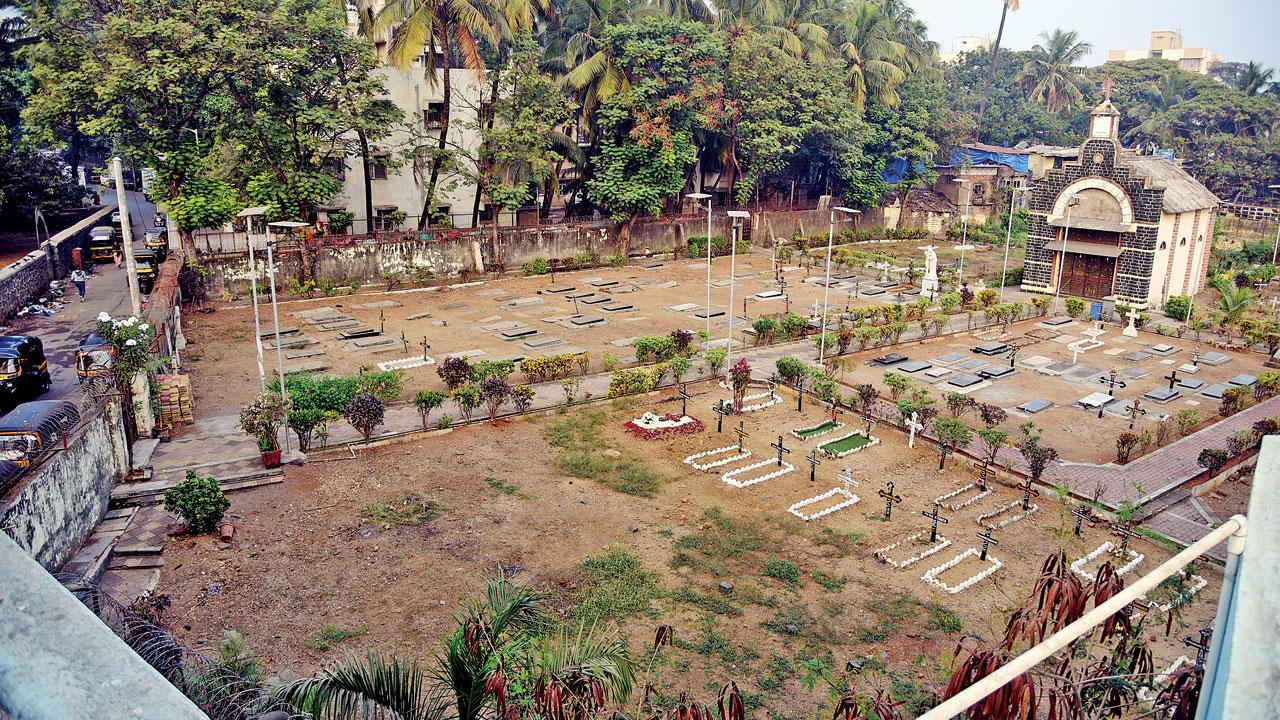 St Peter's Seaside Cemetery at Bandra was most likely established during the Plague of Bombay in the 19th century. Pic/Pradeep Dhivar
A recently served notice by the BMC to the over-century-old St Peter's Seaside Cemetery, Bandra, seeking a slice of the land for road widening has hurt the religious sentiments of thousands of Roman Catholics in the city. They have now decided to sign a petition demanding that the civic body withdraw its decision.
 
Catholics told mid-day that the BMC, as a part of its development plan, was supposed to provide land for burials and cremations. "But it has given a notice to take a portion of our century-old cemetery. How mean!" said an activist.
Fr Frazer Mascarenhas SJ, the parish priest of St Peter's Church, said that slums and illegal structures had come up in the wake of the reclamation of land but the civic body was seeking a portion of the cemetery to widen the road.
ADVERTISEMENT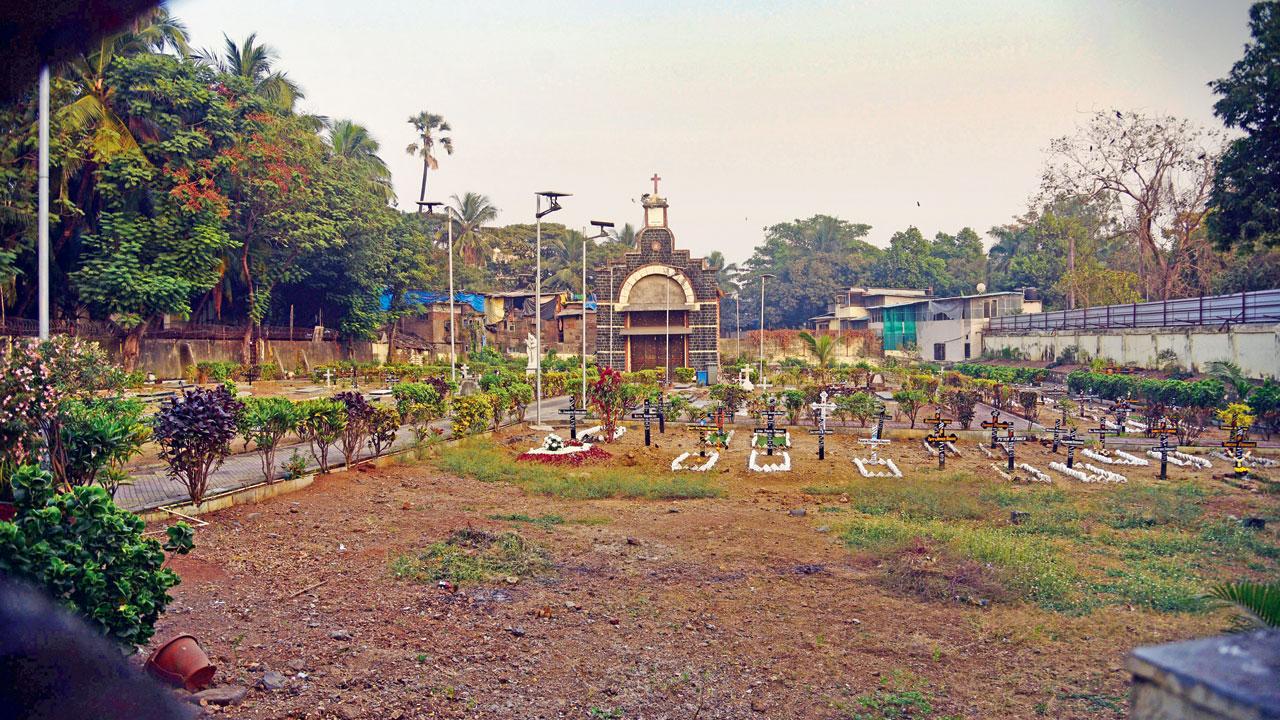 The Bombay Catholic Sabha has called a meeting to save St Peter's Seaside Cemetery at Bandra. Pics/Pradeep Dhivar
Some activists have alleged that the civic officials have become tools at the hands of people with vested interests and alleged that some civic officials were using official machinery to arm-twist church authorities. Others have asked the civic body and other government bodies what they were doing when the slums and illegal structures were coming up.
The Bombay Catholic Sabha will hold an urgent meeting on Friday at Loyola Hall, St Peter's Church in Bandra. Dolphy D'souza, president of the group, has requested people to show up in large numbers. "We plan to oppose this injustice with the people's support," he said.
Also Read: Human Rights courts, where are they, asks Activists
Anthony Lobo, whose ancestors are buried in the cemetery, said, "The notice has hurt the religious sentiments of Catholics all over the world. I have received messages about the notice from friends and relatives who have settled abroad. If the BMC decides to take a slice of the land, it will create chaos."
Fr Mascarenhas said, "The BMC served the church a notice about its intention to take a slice of the corner of St Peter's Seaside Cemetery for road widening. A larger portion of the Jewish Cemetery across the road is also being taken. This will mean the demolishing of about 20 permanent graves, along with the wall in that area."
"Our cemetery is more than a century old and was established in an isolated area, with the sea on the rear side. Reclamation of land has resulted in slums and illegal structures coming up there, to which access is sought to be given. However, there already exists a parallel road for which Catholic colonies had given up land in the past," he added.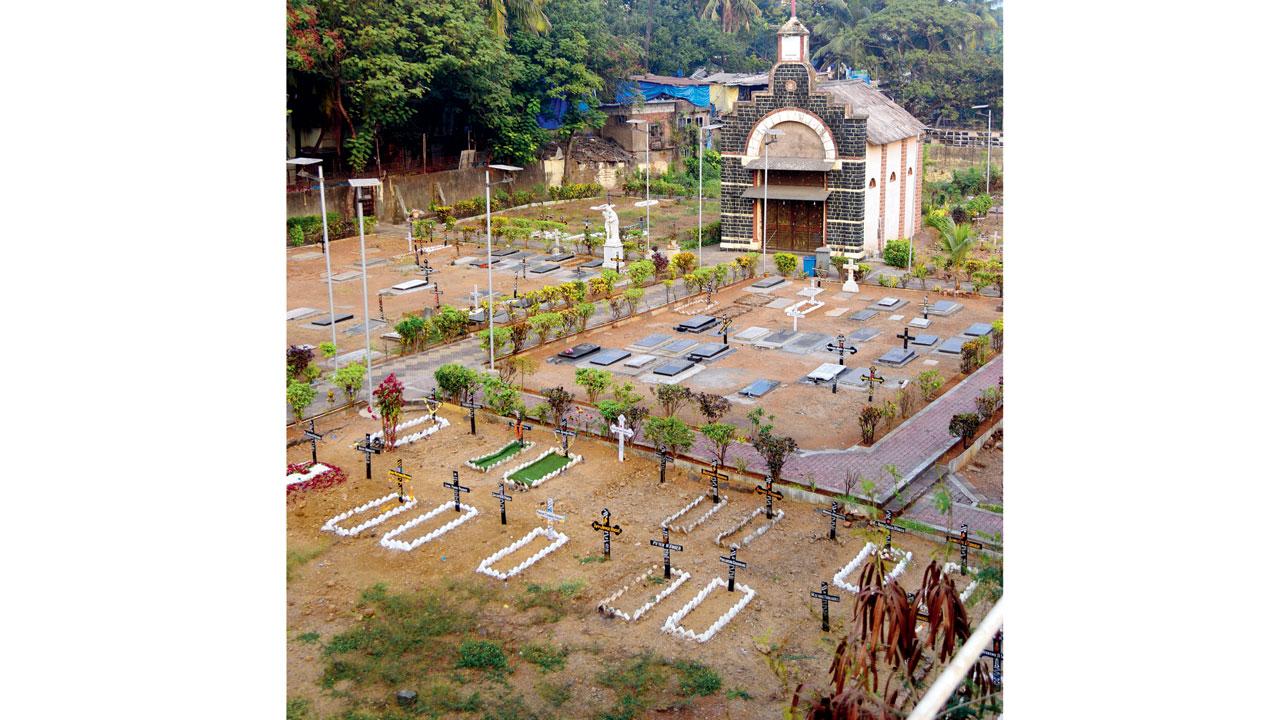 A message that is being shared by Catholics reads, "This is a sacred space where religious worship is conducted once a year and where families come all year round to pray for their loved ones. Taking away the land of an established cemetery, along with permanent graves of families, will hurt Catholic sentiments."
"The parish will, therefore, request the BMC to withdraw this notice and seek other sources of access that are available to those in that area behind the cemetery," said Fr Mascarenhas.
Advocate Godfrey Pimenta, an activist from Watchdog Foundation, said, "This is a criminal conspiracy hatched by officials of the BMC in connivance with the developer who intends to develop the sprawling and illegal slum colony adjacent to the cemetery and the notice dated December 19, 2022, issued by the joint municipal commissioner (zone 3), H West ward is engineered in furtherance of the said  criminal conspiracy."
"The adjoining slum colony does not have a road with sufficient width so as to sanction an SRA scheme and the notice has been issued to accommodate the requirements of the developer to implement the scheme," he added.
"A similar conspiracy was hatched in the case of Bamanwada Gaothan a year ago when a narrow lane having bungalows with a compound wall were bulldozed by K East ward officials to accommodate the local developer's need," he said.
Pimenta further alleged, "Some civic officials have become handmaids of those with vested interests, who, for pecuniary gain, are using official machinery to arm-twist church authorities and like-minded persons, which we will not allow at any cost."
Vivian D'Souza, an advisor at Watchdog Foundation, said, "Recently, the Bombay High Court had asked the Maharashtra government what was the point of granting permissions for the construction of skyscrapers when there is no place for burial grounds in Mumbai. The bench of Chief Justice Dipankar Datta and Justice Madhav Jamdar was hearing a public interest litigation filed by one Mohammed Furqan Qureshi seeking a separate burial ground for Sunni Muslims in Bandra."
He added, "The corporation, as a part of its development plan, is supposed to provide lands for burial grounds and crematoria. However, it has failed to do so. A classic example of this is the land allotted to Christians in the SEEPZ  area near JVLR, which is yet to be put to use. The families of the dead have been inconvenienced since bodies have to be taken from Marol to Sewri or Oshiwara for burial, which is not only costly but also time-consuming," he said.
D'Souza stated that if the corporation cannot provide land for burials and cremation grounds, it has no right to snatch the cemetery and "that too, to accommodate the greed of a developer".
"It is our experience that whenever roads are widened by the corporation, the same are eaten up by illegal hawkers or illegal parking takes place. A classic case of this is the beautified and widened Andheri Kurla Road from Andheri East station to Saki Naka. Hawkers have encroached upon it completely. For whose benefit the corporation is widening roads in Mumbai and, in particular, Kadeshwari Mata Mandhir Road, Bandra West, Mumbai 400050, is a million-dollar question," he said.
"In the past, similar attempts were made to widen Hill Road in Bandra, which was vehemently resisted by the Christian and Parsi communities. Kadeshwari Mata Mandhir Road reaches a dead end from Chapel Road and its widening is totally unjustified and uncalled for," he said.
Advocate Tulip Brian Miranda,  president, Bombay East Indian Association and a former corporator, said, "We call upon you (the BMC) to cease and desist from going ahead with the acquisition of cemetery land, failing which we will have no option but to agitate along with members of the Bombay Catholic Sabha and other organisations."
R Dhakane, deputy municipal commissioner, zone 3, meanwhile justified the move, stating, "We issued a notice for the demolition of some part of the cemetery for the future development of roads. As per the requirement, roads should be 9.15 metres wide. This road is too small and needs to widening. Only 3 to 4 per cent of the cemetery plot will be demolished. We have only issued a notice and have not yet acted. Many people are making the issue a religious one. If roads are not widened, no development will happen."
History under threat
The over-100-year-old St Peter's Seaside Cemetery was most likely established during the Plague of Bombay at the turn of the century that continued for more than two decades.
Senior architect, urban planner and conservationist David Cardoz said, "The Bandra Municipality is most likely to have identified this land to ensure that the dead [who perished from the plague] were buried away from habitation. Plans reveal that the wall of the cemetery hit the sea. Over time, reclamation occurred and encroachments sprung up, so the location has altered."
Cardoz said the community is united to save this land. "They shouldn't be taking away graves. We intend to fight for what is ours," he said, adding, "All burial grounds are important. We need adequate reasons to understand why this notice was served."
The architect believes that approximately 20 graves near the periphery of the cemetery's boundary wall could be affected. He revealed that the community will fight on two issues: Firstly, hurting public sentiment, and secondly, intent. "When you serve notices, think of those you are serving it to. You are aware that a cemetery exists here that is older than the BMC. Today, you say, 'Give it up in the interest of development'." Spelling out the fallout of this decision, he said, "What happens to the graves that will get affected? Our cemetery is full. This location was a dead end in the past. What is the real reason to widen this road? An alternate DP (development plan) road was planned that would lead to the reclamation. But this road goes up the hill, and comes to a dead end, so what's the point? That road work from that alternate plan was stopped, and instead, this road is being widened."
Putting things into perspective, he said, "When there is genuine public interest involved for a civic matter, the church will always be the first to step up. Today, it's a nine-metre extension; tomorrow, we don't know if more will be required. A good planner is aware that some things, like a place of religious significance, cannot be touched. Most importantly, they focus on the larger picture." 
Inputs by Fiona Fernandez
19
Day in December when notice was issued
"Exciting news! Mid-day is now on WhatsApp Channels

Subscribe today by clicking the link and stay updated with the latest news!"
Click here!