Caller dials landline number of Reliance Foundation Hospital twice; cops run anti-sabotage check at hospital and Antilia; security beefed up at both places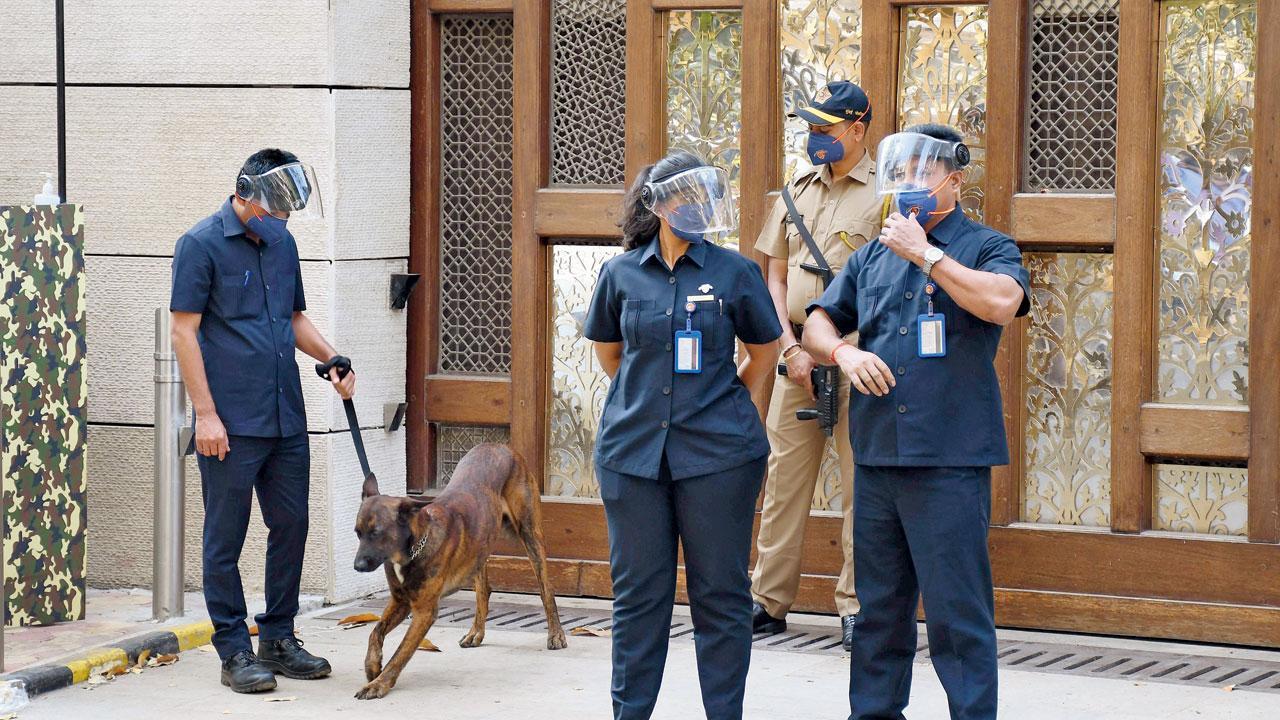 Security personnel outside Antilia, in February 2021. Pic/Ashish Raje
The Mumbai police ran an anti-sabotage check at Antilia, the south Mumbai home of business tycoon Mukesh Ambani, on Wednesday after a landline number of HN Reliance Foundation Hospital received two calls threatening to blow up the medical facility and harm the Ambani family. This is the second threat to the Ambani family in the past two months.
"At 12.57 pm today and again at 5.04 pm October 5, a call was received at the call centre of Sir HN Reliance Foundation Hospital threatening to blow up the hospital and threatening to take the lives of Shri Mukesh Ambani, Smt Nita Ambani, Shri Akash Ambani and Shri Anant Ambani. The caller also threatened to blow up Antilia and gave multiple threats to members of the Ambani family," said a spokesperson for the Mukesh Ambani-headed Reliance Industries Limited.
Also Read: Government upgrades Mukesh Ambani's security cover to Z plus
"This incident has been taken with utmost seriousness by the Mumbai police and the process of registering an FIR is underway now. Anti-sabotage checking has already been done at HN Reliance Hospital and at Antilia, and security has been beefed up at both places," said Neelotpal, DCP-Zone 02.
"We assure you that such incidents will not be tolerated under any circumstances. Action has already been initiated on this matter, and the culprits will soon be brought to book," added the officer. The hospital has shared the call recording with the cops. "We have informed the Mumbai police about the threat call," said hospital CEO Dr Tarang Gianchandani.
On August 15, a threat call was made to the hospital number. The police arrested a Borivli resident who was later granted bail on the grounds that he was mentally disturbed. His family also gave an undertaking that he wouldn't commit such acts in the future. The Ambani family's security became a serious concern in February 2021 after a Scorpio laden with explosives was discovered outside his residence. Recently, the Centre upgraded Ambani's security to Z+.