New timetable kicked in on Sunday, creating confusion; WR says bulk SMSes had been sent
Many commuters who had booked tatkal tickets were refused last-minute refunds
Changes in the timings of trains due to the implementation of the new timetable from October 1 led to a goof-up on Saturday with the Dadar-Bikaner Rankapur Express getting rescheduled as per the old timing, causing about 50 commuters to miss the train.
Angry commuters went on to gherao the station master, as many of those who had booked tatkal tickets were refused last-minute refunds.
"The station master should have alerted passengers by putting up a board or some other form of communication. The train was expected to arrive at Palghar after 4.30 pm, but it arrived at 1.54 pm, leaving us all in the lurch," Vicky Jain, a commuter who filed a complaint said.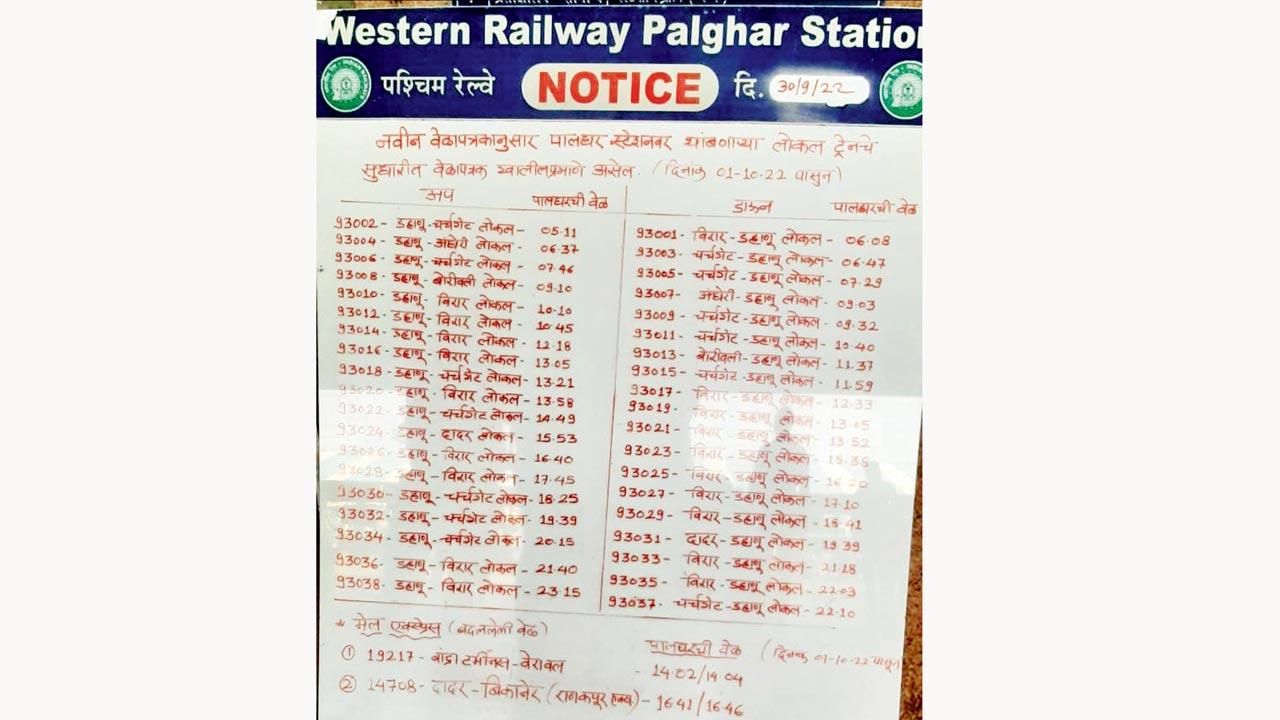 The train timings board at Palghar railway station
Another commuter said, "Technically, we are not even eligible for a refund. This is a clear communication issue on the side of railways and they should find a way out. What is the fault from our side?"
Western Railway (WR) officials said that as per prevailing protocols, automated messages are sent out on every train reschedule. "We looked into all the passenger complaints once the issue was raised," Western Railway chief public relations officer Sumit Thakur said.
Also Read: Mumbai: New foot overbridge opens at Dadar, but not for platform 4
The official added, "The departure time of train number 14708 from Dadar as per the old timetable was 12.35 pm. In the new timetable, its departure time was changed to 3.15 pm. The timetable was updated by the Palghar station superintendent. Later, the train departure timing was changed back to 12.35 am. Bulk SMSes were sent to passengers to inform them of the revision. Passengers were mistaken as they had seen the board at Palghar station.
Tough test today
WR will face a tough test on Monday, which is the first working day of the week since the new timetable, which has effected a number of changes in the timings of trains, including those in AC local train ones and regular trains. Commuters have already petitioned WR not to alter the timing of the AC local that departs from Borivli at 7.54 am.
1
The day in October when the new railway timetable came into force