Technical advisory committee declares all 13 wings of Ujjwal Nandadeep society dilapidated; those members opposing redevelopment say they will approach high court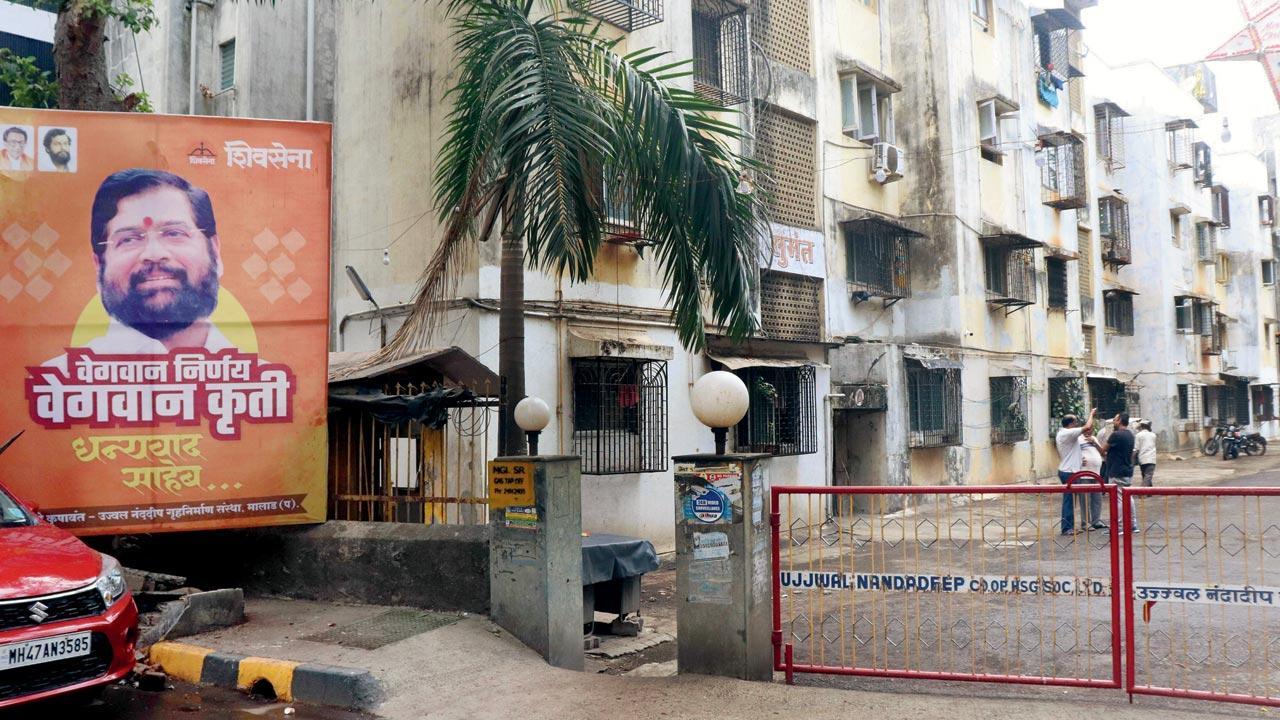 Early this year, the BMC had declared the buildings C1. File pic/Anurag Ahire
In a major setback to 130 members of the Ujjwal Nandadeep CHS in Malad, the technical advisory committee (TAC) has declared that all 13 wings of the society are in the C1 category (dilapidated/not fit for occupancy). While those favouring the redevelopment have welcomed the move, members opposing the C1 notice have now decided to challenge the TAC decision in the high court.
Early this year, the BMC had declared the buildings C1, but of the society's 208 members, nearly 130 opposed the decision and got an independent audit done by Veermata Jijabai Technological Institute (VJTI), which quashed the demolition theory.
ADVERTISEMENT
If there are any disputes (two contradictory structural audit reports), the case is referred to the TAC and its report is the final order to be mandatorily implemented by the BMC. However, in this case, the TAC report put all 13 wings of the society in the C1 category.
Swapnali Darekar, chairman of Ujjwal Nandadeep CHS, said, "The structures are nearly 45 years old. It is high time these buildings are pulled down and new ones are constructed. Our intention is to ensure a bigger and new home for all members. But a few of them were opposing the move and even misleading others. Now that the TAC report has endorsed our stand, we would like to move ahead with the redevelopment proposal of the society."
However, those opposing the managing committee's decision to redevelop the society have still not given up. "The TAC has given its report. All 130 members who are opposing the move have unanimously decided to challenge the report in the high court. We are in the process of legal formalities that need to be done to take the case to the court," said one of the members from the opposing camp.
Speaking on the issue, Surendra Choudhari, secretary of Ujjwal Nandadeep CHS, said those opposing had levied several allegations against a few managing committee members, especially with regards to managing the C1 report to favour the developer selected for the redevelopment. "The TAC has given its report declaring all structures in the C1 category. This shows that allegations levied against the managing committee members were false and merely done to defame the decision makers," the secretary added.
The BMC categorises dilapidated buildings under four segments—C1, C2A, C2B, and C3. C1 buildings need immediate evacuation and demolition, C2A ones need to be vacated in the near future for structural repairs, C2B structures require repairs (without residents vacating the building) and C3 ones need minor repairs. 
208
No. of society members in total
 
"Exciting news! Mid-day is now on WhatsApp Channels

Subscribe today by clicking the link and stay updated with the latest news!"
Click here! Do you believe Indian classical dance forms need to get more attention?