Aria Gupta, 17, aims to raise Rs 1.50 lakh through a crowd-funding platform to get tablets for 15 students so that they can continue their education online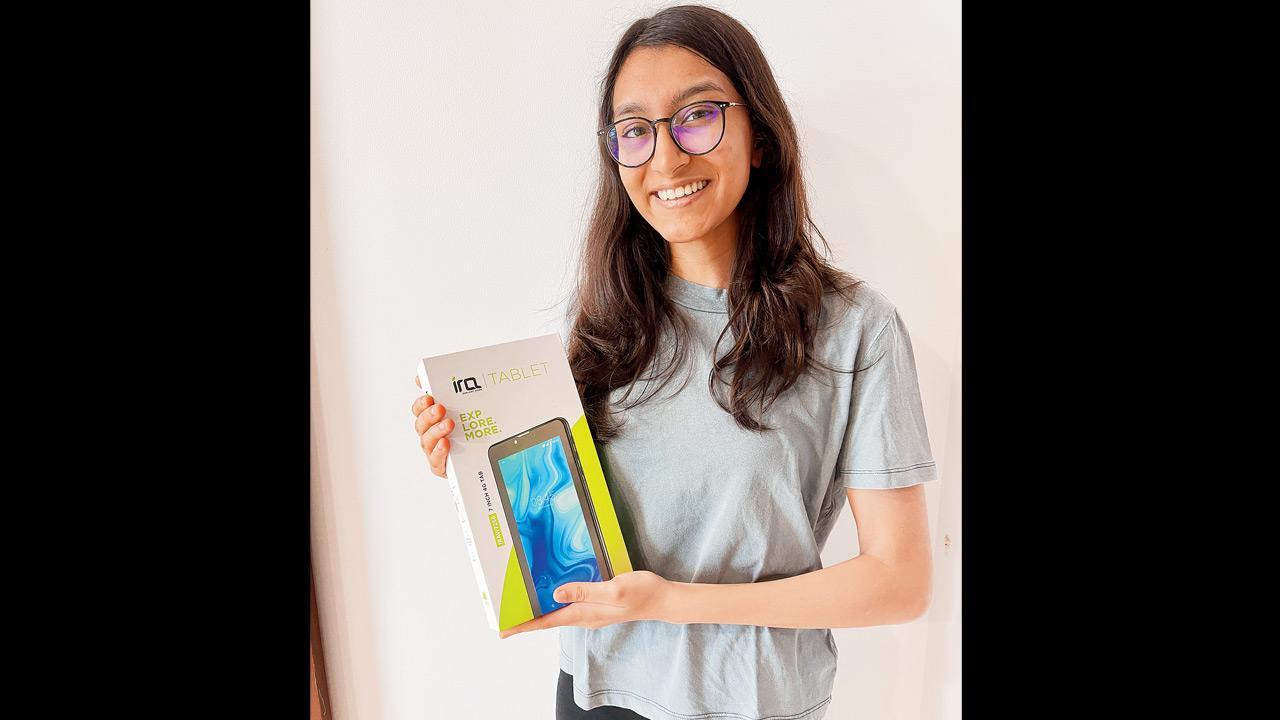 Aria Gupta
A 17-year-old student has initiated a crowd-funding campaign for 15 students of a Dharavi school, to get them tablets for online education. Aria Gupta, mentor to the students in the Sri Sri Ravishankar Vidya Mandir (SSRVM), aims to raise funds of Rs 1.50 lakh through crowd-funding platform impactguru. The contributions have made up almost 80% of the target amount.
A Std XII student from Aditya Birla World Academy, Aria started mentoring children from SSRVM in 2018 in Robotics. While teaching them she realised poverty and illiteracy are two sides of the same coin. "For years I had long conversations with each of the students about their lives, struggles and surroundings. I came to understand that education is still a privilege to a lot of students. They are extremely driven, motivated but some just don't have resources. During the lockdown many of the student's parents were at home and they managed to attend classes through their mobile phones. Now everything has opened up, their parents are going to their work places with their mobile phones and the students don't have a device to connect online," she said.
School struggling to help
SSRVM is struggling to bring students to online classes by arranging second hand phones for them. "We have 450 students in our school, most of them from a poor background. Many of the parents somehow managed online classes. At least 15 students from Std VIII to X weren't attending school regularly," said Jaydas Jadhav, principal of SSRVM. "We sent our staff to their homes and found that they don't have any devices for online school. Aria came up with the idea of raising money through crowd-funding to get them tablets for online classes. She decided to get tablets for these students on priority. Once this demand is met, we will help students from std 1 to 5 who don't have devices," he added.

Aria Gupta with the students she mentors in Robotics. She has decided to help 15 of the needy students on priority
Till Monday evening, the crowd-funding campaign managed to raise Rs 97,998. "I am hopeful we will reach the target soon so that these children can restart their education. It's really disheartening to see many of us having no issues in attending classes, but these children are depending upon others or simply sitting idle without classes," Aria said.
"My child is in std 8, we can't afford a cell phone. I was feeling bad as we have to borrow a phone from someone for his studies. I was told by school officials that they are arranging a tablet for my child. I am overwhelmed by this gesture," said a parent.
Platform fees waived
Khushboo Jain, co-founder and COO, ImpactGuru.com said, "Aria Gupta recently initiated a crowd-funding campaign on ImpactGuru.com to raise funds for students of SSRVM in Dharavi. ImpactGuru waived its platform fees for this initiative. Crowd-funding is an alternative method to raise funds online for any social cause, with the individual (or his/her friends or family) primarily relying on social media networks to mobilise donors. Since the Covid-19 outbreak, we have seen several student led fundraisers launched on our platform."
Those who want to donate, can do so at: www.impactguru.com/fundraiser/help-ssrvm-school-dharavi
Rs 97,998
The sum collected so far for the tablets