We took to the SV Road to chronicle the pain of the daily commuter on the western suburbs' bustling arterial road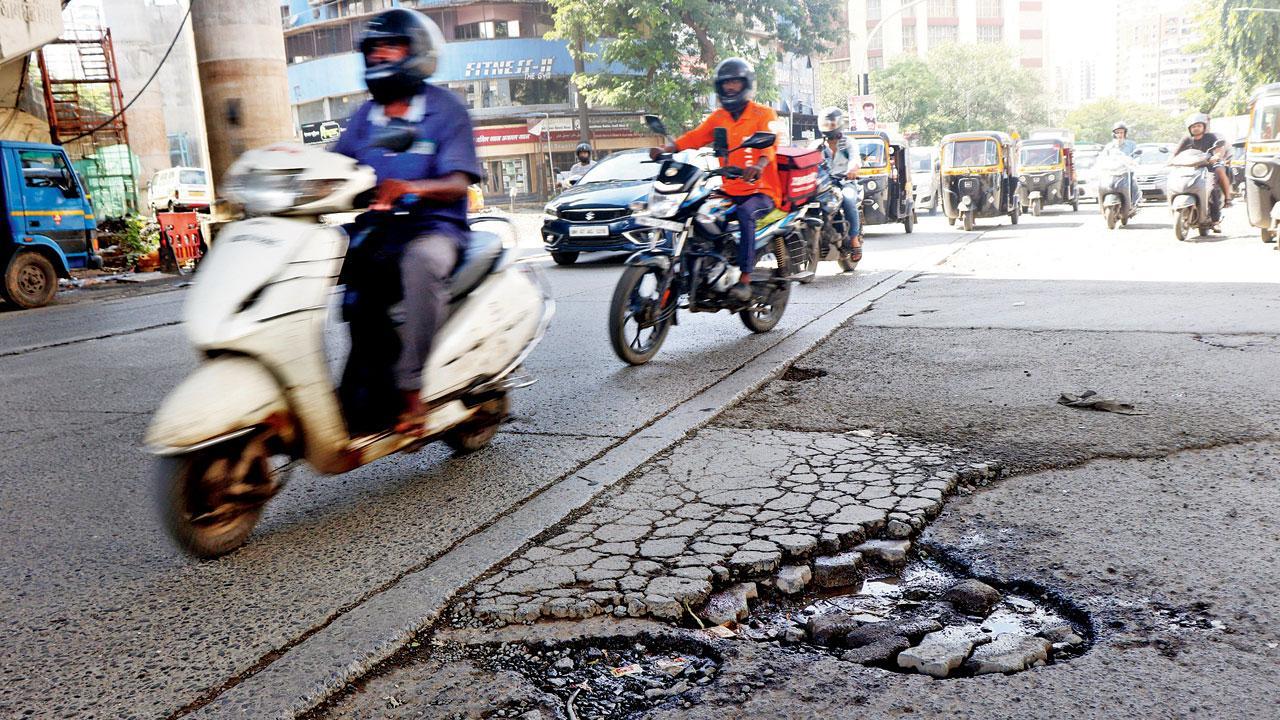 A huge pothole on SV Road near Ram Mandir signal. Pics/Anurag Ahire
It seems the authorities are least bothered about the Mumbaikars using SV Road, a key road that connects the western suburbs. Uneven road surfaces and crater-sized potholes, which lead to wastage of both time and money, are motorists' nightmare. A mid-day team travelled down this road from Dahisar all the way to Bandra to see what the situation on the ground is.
After its test drive on the key arterial road in Aarey Milk Colony, mid-day focussed on the SV Road which sees frequent traffic jams that make commuters late by up to an hour, and at times even more. The team also talked to motorists and traffic officials to see what they have to say about the road.
Potholes rule Borivli
As the team started their journey from Dahisar West, the condition of the road was fine till Borivli station. Right outside the station there is a huge pothole and the uneven road continues till Indraprasth Shopping Centre.
Also read: Mumbai: Decision on road repairs likely next week after survey report, says BMC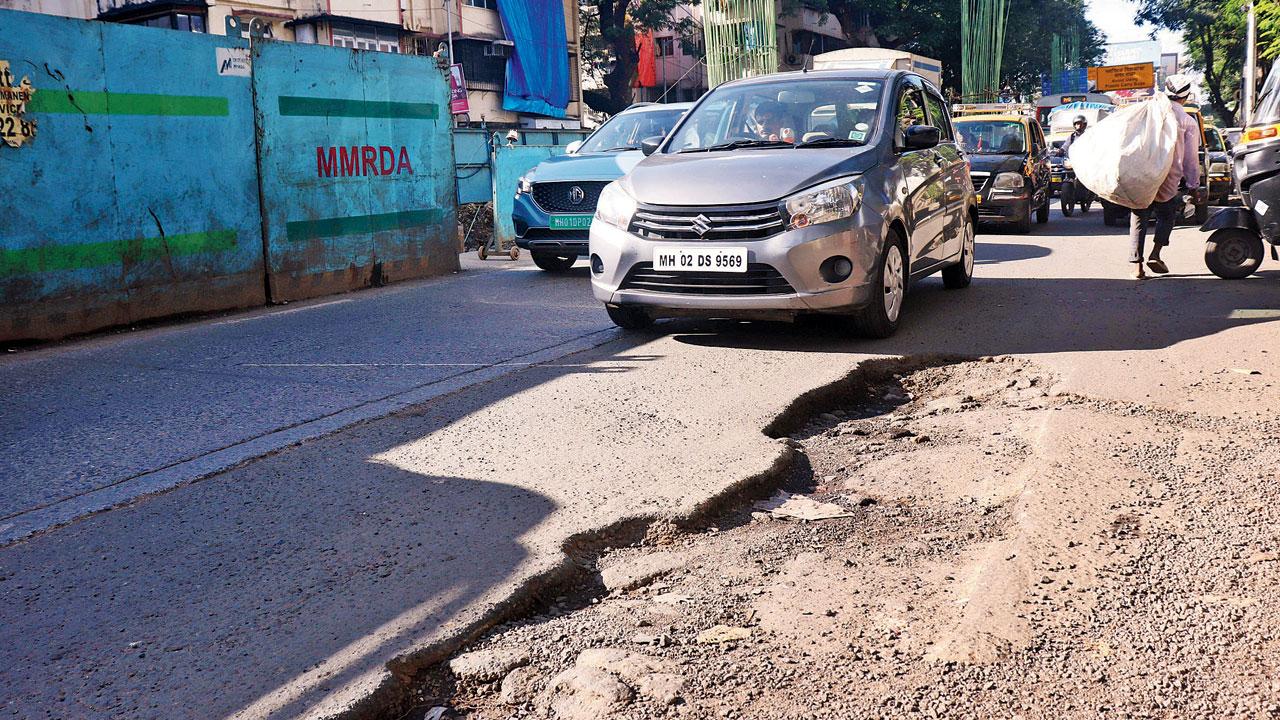 Uneven road surface in Khar causes inconvenience to both bikers and motorists. Pics/Anurag Kamble
Then around 50 metres ahead of the Kora Kendra signal, the surface was again bad with paver blocks coming out. The situation was even worse near Poisar Church signal, which hampered traffic movement. 
Yash Birje, a biker who travels the road daily, said, "The condition is not bad only in the Borivli stretch, it is the same everywhere. Despite collecting road tax from us, the authorities are not providing us with good infrastructure. The potholes not only pose a risk of accidents but also damage vehicles." 
Bad patches in Kandivli
The Kandivli stretch fared slightly better with few crater-sized potholes near Shatabdi hospital and in front of Bank of Baroda. And there were several rough patches, especially opposite Kandivli station and near Adani electricity office signal.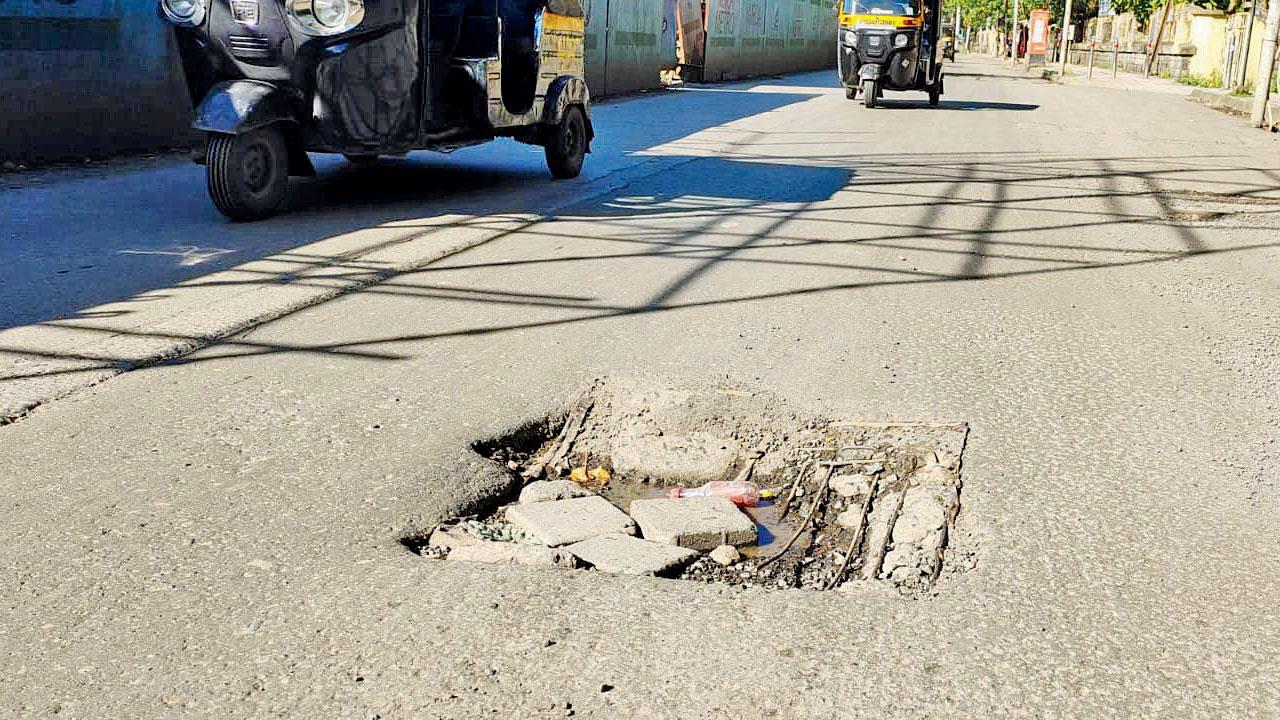 A damaged stormwater drain grill cover spotted in Vile Parle
Malad has it all
One of the worst stretches of SV Road is in Malad where one will find all kinds of flaws—from potholes to uneven surface to narrow roads. Near Malwani signal there were two patches where the road was completely destroyed. mid-day also spotted several potholes on this busy road near the MTNL office. 
Paver blocks used to fill the potholes were found missing, which increases the risk of accidents. The patch near Kothari Milestone is so bad that it takes around 25 minutes to cross just 1 km. A traffic police officer on the condition of anonymity said, "We keep writing letters to the BMC about the potholes, but the condition of the road remains the same." 
Goregaon passes test
The only exception seemed to be Goregaon where the condition of the road was good with comparatively even road surface and almost no big potholes.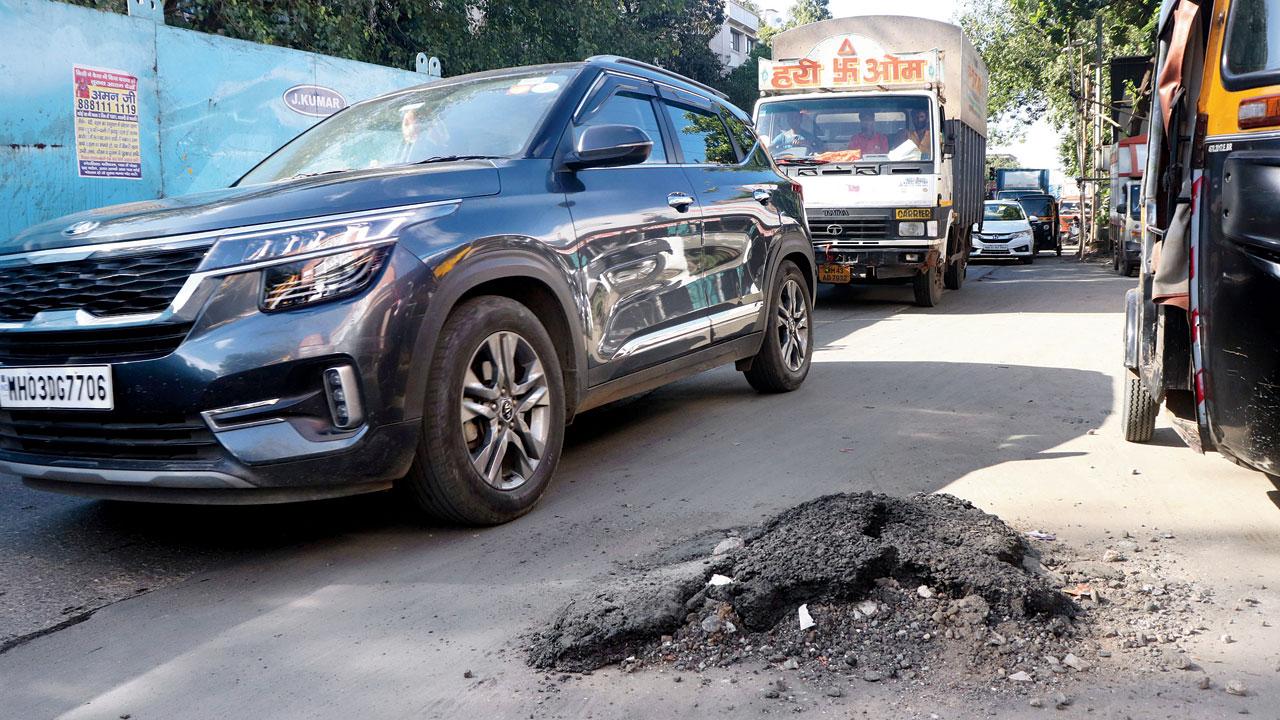 A pile of silt kept in the middle of a road in Santacruz
Bad road in Jogeshwari
The stretch from Ram Mandir to Jogeshwari was rough. Multiple potholes at Ram Mandir Signal, terrible road near the local Siddhivinayak Mandir to several rough patches near Jogeshwari signal and Behraum Baug dot SV Road. 
Traffic woes in Vile Parle
Travelling on SV Road in Vile Parle took longer than most other places, thanks to the traffic congestion. Along with potholes and uneven road surface, the width of the road near DN Nagar has also been reduced due to Metro-2B work. 
Multiple huge potholes near Irla junction as well as Enrich Salon and Pawan Hans signal slowed down the traffic. It gets worse during morning and evening peak hours. This stretch houses several hospitals, and the bad condition also leads to inconvenience of the patients. The mid-day team also spotted a damaged stormwater drain grill cover which adds to the risk of accidents for both bicycles and two-wheelers. 
Kishan Singh, a daily commuter, said, "It is a nuisance to travel on SV Road these days. The around 27-km road from Dahisar to Bandra takes around 2.5 hours, thanks to potholes, narrowing of roads and uneven patches. Even ambulances get stuck here for a long time. BMC must take serious note of it."
Deadly potholes in Santacruz
As the mid-day team travelled further to Santacruz, it spotted deadly potholes which could land bikers in hospital. The most notable ones were just opposite the BMC garage and near Sunny Wine. This stretch, too, witnesses bumper-to-bumper traffic during morning and evening peak hours. 
Khar fares slightly better
SV Road in Khar seemed better than most other stretches. mid-day spotted two huge potholes—one opposite Sacred Heart School signal and the other at Darbesh Chamber signal, and some rough patches. A daily commuter and private driver Rajkumar Patel said, "The potholes cause inconvenience to all motorists. Though we are told to drive carefully, it is the BMC's responsibility to maintain the roads."
Bandra traffic cops fed up
The condition of the road in Bandra was shocking. There was a huge pothole in front of the suburban service petrol pump. Kishor Satra, a commuter, said, "This pothole leads to accidents. Around 1.30 am on Saturday, I saw a young biker's tyre skid due to this. He fell down and suffered injuries on his head. Seeing the road, I wonder where our taxes are going."
At the Bandra station signal, paver blocks used to fill potholes came out and lead to a deadly pothole. A traffic police officer told mid-day, "The condition of the road is terrible. It is full of potholes. We keep informing the contractor about the rough patches and they also undertake repairs. But the work is so shoddy that it gets washed away in rain within days. We place barricades on such stretches to avoid untoward incidents." 
Official Speak
When mid-day asked about the bad condition of SV Road, Deputy Municipal Commissioner In-charge of Road Ulhas Mahale said, "We will look into the matter and make sure there should be no inconvenience to the motorist." Another senior official on the condition of anonymity said, "The condition of the road is bad due to the ongoing Metro work."
2.5
Average time (in hour) it takes to travel from Dahisar to Bandra via SV Road