MP Gopal Shetty, who has roped in Falguni Pathak for his event, urges citizens not to make donations without checking with his office; his party colleagues Sunil Rane, Pravin Darekar have also organised garba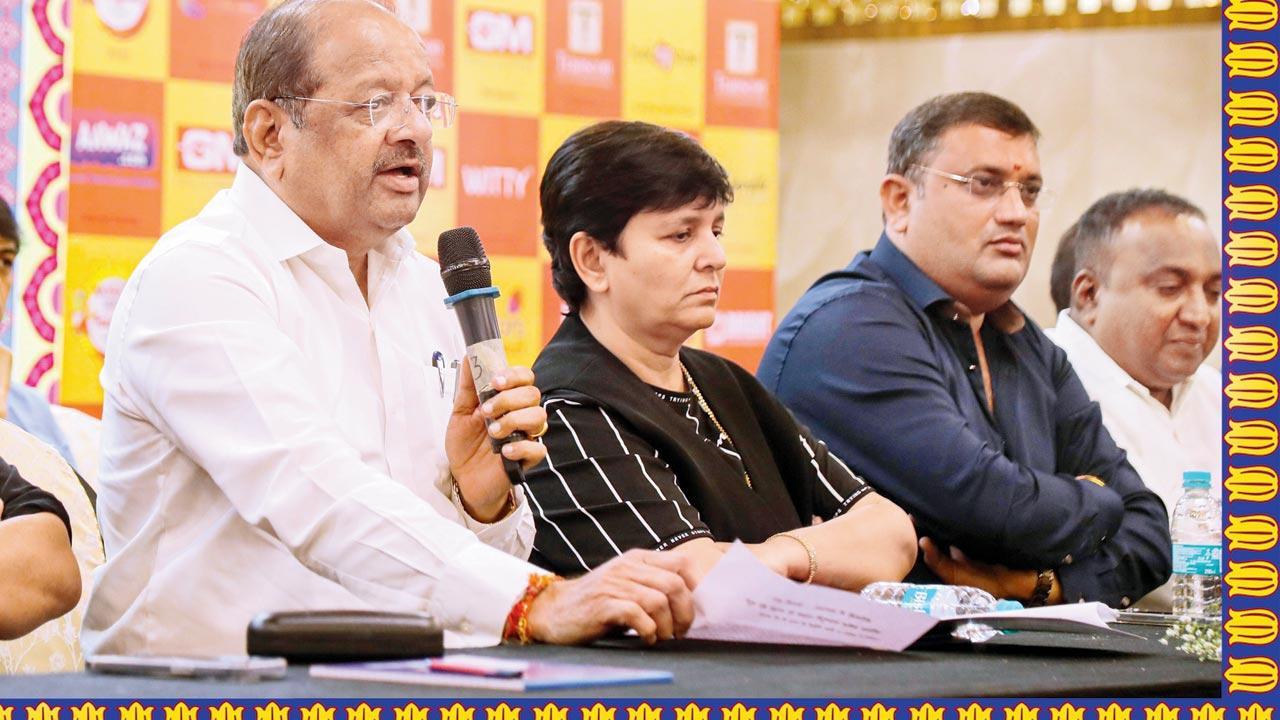 BJP MP Gopal Shetty addresses the media in the presence of singer Falguni Pathak, who will perform at Shetty's Borivli West event
The cold war between BJP leaders that is playing out around Navratri celebrations has become more intense over "donations". On Tuesday, BJP Member of Parliament from North Mumbai Gopal Shetty urged citizens and businessmen to refrain from making any donations without verifying with his office whether there was any such request or requirement. The leaders are in a race to woo voters in the run-up to the BMC polls. 
A message sent out by Shetty's office that mid-day accessed reads, "This year many of them have organised grand Navratri festivals celebration. If anyone is asking for donations under the pretext of my name, please contact my office and verify the same [sic]."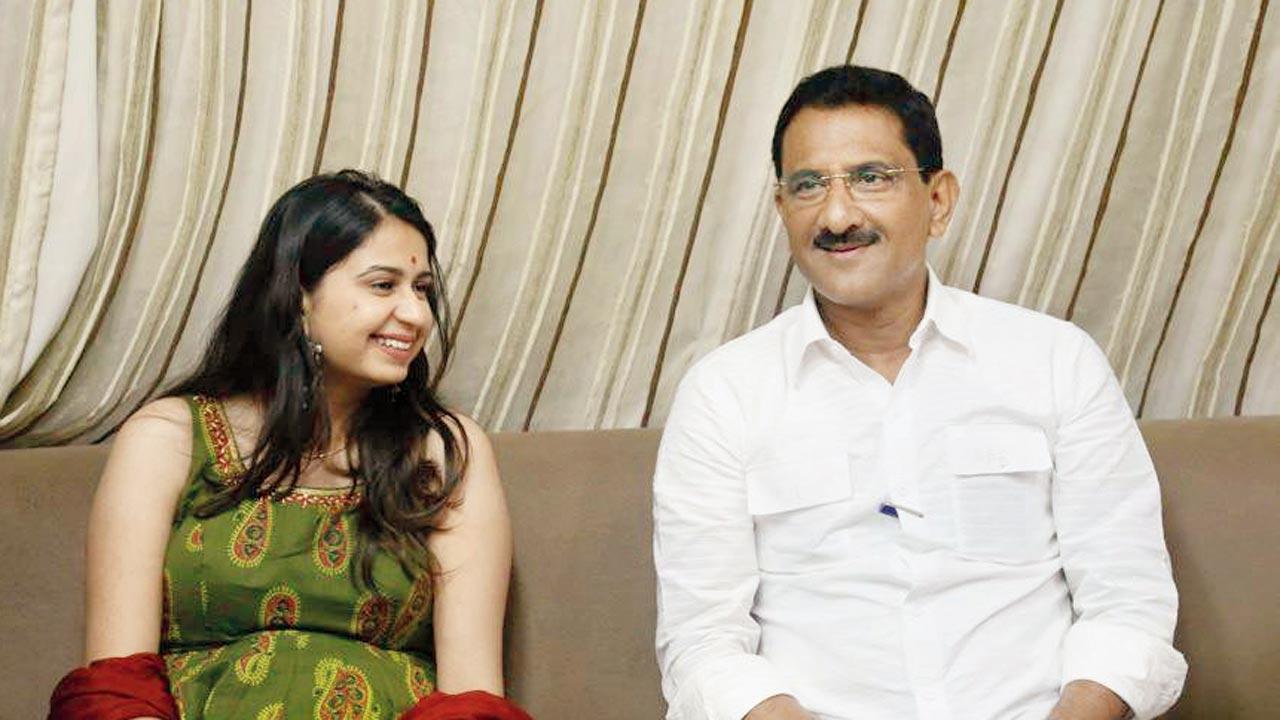 BJP legislator Sunil Rane has roped in popular folk singer Kinjal Dave for his event at Borivli
mid-day on Wednesday reported on the undercurrent of hostility in the saffron party. Three senior leaders, including Shetty, who apparently do not share good equations with one another, have organised Navratri garba at three different venues in Borivli West. While the event backed by Shetty will have Falguni Pathak as its star attraction, local MLA Sunil Rane will get renowned folk singer Kinjal Dave to perform in his programme. Former opposition leader Pravin Darekar, now a Member of Legislative Council, and his brother Prakash will be tuning in Preety-Pinky to liven up their function.
Also Read: Gujarat's Garba dance nominated for UNESCO intangible heritage tag
Considering the grand nature of the Navratri celebrations, it is oblivious that many advertisers are rushing to organisers to ensure better publicity and marketing of their brands and vice versa. Borivli, which is traditionally a BJP bastion, used to have two major garba venues, including one backed by Shetty. This time, it will have four with Rane and Darekar trying to showcase their influence. Against this backdrop, Shetty's message reads much more than a caution.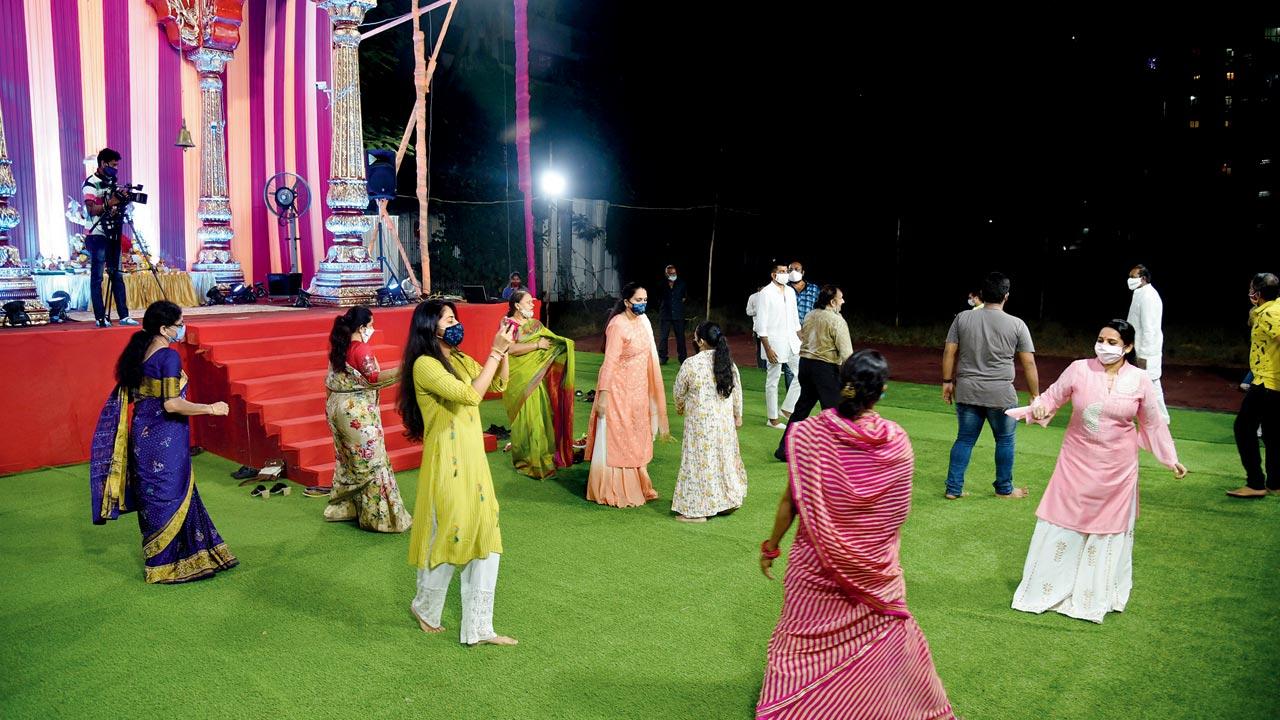 People playing garba at Borivli. File pic/Nimesh Dave
"I heard about people asking for donations in my name. Hence I issued a statement categorically mentioning that before acting on the same, he/she [donors] should verify with my office whether any such request has been really made by me or my office," Shetty told mid-day, stressing that no cash donations are allowed.
Though there is a buzz in the political corridors that "all is not well" between Shetty and Rane, the duo has been denying such "gossip".  
Rane said he did not wish to comment on any specific message. However, making his dissent amply clear, the local MLA said festival celebrations are not anyone's monopoly.  "Borivli is a dandiya hub. With the massive turnout of the public expected for this nine-day festival, it is obvious that advertisers would like to reach their target audience through this event. It is the choice of the donor and sponsor to decide on whom he/she should be associated with and cannot be decided by any individual," he said. When is Shardiya Navratri 2022?