Locals say Cyclone Tauktae uprooted those near entrance as area has been levelled with paver blocks, urge authorities to plant more trees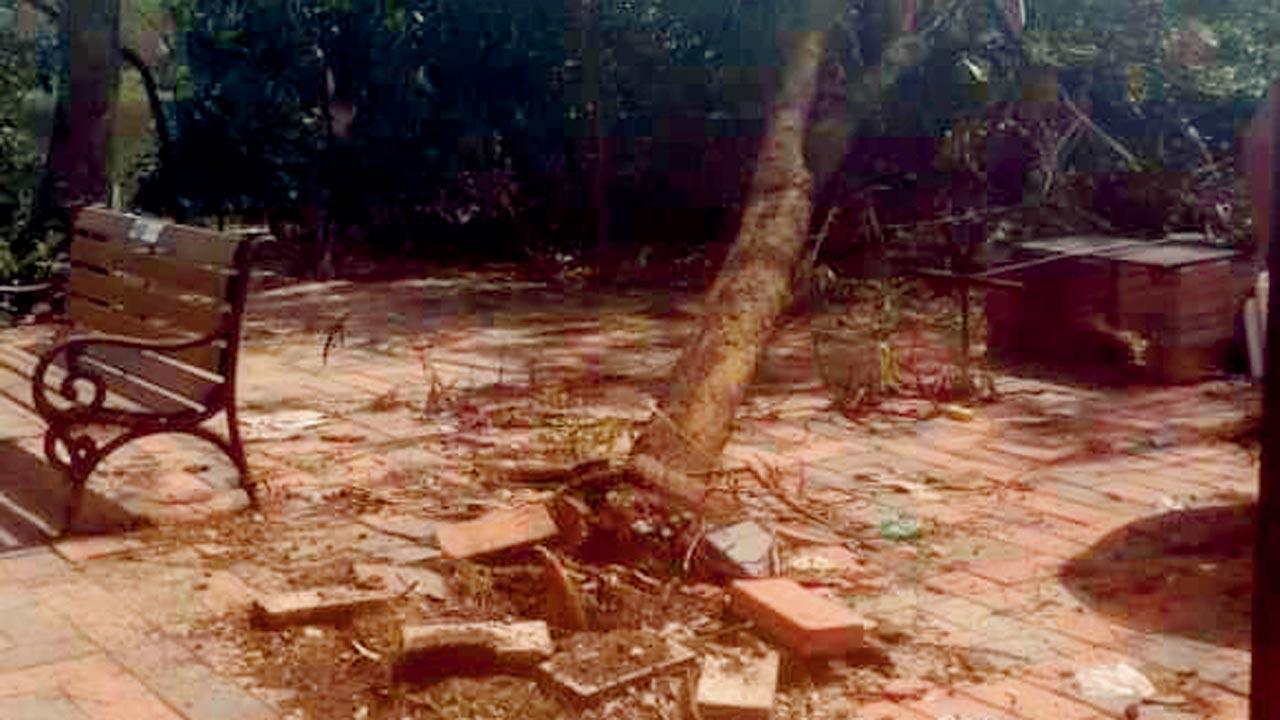 Nature lovers said trees with concretised bases do not get enough air and water for their roots
With Cyclone Tauktae uprooting many trees near the entrance of a lake on Lokhandwala's Backroad, locals and nature lovers have raised concerns over what they called unnecessary concretisation in the vicinity of the waterbody. 
"Only those trees that are located in humanised and concretised areas, such as at the entrance of the lake and the lane adjoining it, have fallen down," said Wildlife Filmmaker Sumesh Lekhi, 48, a resident of Lokhandwala and the founder of the citizens' group 'Friends of the Environment'. 
"Paver blocks and concrete stairs were recently put by local representatives around the trees at Lokhandwala lake entrance despite citizens raising their voice to not follow unscientific methods in natural areas. Mostly only these trees have fallen as this does not allow water and air to reach the roots." He said the trees at the natural areas continue standing tall.
Vrusha Patel-Chokshi, 31, a member of the citizens' group, said, "More than a handful of trees have completely been uprooted from their roots and flung about like they're nothing more than rag dolls. A clear sign that mother nature will fight back and we must change our ways or brace ourselves as the worse is yet to come," she said, stressing the need for choosing desilting over indiscriminate concretisation. 
Also Read: Cyclone Tauktae destroyed 812 trees, most exotic species in Mumbai
"Desilting restores the natural balance of a lake. It is of the utmost importance at Lokhandwala Lake as people continue to use it for visarjan of murtis and objects used in poojas, plastic and toxic garbage," she said. 
Rehan Kazi, 45, another group member, said trimming trees regularly can reduce such loss.
Lekhi said, "Concretisation and use of paver blocks should be avoided at the base of trees throughout Mumbai. If it has to be done, for example on pavements, then adequate soil margin should be left around the tree. We should only plant Indian trees as they have evolved to withstand our weather and pest conditions. Trees, especially, in natural areas should be allowed to stand together and not be cut for so-called beautification projects." Vrusha said those trees that have survived must be protected. "We can do so by fencing areas that have not been fenced off already. Putting up banners and posters that increase awareness about the wildlife present in the area. And lastly, leaving the lake alone; these natural areas have been in existence much before Andheri was. It will beautify itself naturally and survive with the least human interference."