Survivors woke up into a nightmare after bus accident in Nashik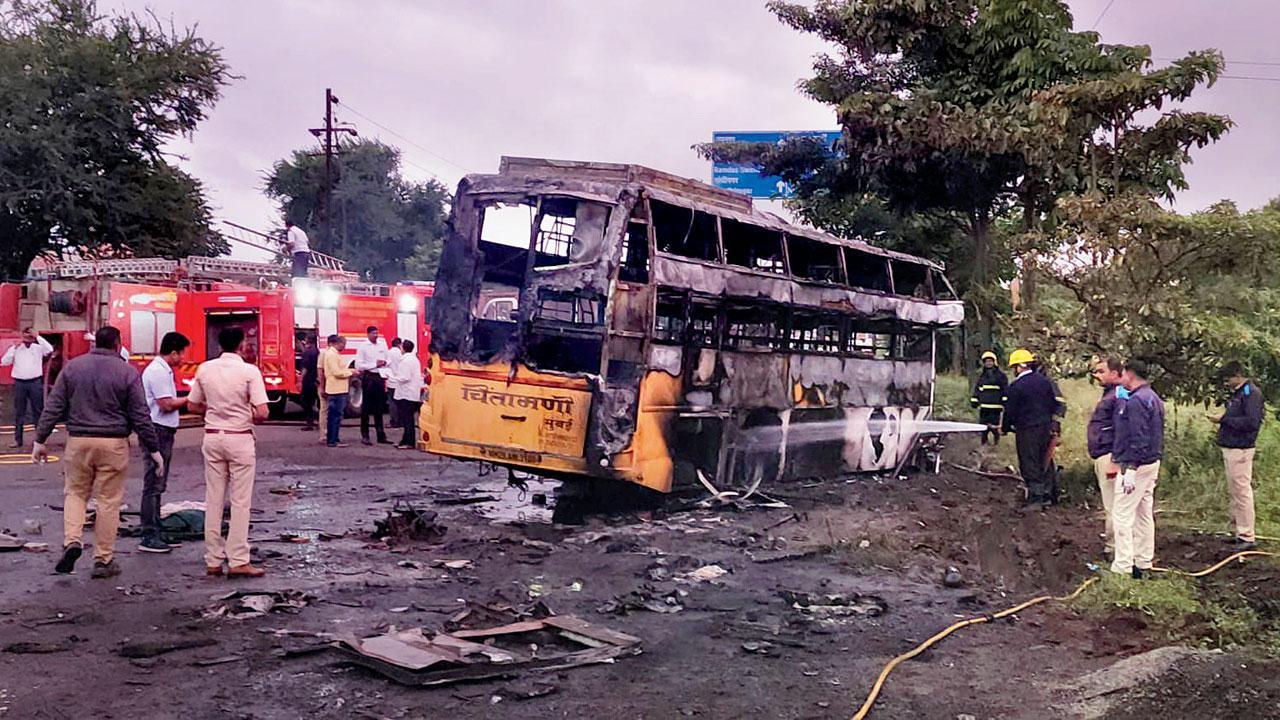 The charred private bus which was parked on the roadside when a truck collided with it head-on
Ganesh Landage, 19, was fast asleep moments before the private bus he was travelling in, met with an accident. "We were woken up by conductor's voice waking up passengers who were to alight at Nashik. Within a few minutes there was a huge collision and then somebody shouted "aag laagli... aag laagli" (fire...fire). We saw a few people jumping out of the window. Some of us rushed towards the door, which was jammed and we could not open it. We, too, then jumped out of the window. Some locals then rushed to help us." Landage was travelling from Washim to Mumbai with four others. Total six passengers were from Mumbai.
Twelve people, including a three-year-old, were charred to death and 43 people were injured after a private bus belonging to Chintamani travels, heading from Yavatmal in Vidarbha to Mumbai had a head-on collision with a heavy vehicle. The accident took place in the wee hours of Saturday, on the Nashik-Aurangabad road near Mirchi hotel signal. The collision led to a massive fire in the bus, restraining passengers including women and children, many of whom were asleep at that time, from making an escape. Sources said that the diesel tank of the truck might have exploded during the collision which caused the fire.
ADVERTISEMENT
An injured passenger said, "My wife and I were sleeping when the collision happened. We were startled and scared! When we looked outside we saw smoke and petrol or diesel. Somebody shouted, 'jump from the window' and many of us did just that to save our lives. As soon as I managed to jump after my wife, the bus was set ablaze. I am still not out of shock thinking we could have been one of those who could not escape and died."
Also read: Nashik accident: Bus owner say they were legitimate, had all safety plans in place
Farina Pathan, 22, who was travelling from Mehkar in Buldhana district to Mira Road considers herself lucky. All three of them, including her mother Rehana, 75, and son Rahat, 9, survived and were admitted to the Nashik civil hospital with minor injuries. Pathana told mid-day, "I injured my hand and my mother has some injuries too but we are lucky to be alive.'
An eyewitness to the ghastly accident, Nilesh Suryavanshi, who lives near the accident spot in Chaufuli, said, "The incident occurred near my house. Heavy vehicles ply here. At around 5-5.30 pm, we heard a loud noise. By the time we rushed out, the bus was already ablaze and all we could hear then were screams of people scrambling for life, calling for help." He added, "Before the fire brigade reached, we managed to help at least four to five people. Luckily the fire brigade reached the spot within 15 -20 minutes."
It is a black spot, say locals
"We are sick of accidents and mishaps happening here almost every fortnight," said 59-year-old Ramrao Suryavanshi, a resident of Chaufuli. The Suryavanshis said this wasn't the first time they had woken up to a loud noise.
"Ever since this bypass connecting Nashik highway was constructed more than a year ago, there have been frequent accidents. There are encroachments on the entire stretch, no proper divider, no speed breakers etc. Just a month and a half ago a tanker turned turtle, before that there was a school bus accident.  My son and I often rush to help victims and send survivors to the hospitals," Suryavanshi said. They demanded that the administration identify the area as a black spot on priority.
Chandrakant Pulkundwar, commissioner, Nasik Municipal Corporation (NMC) said, "Locals are complaining about encroachment, which was taken up by Guardian Minister Dada Bhuse in a meeting with the CM. Encroachments will be removed immediately. Secondly, a District Road Safety Committee meeting will be headed by District Collector on Monday. NMC, RTO and Police Department will attend this meeting to give their opinions and suggestion. Approval to construct new speed breakers will be given by the committee soon."
Minister Sanjay Rathod orders probe against bus owner
Guardian Minister of Yavatmal district, Sanjay Rathod ordered an investigation against the owner of Chintamani travels, whose private bus met with a fatal accident on Saturday morning near Nashik. Rathod alleged that the bus was ferrying more passengers than permissible limit. Action will be taken against those found responsible after probe, he said.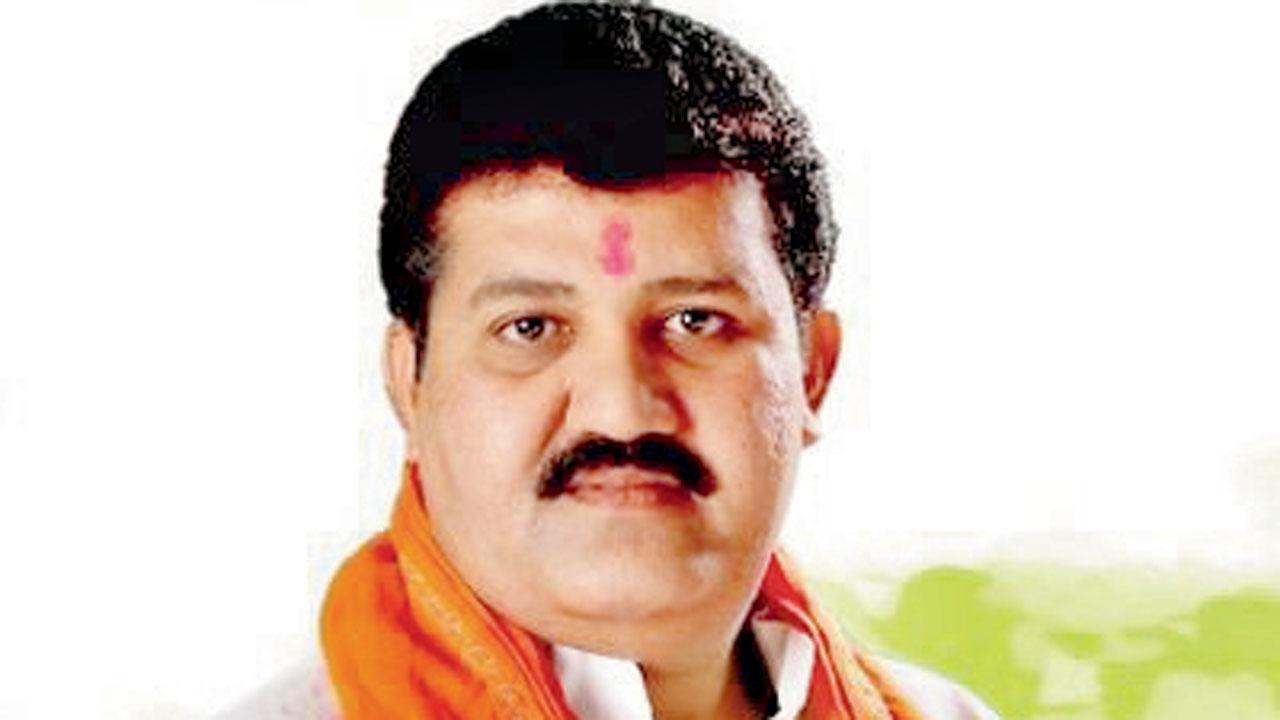 Talking to media in Yavatmal, Rathod said, "I have spoken to the collector of Yavatmal and Nasik. As per information, there were 45 passengers on this bus. When the bus left for Mumbai from Yavatmal, it had the permitted count but investigation will have to be carried out to see if the driver and bus conductor allowed more passengers to board the bus enroute. Action will be taken against anyone at fault."
Transport expert Jitendra Gupta said, "The system wakes up from its slumber only when there is a big incident of loss to public life. Otherwise, everyone is comfortable in their own zone. The government should properly investigate the matter and take action." Another expert Jagdeep Desai added, "I have regularly traveled on state and private buses and most drivers don't follow traffic rules." - Ranjeet Jadhav and Dipti Singh