On National Tourism Day, Deutsche met desi as biker gal Isabel Schmidt, German diplomat, talked fun, philosophy traversing India on a motorbike
Isabel Schmidt on her bike during a Ladakh trip; (right) at Tiger Hill, north West Bengal
On National Tourism Day, January 25, Isabel Schmidt, consul at the German Consulate General in Mumbai, ought to have been on her Indian motorbike touring the country, like she has been doing in the three years she has been here. Schmidt laughed as she said, "Today is an apt time to reminisce about my time here and the way I criss-crossed India on my bike, imbibing the sights and sounds, soaking up culture and customs like a sponge does water."
To Mumbai
Schmidt, from the Black Forest area in South West Germany, arrived in India in July 2019. The consul said, "I bought my first bike in February 2020. A year later, fortunately, I was introduced to a group of bikers and started exploring India with them on bike."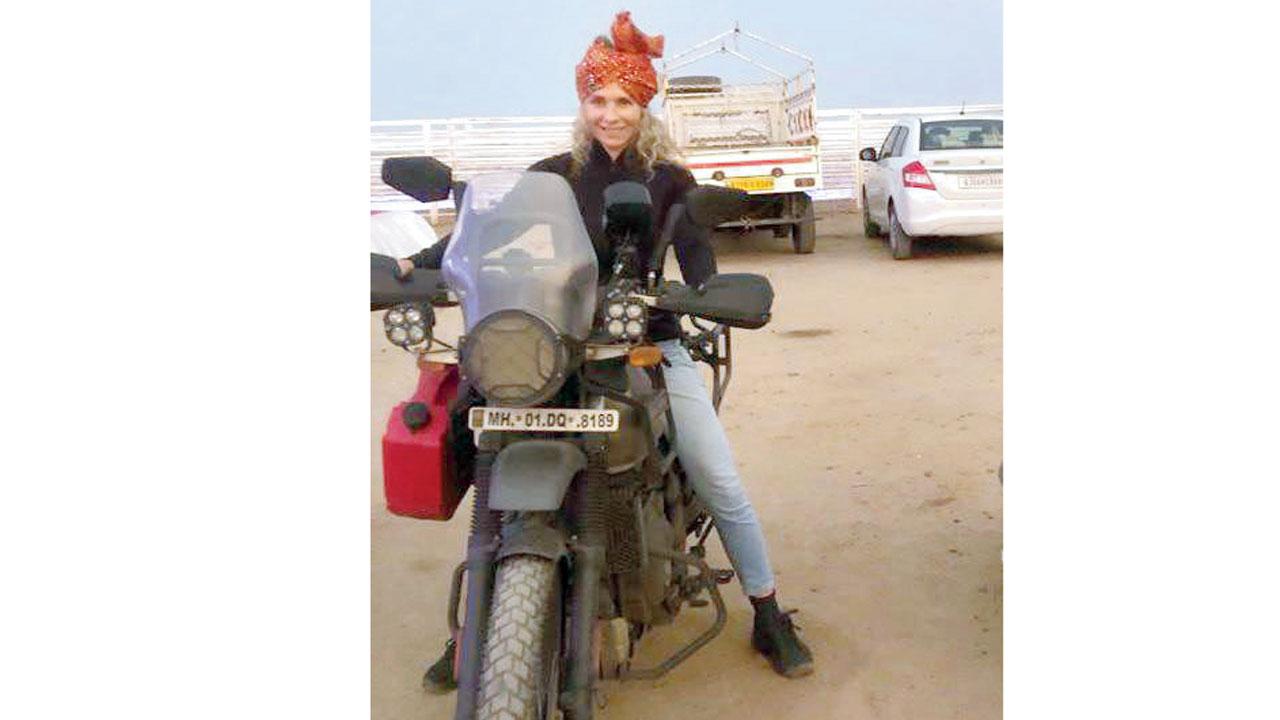 Biking to the Rann of Kutch
While Schmidt did day and overnighters around Mumbai, the longer journeys on bike were to "the Rann of Kutch, Gir Forest, Kerala and a very long one to the southern tip of Rameswaram, a Hampi tour and Ladakh, always a classic for bikers." Schmidt went Northeast to Meghalaya and Assam and then also to Amritsar and Chandigarh. She has ticked off Darjeeling and Southern Sikkim too, on her to-do tourist list.
Also Read: 'Privilege must never insulate, but empower'
With friends
chmidt does not ride solo except around the city. She said, "This is for safety reasons and also it is fun to ride with fellow friends and bikers. It is much more enjoyable and, of course, because my Hindi is not so good. So, they do the translations and suggest the food and all those kinds of things," laughed Schmidt, who is thankful for an expert organiser in her group who charts out routes and the distance logged per day. Schmidt has two bikes, a Royal Enfield Classic 350 with a retro look. She also has a Himalayan, a 411-CC off-road bike.
Mind journeys
Group riding is the physical part. Like all travellers, the diplomat takes mental journeys too as she rides along on her trusty two-wheeled steed. Schmidt said, "The travels have changed me personally because it is a very daunting experience to ride a bike, especially in crazy traffic. Not just in Mumbai but also on the highways, it can be quite dangerous. So, I am quite proud of myself that I have the courage to do that."
Schmidt said, "Better roads, that endure and do not fall apart the next monsoon and drivers that follow traffic rules will make the roads much safer, for everybody but especially for bikers." Having said that, Schmidt considered herself "hugely fortunate to be able to tour India on bike.  You interact with people on the road not only verbally but engage through cuisine, when we ride we eat at dhabas, chai places and fresh coconut water and nimbu paani, the accent is on local food, nothing fancy."
Selfie, please
As a Western woman on a mo-bike, Schmidt attracts a lot of attention and a plethora of requests for selfies. She said, "People are usually very surprised when you get off the bike and they realise that you are a woman. Indians love taking selfies, so requests are plentiful."
Schmidt wrapped up, "I encourage those who can travel India on a bike because there is no barrier. You are not shielded off in a car or a bus. I would recommend it to visitors if possible to truly understand the country. Indians are super friendly and welcoming. There are challenges and there may be certain setbacks on the journey but what is exploration, touring and adventure if not unpredictable?" asked the biker, who when talking collectively about her travel claimed, "It is an experience of a lifetime."