The packets have been washing ashore for the past few weeks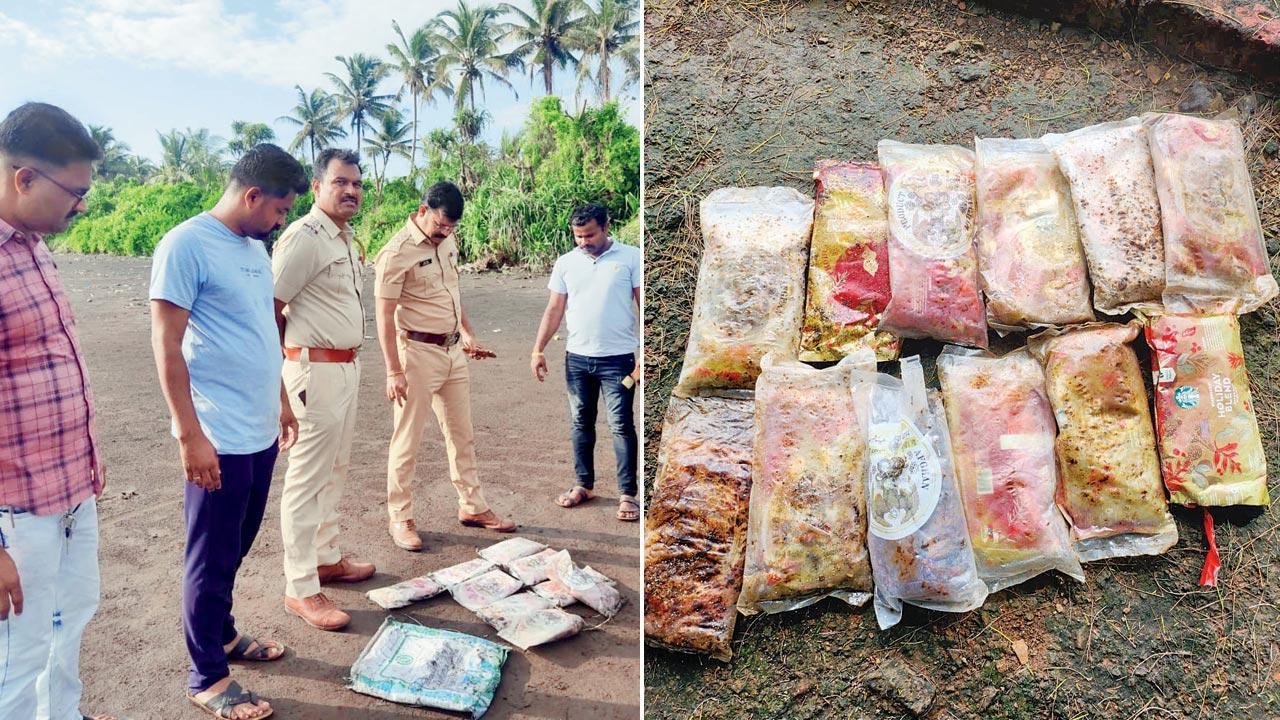 The packets seized weigh between 1 kg and 1.25 kg; (right) The police said the packets had Afghan and Pakistani labelling
Police in the coastal belt and the customs have landed upon a series of drug packets
The packets have Pakistan and Afghanistan printed on them
The team recovered 2.70 kg of hashish from him
The arrest of a villager from the coastal belt of Raigad in Navi Mumbai led the Customs department and the police from Ratnagiri, Raigad and Gujarat to 500 kg of drugs that washed ashore. In the last two weeks, police in the coastal belt and the customs have landed upon a series of drug packets that get washed ashore every second day. The packets have Pakistan and Afghanistan printed on them, the police said. According to the police, they began finding the packets in the second week of August, when the Navi Mumbai Crime Branch laid their hands on the villager. 
Sleuths of Central Unit, Navi Mumbai police, received a reliable tip early in the morning of August 9 about a person in his 30s arriving at Bonkode village in Koparkhairane with hashish (charas). The team laid a trap and arrested Rahil Abdul Rashid Ghansar, 32, hailing from Karde village, Dapoli, Ratnagiri. The team recovered 2.70 kg of hashish from him.
ADVERTISEMENT
An offence was registered at Koparkhairane police station under the NDPS Act. During inquiry, the Navi Mumbai police found that Ghansar had more of the contraband at his home. The police team then visited his village and recovered 10 kg of hashish. Meanwhile, the Ratnagiri police whose local assistance was sought, learnt during Ghansar's interrogation that the hashish was found along the beach near his village. Ghansar also identified the spot where the packets were found. 
The Raigad police immediately conveyed this information to the higher-ups. A search operation was launched along the coast. On August 14, the police found 15 packets of hashish weighing 17.255 kg, with contraband worth R69 lakh. By August 17, more packets were found at Dapoli and Dabhol, with the police recovering 70 kg of hashish in total.
The weight of the packets varied from 1kg to 1.25 kg and the plastic covering had 'Afghan Product' and 'Product of Pakistan' printed on them. The police seized the packets and during preliminary testing, it was found that the contents of all these packets were hashish. The samples have been sent to FSL, Kalina for chemical analysis. 
The Coast Guard, Navy and Customs officials were immediately alerted by the Ratnagiri cops. Customs officials suspect that these items had either fallen or had been dumped for the purpose of smuggling narcotics. Packets have been seized from Karde, Ladghar, Kelshi, Kolthare, Murud, Burondi, Dabhol and Borya beaches.
The shore guards of Dapoli Customs division in Ratnagiri, on the eve of Independence Day, found 10 suspicious packets collectively weighing 12 kg during patrol.  An intensive search operation was also conducted between Kelshi and Borya areas. On August 15, about 35 kg of hashish was found between Karde and Ladghar beaches. On August 16, about 25 kg was recovered from Kelshi beach and 13 kg from Kolthare beach. On August 17, over 14 kg was found from Murud, along with 101 kg between Burondi and Dabhol Creek, and 22 kg from Borya. More of the contraband was found along the Kolthare beach rock surface area later. 
Following the Ratnagiri episode, Raigad cops launched a search operation and between August 27 and 29, recovered 107 packets collectively weighing more than 60 kg, with a value of R4.5 crore. "We have informed all the coastal police, fishermen societies and villagers near the coast. We suspect there may be more such packets in mangroves. An FIR in this regard has been filed against unknown persons with the Shrivardhan police," said an official from Raigad police.
Past instances 
In 2022, at least 59 coffee packets suspected to contain hashish were recovered after they washed ashore in Porbandar and Junagadh districts in coastal Gujarat. Each packet weighed around 1 kg. The coffee packets containing the suspected contraband were recovered from Mangrol in Junagadh and Madhavpur in Porbandar.
In 2019, the Border Security Force (BSF) recovered two packets of drugs washed ashore in the creek area of Kutch district in Gujarat. The packets weighed about 2 kg each. According to BSF officials, these two packets were the "remnants" of a larger consignment that was dumped into the sea by the crew when the Indian Coast Guard chased and boarded the Pakistani vessel 'Al Madina' off the Jakhau coast in Gujarat in May 2019.
Cops speak
"After receiving information from the Navi Mumbai police, we launched a search operation along the Ratnagiri coast. Till now, we have recovered packets containing 88 kg of hashish in total. An offence has been registered against unknown persons. We are coordinating with other agencies as well for getting inputs in this regard," Dhananjay Kulkarni, superintendent of police, Ratnagiri. 
Raigad Superintendent of Police, Somnath Gharge said, "Raigad cops have launched search operations and till now have found 107 packets having a collective value of more than R4.5 crore. It is likely more packets will be found along the shore. We are making announcements in coastal villages to inform us and not hide any packets as it can attract police action."  Gujarat DGP Vikas Sahay said that in the last 15 days, several packets of hashish have also been recovered along the Gujarat coast. "The Gujarat police and Coast Guard and looking into it," he said.
On August 30 and 31, 47.577 kg of Hashish valued at Rs 1.90 crore washed up along the Raigad coast at Korlai, Theronda, Akashi, Naniwani and Shrivardhan beaches.
"Exciting news! Mid-day is now on WhatsApp Channels

Subscribe today by clicking the link and stay updated with the latest news!"
Click here!