After two years of muted celebrations, this year organisers are planning to celebrate Navratri on a larger scale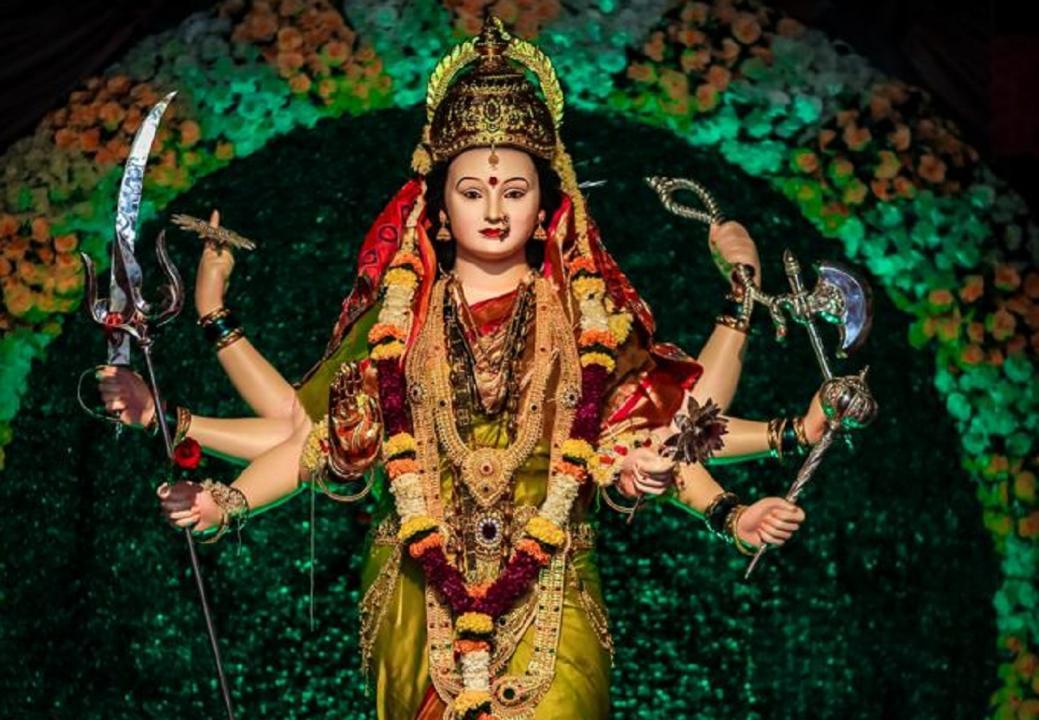 Ashtabhuja Narayani Lalbaugchi Mata. Pic/Lalbaug Sarvajanik Utsav Mandal
After Ganeshotsav, Mumbai is all decked up to celebrate Navratri with full enthusiasm. The nine-day festival will commence on September 26 and end on October 4.
After two years of muted celebrations, this year organisers are planning to celebrate Navratri on a larger scale. 
Founded in 1928, Lalbaug Sarvajanik Utsav Mandal will complete 95 years. Explaining how the mandal plans to celebrate Navratri, Adhwait Pedhamkar, joint secretary of the mandal, said, "We are excited about this year's Navratri celebrations. As there are no restrictions, we are expecting more footfall this year." 
The Devi is addressed as 'Ashtabhuja Narayani Lalbaugchi Mata'. It is 6.5 feet tall, he added. 
Speaking about the last two years, Pedhamkar said, "We did celebrate Navratri but they were on a smaller scale. We followed government guidelines during the last two years. Hence, we did not organise any programmes, because if we would have organised them people would have thronged the pandal in large numbers, which we wanted to avoid."
Sharing how the mandal celebrates Navratri, Pedhamkar added, "This year, we are celebrating the 95th year of Navratri utsav. With no restrictions, we have programmes, such as bhajan, entertainment programmes and workshops for kids like crafting, drawing etc., which we used to keep before the pandemic." 
Also Read: Navratri colours 2022: Here is the list of nine colours and its significance
"We also keep fancy dress dandiya, but that is only on Ashtami (the eighth day of Navratri). On panchami (the fifth day of Navratri) we keep gondhal. We will organise Bhandara (Maha prasad) on Kojagiri Purnima, which is on October 9, every year. Around 2,500 devotees will come to take this Prasad. We will serve a meal to them," he added.
According to the mandal, they see a lot of devotees giving sarees to their beloved goddess Lalbaugchi Mata. 
  
"Every day, devotees present around 150-200 sarees to the beloved goddess Lalbaugchi Mata as she has fulfilled their Navaspurti," Pedhamkar said. 
Pedhamkar further said, "After Navratri, we do not organise any auction for these sarees. But instead, we sell those at a 15% discount to devotees who want to buy them. The remaining sarees are donated to the Adivasi community in villages."
The mandal doesn't take any separate donations for Navratri. "Whatever donation we get during Ganeshotsav, we use those funds for Navratri," he added.
Another mandal in Mumbai, GSB Sabha Dahisar-Borivali, was established 30 years ago. Since 2008, the Samaj has been celebrating the Navratri festival at their Saraswat Cultural & Recreation Centre at N L Complex, Dahisar (E).
Jayesh Prabhu, a committee member of GSB Sabha Dahisar-Borivali, said that they are expecting more footfall this year as restrictions have been lifted by the state government. "For the last two years many devotees have told us to start physical darshan so that they can pray to their beloved Devi," he added.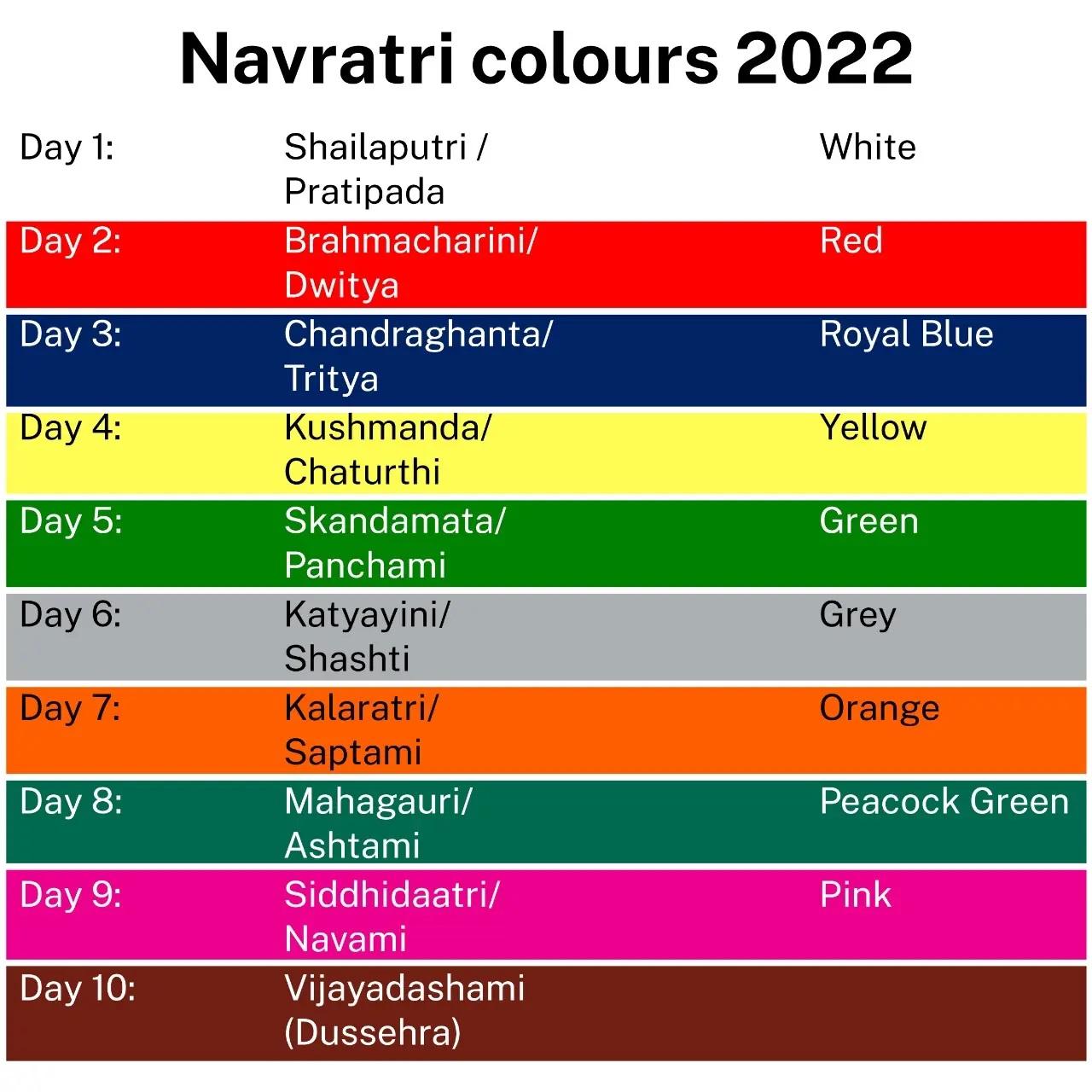 Speaking about the last two years, Prabhu said, "We did celebrate Navratri but on a smaller scale. During the pandemic, it was a closed pandal and fewer people were there. The aarti and darshan were broadcasted live on YouTube so that everybody can see their beloved Devi." 
According to GSB Sabha Dahisar-Borivali, the ground on which the Navratri celebrations are held is spread across 1.75 acres. The ground hosts the Navratri pandal, which is around 40,000 sq. ft. in dimensions with a max height of around 28 feet. The pandal is divided into three sections. While the central section holds the Devi Mandap, the left section is used for cultural events (hosting singing/ dance performances of several artists and schools), and the right section for AnnaDaana Seva (serving meals to thousands of devotees daily throughout the nine days). 
Also Read: When is Shardiya Navratri 2022? Date, significance, history and all you need to know
  
Speaking about what makes the Navratri celebrations unique, Prabhu shared, "The same Devi idol is seen in nine different swaroops throughout Navratri, with the final swaroop on Dussehra." 
The Sabha presents the idol, which is close to seven-feet tall and is made from sadhu (clay), in different swaroops. A team of volunteers work throughout the night, preparing the Devi for the next day. They adorn the Goddess in different sarees, and ornaments, that complement the props on the stage thereby giving a completely different look and feel to the devotees the next day, as per the Sabha. 
The Sabha also said that the swaroop on Navami day (the ninth day) is an eye-catching one. On this day, the Devi is shown as Maa Kaali. The idol is painted in black on Navami day. "It's an effort of over eight hours on Ashtami night (the previous night) to paint the idol black and equally big an effort on Navami night to repaint the idol to its original form," the Sabha said.
It's on Navami that the Sabha also celebrates Deep Utsav, where over 10,000 oil lamps are lit by every devotee within the pandal. The lighting of lamps starts around 5.30 pm and concludes with the Sabha switching off all of the electric lights around 7 pm when they open the curtains and perform the evening Aarti, the Sabha said. After two years of muted celebrations, will you be going for garba this years?