A close associate rues that very few of those associated with Nitin Desai from Bollywood attended his funeral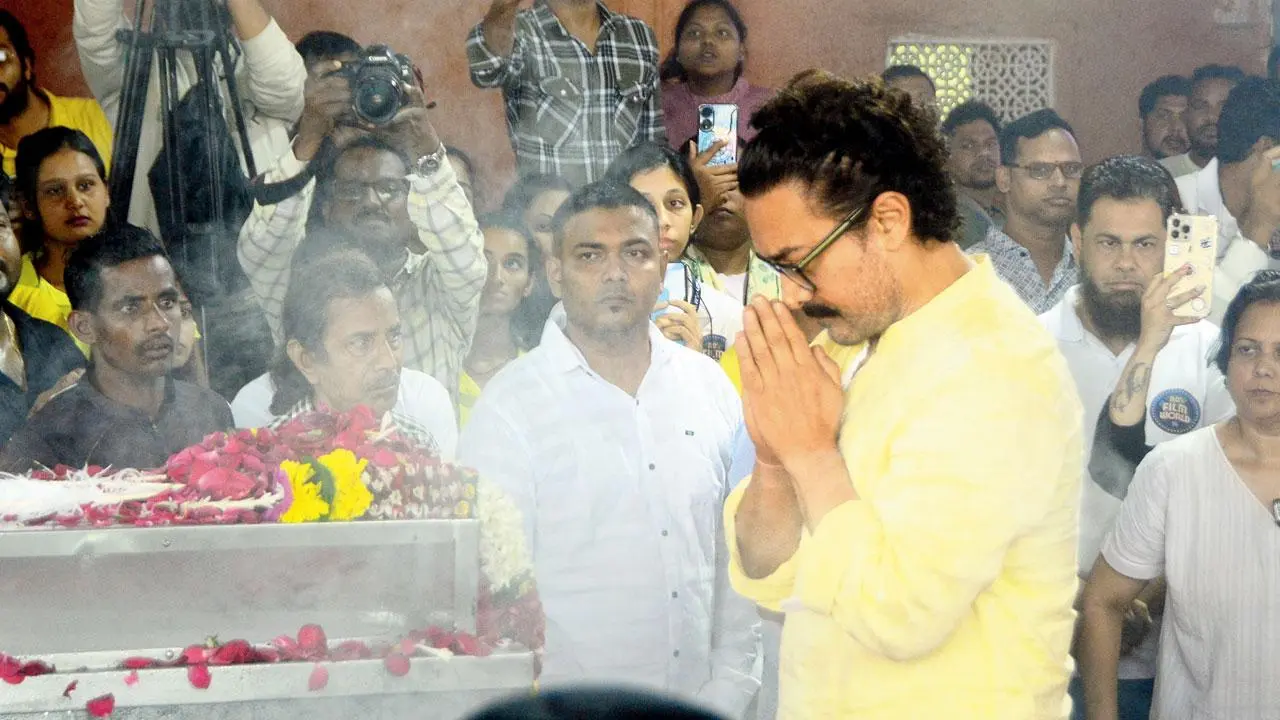 Aamir Khan pays his last respects to Nitin Desai at his funeral on Friday. Pic/Satej Shinde
Listen to this article
Nitin Desai death case: 'Undeclared boycott of him continued even after his death'
x
As per his wishes, art director Nitin Desai's last rites were performed at the helipad at his studio in Karjat, on Friday. Desai was given a 21-gun salute by the Raigad police as per the instructions of CM Eknath Shinde. Actor Aamir Khan, directors Sanjay Leela Bhansali and Ashutosh Gowarikar and actress Sonali Kulkarni were the only celebrities spotted at the funeral.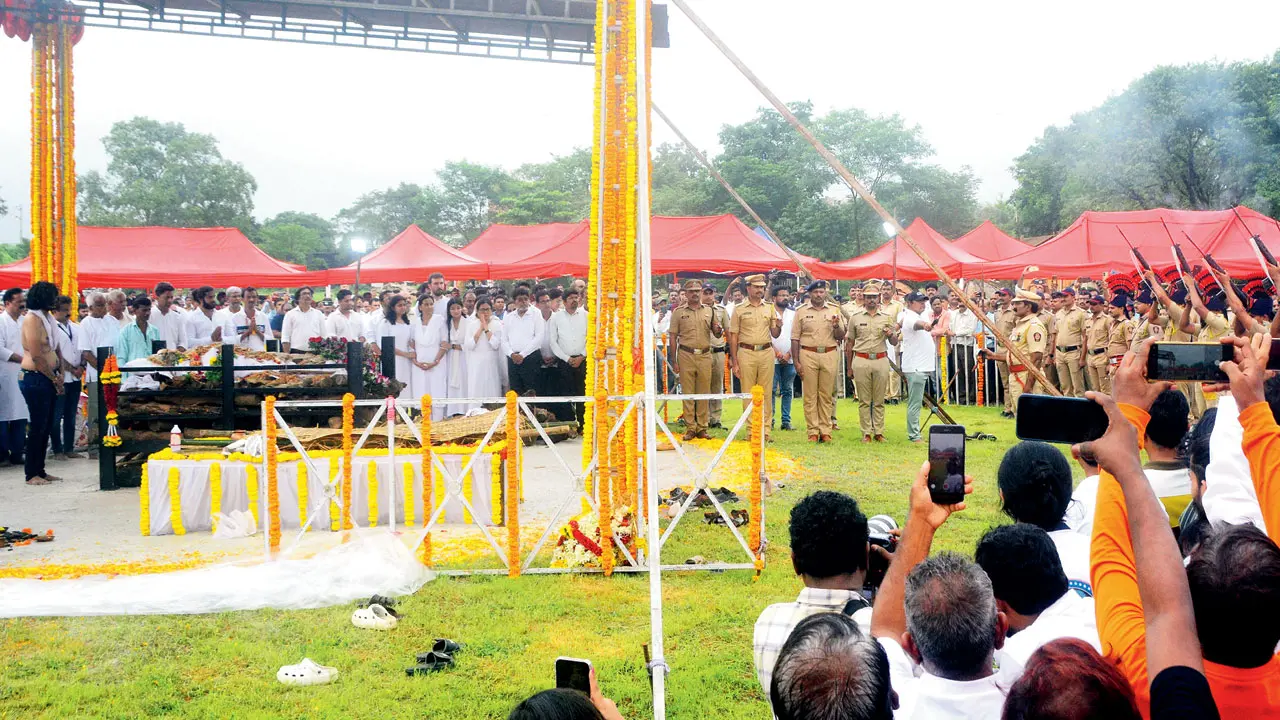 A 21-gun salute by the Raigad police to the departed soul
ADVERTISEMENT
Some other artistes from the Marathi film industry attended the funeral. However, no other associate of his from Bollywood attended it. Desai died by suicide at his studio on Wednesday morning. His funeral was arranged on Friday as his son and son-in-law were to arrive from the USA. Shinde and Deputy Chief Minister Ajit Pawar paid their respects to Desai at JJ Hospital on Friday morning. After that the mortal remains were taken to ND Studio, Karjat.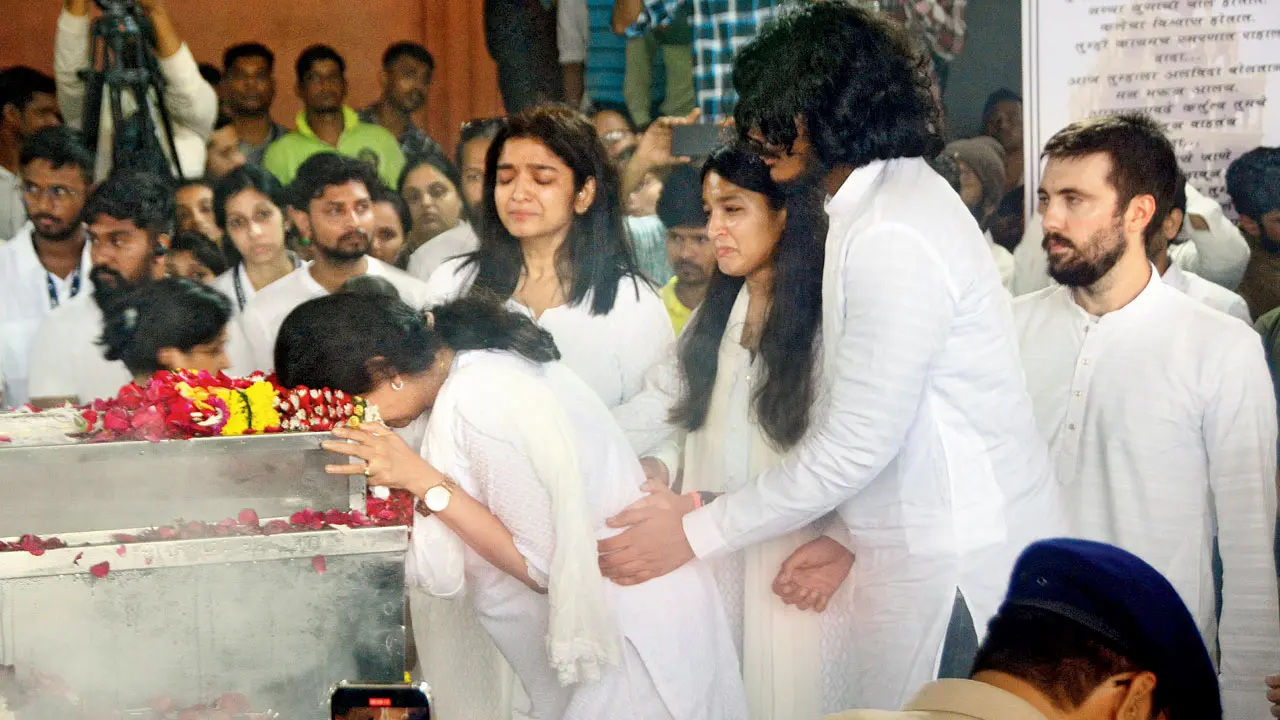 Desai's wife, daughter, son and son-in-law
From 1 pm, the body was kept at the Agra fort set that was used in the movie Jodhaa Akbar for people to pay their last respects. Besides the actors mentioned, no other Bollywood stars came to pay their respects. "Dada (Nitin Desai) gave stars red carpet treatment. He never thought twice before fulfilling their wishes, be it about food or any other luxury," said a close associate of Desai on condition of anonymity. "Dada always remained a close friend to many stars. We had expected most of Bollywood to come, but the undeclared boycott of him continued even after his death," he added.
Loan co officials booked over Desai's suicide
The Raigad police on Friday said they have booked four officials of Edelweiss group for allegedly harassing and mentally torturing art director Nitin Desai, leading to his suicide. They will now be summoned for questioning, cops added. The FIR has been filed under IPC Sections 306 (abetment of suicide) and 34 (common intention) at Khalapur police station based on the complaint lodged by Nitin's widow Neha Desai.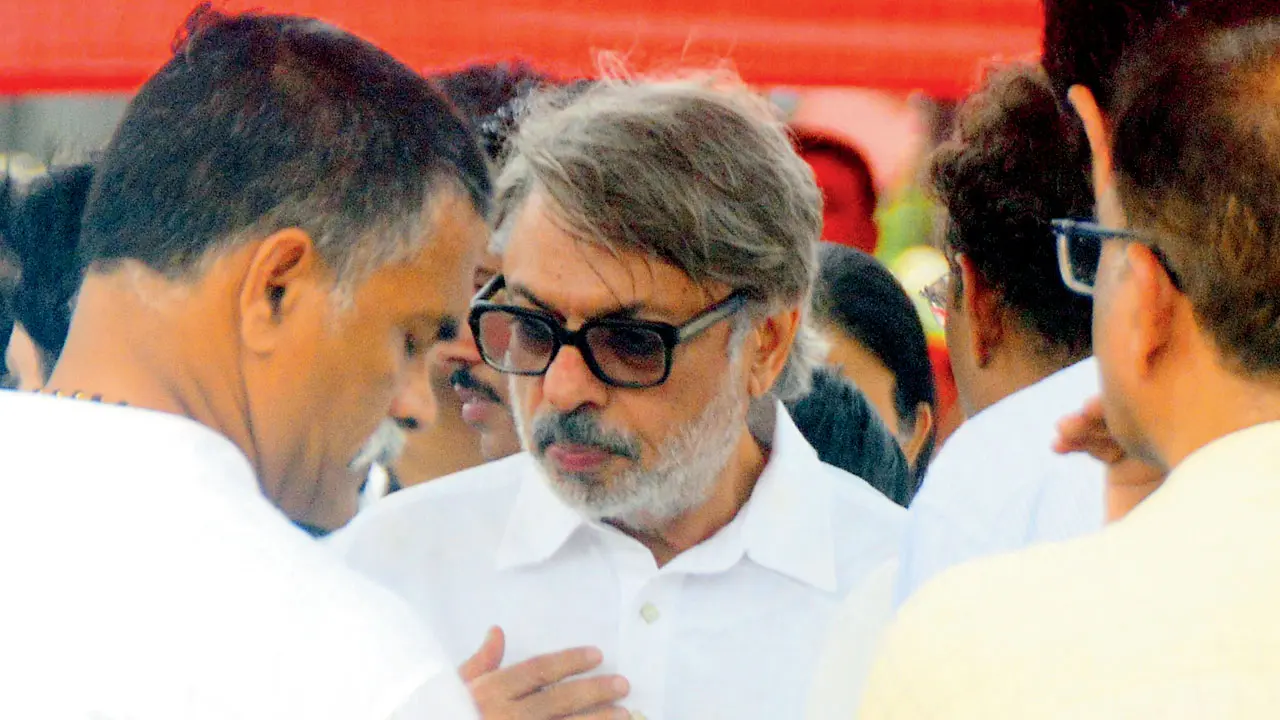 Sanjay Leela Bhansali at the funeral. Pics/Satej Shinde
"According to the written complaint given by Neha Desai, both the companies consistently mentally tortured Nitin Desai. The torture led to the suicide of the Nitin Desai," Superintendent Somnath Gharge of Raigad police said. The names: Those booked are—Edelweiss Finance CEO and Chairman Rashesh Shah; Edelweiss Asset Reconstruction Company (ARC) officials Keyoor Mehta, Smit Shah and R K Bansal; and Jitendra Kothari, an insolvency professional appointed by the NCLT, Mumbai.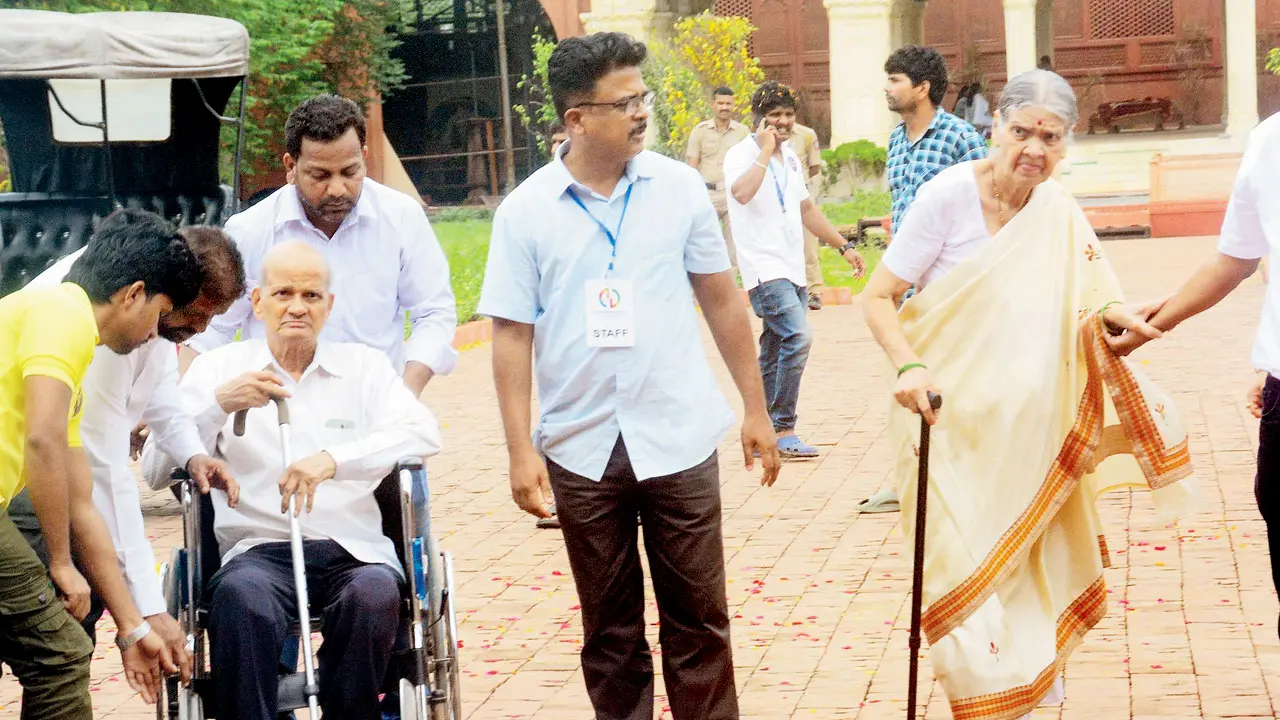 His father-in-law and mother-in-law at the funeral
 "...soon the COVID-19 pandemic hit the entertainment industry and shoots were stalled. Nitin Desai knew this will lead to defaults and pilling up of interest. He contacted the borrowers and asked about a one-time settlement," states the FIR. Nitin was ready to pay the settlement amount, but Edelweiss ARC kept postponing their meetings, according to the FIR. "Nitin begged for settlement, but without intimating him, Edelweiss ARC went to NCLT and even to Raigad collectorate," it adds. In 2019, Nitin sold is Powai office to pay off six months of EMI, according to the FIR.
The loan: Nitin's company ND's Art World Pvt Ltd had mortgaged a total of 43 acres of land, on which his ND Studio stands, and borrowed R185 crore through two loans from ECL Finance in 2016 and 2018. ECL Finance is a non-banking finance arm of the Edelweiss Group.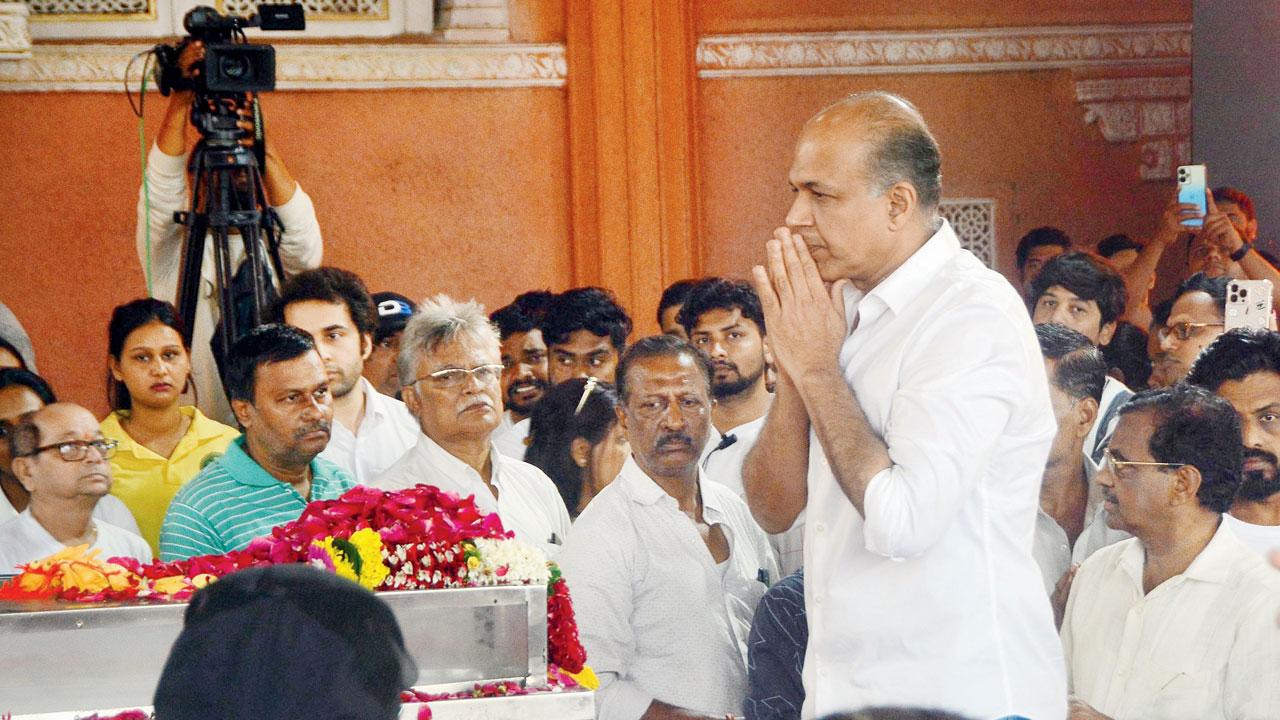 Ashutosh Gowarikar pays his last respects to Desai
Later on, Art World's debt was transferred to Edelweiss ARC, which had appealed in the National Company Law Tribunal (NCLT) for insolvency. Edelweiss had sent a proposal to the Raigad collector to seize the mortgaged land. The proposal has been pending before the collector for the past two months. Desai had named the officials in a voice note he had left, accusing Edelweiss ARC of trying to usurp his studio. 
Alleged threat: It is alleged that on July 29, Jitendra Kothari told Nitin's lawyer and Neha that he is sending his bouncers to "to look after" ND Studio.
Nitin told his wife that no new assignments are coming to the studio because of all this and hence they have incurred a loss of R100 crore, according to the FIR.
- Anurag Kamble and Apoorva Agashe
"Exciting news! Mid-day is now on WhatsApp Channels

Subscribe today by clicking the link and stay updated with the latest news!"
Click here!