BMC brings back stricter rules for sealed buildings, says police will be deployed at gates to keep a check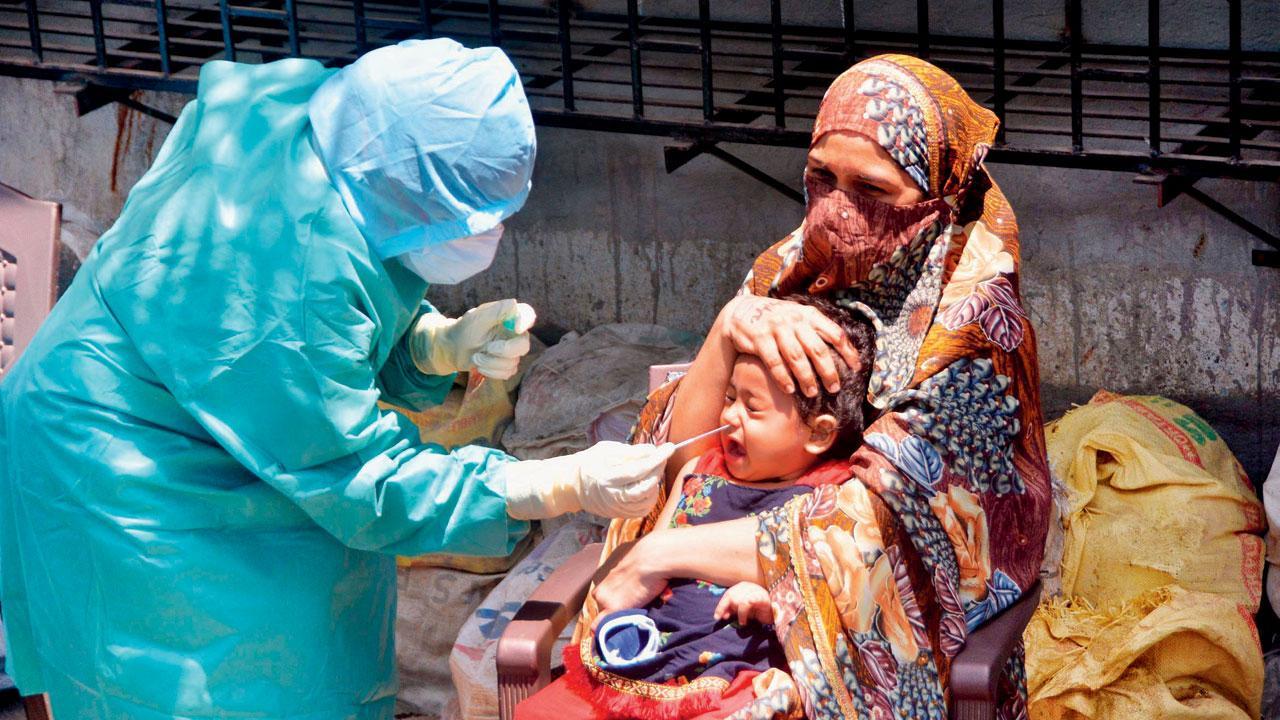 A health worker checks a child for Covid-19 at a building in Kurla West. File pic
With daily Covid-19 cases in the city showing an upward trend, the Brihanmumbai Municipal Corporation (BMC) is all set to implement stricter rules for sealed buildings. From now on, no one will be allowed to enter or leave sealed buildings. Housemaids, drivers and other workers will also not be allowed and police will be deployed at the gates. All residents of such buildings will be tested for Covid in phases. Municipal Commissioner Iqbal Singh Chahal gave the instructions at a review meeting for the third wave's action plan.
Currently, there are 29 sealed buildings across the city. As per rules, the corporation seals buildings, where five or more Covid cases are reported, for 14 days. While the rule was always there, it was never fully implemented. However, Chahal has instructed the officials concerned to implement the measures fully considering the possibility of a third wave.
Chahal appealed to citizens on Monday by saying, "All residents in sealed buildings should cooperate fully. This may cause some inconvenience to citizens, but it is necessary." The Public Health Department has been instructed to carry out all the necessary procedures regarding sealed buildings within a given time frame. 
The commissioner has taken note of the fact that many people were not wearing masks in public places and following Covid protocols. The police have been instructed to take comprehensive action against the violators. The civic body will also appoint more clean-up marshals and instructions have been given to sanitise public toilets five times a day.
Also read: 26 per cent of Mumbai's adults yet to get their first dose

'Don't spread rumours, please'
News regarding the number of Covid positive patients increasing in the Pali Hill area and many buildings being sealed was widely circulated on social media, resulting in panic. However, the BMC clarified that only two buildings (which have more than five cases) had been sealed at Pali Hill and a few floors of some other buildings had also been sealed. The civic body appealed to citizens to not spread rumours and follow Covid protocols to curb spread of the infection.
29
No. of sealed bldgs in city