Senior poet-lyricist and writer Javed Akhtar was invited to Lahore's celebration on poet Faiz Ahmed Faiz's commemoration day when he slammed Pakistan for 26/11 Mumbai terror attacks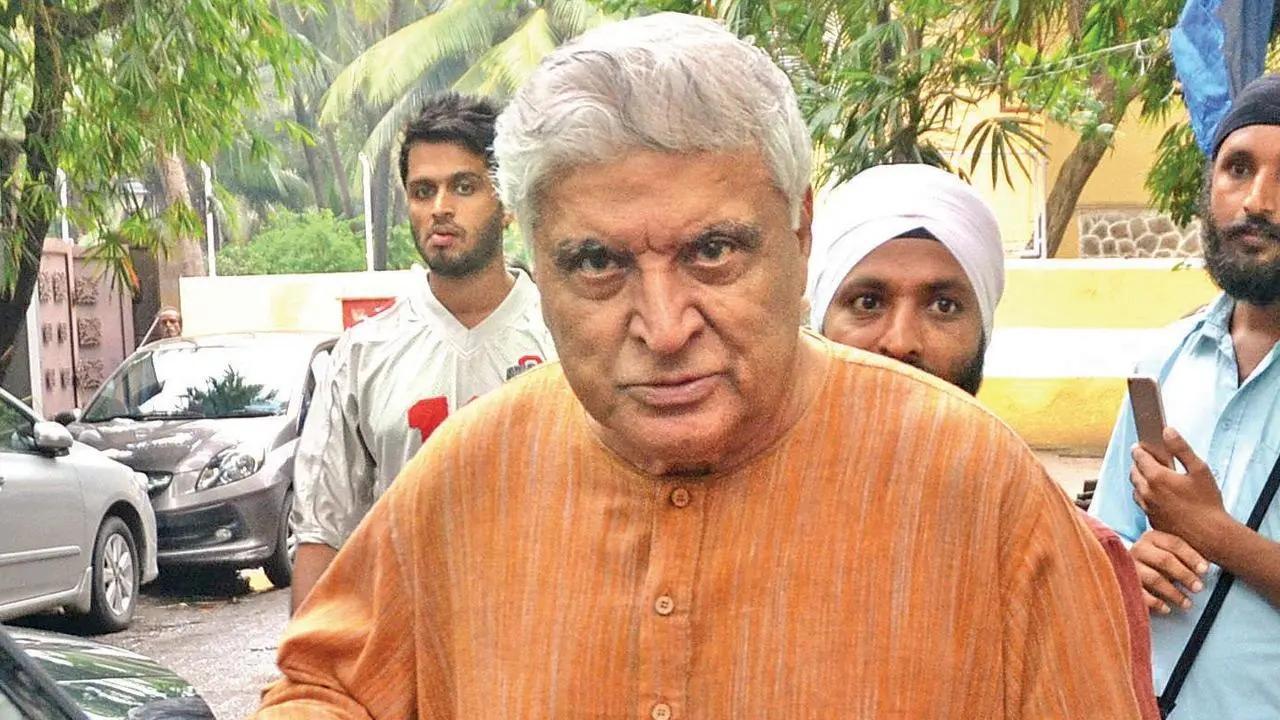 Javed Akhtar. File Pic
'Saamna', the official newspaper of Uddhav Thackeray faction on Thursday appreciated Bollywood lyricist Javed Akhtar for showing the mirror to Pakistan during the 'Faiz' festival in Lahore as he slammed the country for 26/11 Mumbai terror attacks.
Saamna's editorial stated, "A Muslim writer-poet did what PM Modi and his blind devotees could not do to Pakistan. Senior poet-lyricist and writer Javed Akhtar was invited to Lahore's celebration on poet Faiz Ahmed Faiz's commemoration day."
ADVERTISEMENT
The publication hailed Javed Akhtar's guts to accuse Pakistan in Lahore and slammed the Modi-led central government for only indulging in narratives and wrote, " It is not easy to go to Pakistan and utter such strong words' as Akhtar did. It is easy to threaten Pakistan by sitting here in Delhi and Mumbai. A roar of "Ghuskar Marenge" by doing a 'surgical strike' during elections is common but saying the enemy,' You are the enemy of our country on their face is not easy. Only a true patriot can do this."
Saamna in its latest editorial further took on Bharatiya Janata Party for having different definitions for nationalism and treason as "for them who do not follow them (the party) or are not ready to be their slaves are termed traitors in their eyes. According to BJP, one who is not a Modi devotee does not belong to be in the country".
"On the occasion, Akhtar said, "The mastermind of the 26/11 terrorist attack on Mumbai is still roaming freely in Pakistan. We are Mumbaikars. We have seen the attack on our city. The attackers didn't come from Norway or Egypt, they came from your country. If Indian people have a complaint about this, then the people of Pakistan should not consider it an insult," the editorial read further.
Also Read: Perpetrators of 26/11 Mumbai attacks roam freely in Pakistan, says Javed Akhtar
"Akhtar also said, 'I wouldn't hesitate to say that though we have organised so many grand functions of Nusrat (Fateh Ali Khan) sahab and Mehdi Hassan sahab in our country, you couldn't organise a single event of Lata (Mangeshkar) ji," Akhtar said. The audience also gave a loud round of applause to Javed Akhtar. The courage of the audience who supported Akhtar must also be appreciated. Akhtar has set an 'example' of patriotism and courage in front of the country," the letter reads further.
Meanwhile, questioning India's leaders Saamna said, "The special thing about Pakistani's audience and their rulers is that they tolerated these statements on their land, but is there so much tolerance and restraint left in our country today?"
Attacking on BJP, Saamna wrote, "BJP's leaders and ministers openly say 'we eat beef', and burn innocent Muslim youths in the name of cow protection. They create Hindu-Muslim, and India-Pakistan tussle to win elections."
"Pakistan is the enemy of the country, and so is China, but Modi only stands against Pakistan and is afraid of China. Modi government's courage against China is only limited to the banning of some Chinese 'apps'. These people create a raging atmosphere against the common Muslims of Pakistan and India for political benefits," the editorial added.
"There was a time when the Tricolour was unfurled in Lahore as well and now Mr Javed Akhtar hoisted it again on the occasion of the memorial ceremony of poet Faiz Ahmed Faiz in Lahore," the editorial stated.
"Javed Akhtar showed what a 56-inch chest is. Special congratulations to him!" the letter added.
This story has been sourced from a third party syndicated feed, agencies. Mid-day accepts no responsibility or liability for its dependability, trustworthiness, reliability and data of the text. Mid-day management/mid-day.com reserves the sole right to alter, delete or remove (without notice) the content in its absolute discretion for any reason whatsoever