A night trip from Mumbai to Charoti exposes utter lack of signage at crucial and dangerous spots, obscured reflectors on road borders, and worse, no functioning street lights on 18 of 21 bridges where road narrows down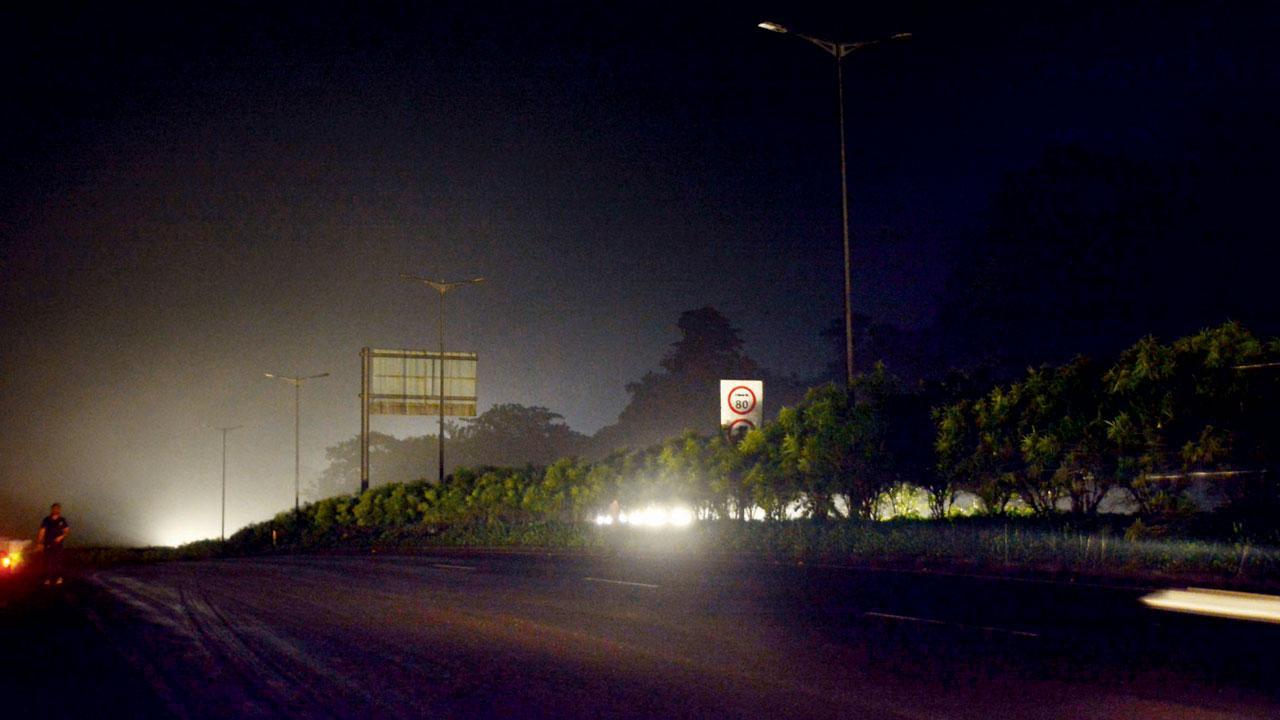 Plants on the median make it nearly impossible for motorists to spot the road sign near the Charoti toll plaza on the highway
A long stretch on the Mumbai-Ahmedabad Highway lacks important road signs at crucial points, including spots that are dangerous for motorists. To make matters worse, 18 of the 21 bridges on the carriageway between Mumbai and Charoti are barely illuminated as most street lights on the overpasses are not working. Motorists said authorities are yet to wake up despite the death of former Tata Group chairman Cyrus Mistry in an accident on this highway.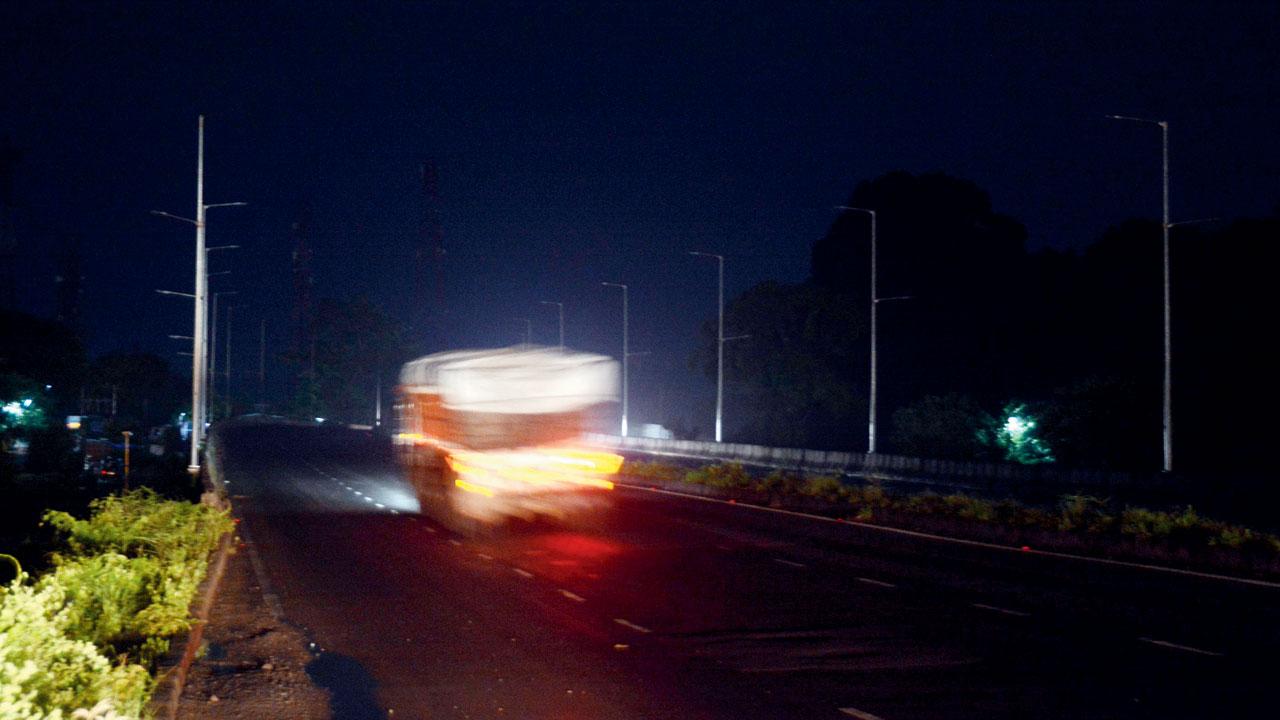 No lights on the Kopar flyover on the Mumbai-Ahmedabad Highway. Pics/Satej Shinde
This newspaper, which has been highlighting the perils—potholes, uneven surface and poor design—of using the Ahemdabad highway or NH48, went on a test drive at night from Dahisar to Charoti toll plaza and discovered an array of factors that make motoring on the road riskier after sundown.
Also Read:  Mumbai: Cyrus Mistry's co-passenger Dr Anahita Pandole undergoes major surgery
mid-day found that highway authorities have filled several potholes and repaved the road at many places. However, a 200-metre stretch on the northbound lane of the highway near the Versova bridge still has huge potholes and a bumpy surface.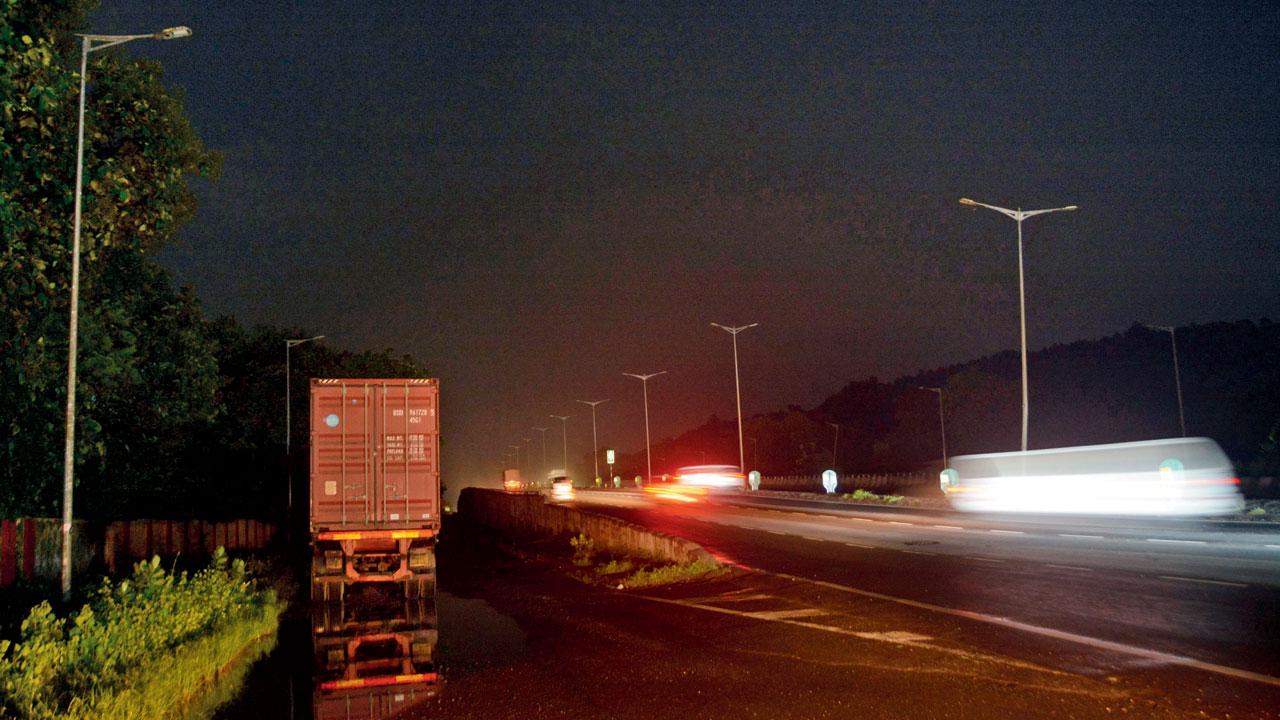 The Sakwar flyover on Mumbai-Ahmedabad is among the many bridges that have poor or no lighting
Bushes on the median have become a new challenge. With many plants growing tall, they block signage and reflectors, creating blind spots for vehicles. Also, the paint on many reflectors and signage has worn off, compounding the problems of drivers at night.
Traffic constables on the highway who requested anonymity said clear and visible signage on the highway is the need of the hour. They particularly stressed the non-functioning streetlights on the bridges.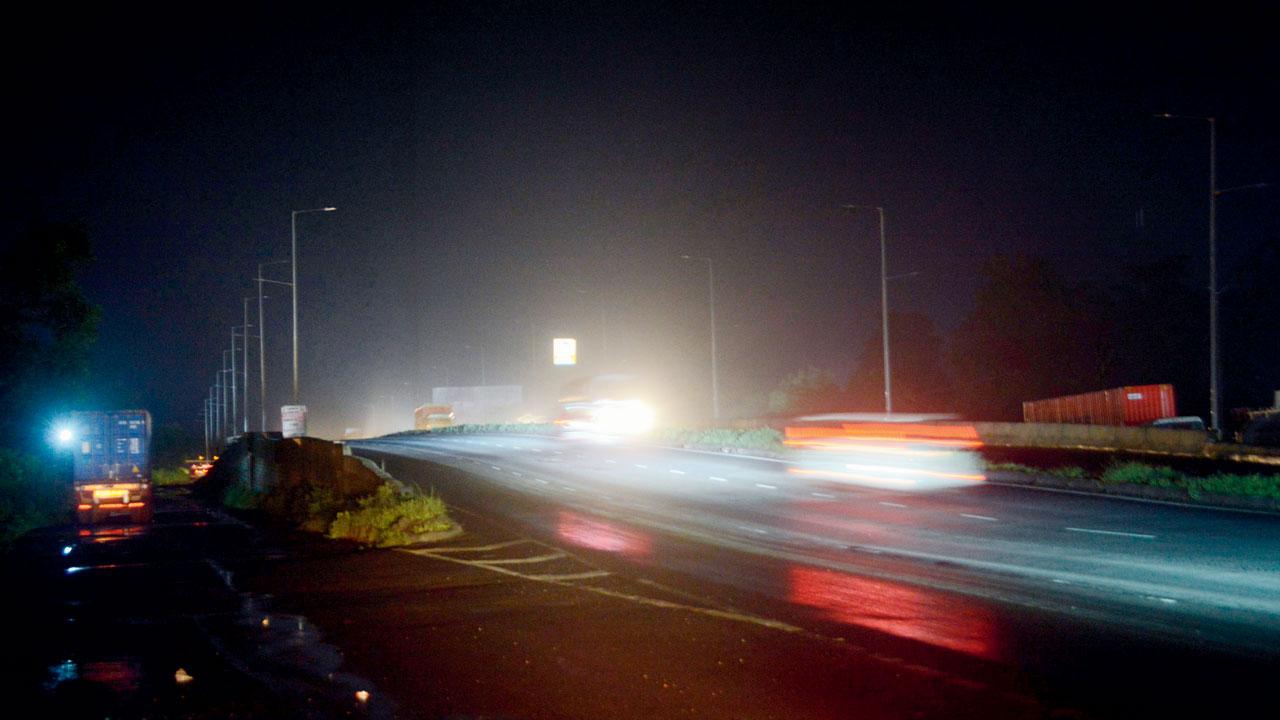 The Bot flyover at night
Of the 21 key overpasses on the Mumbai-Charoti stretch, lights are not working on 18 of them. Though a few metres ahead of the bridges, there were signs informing motorists about the overpasses, there were no road signs or reflectors at the start of the bridges.  
Streetlights on bridges provide a safe environment for motorists at night, said a senior traffic official. "In many places, bridges are constructed at junctions, while there are curves at other places. Lights guide a motorist to negotiate the bridge safely. Because of streetlights, motorists can see that there is a bridge ahead and can decide if they want to use the bridge or take the service road."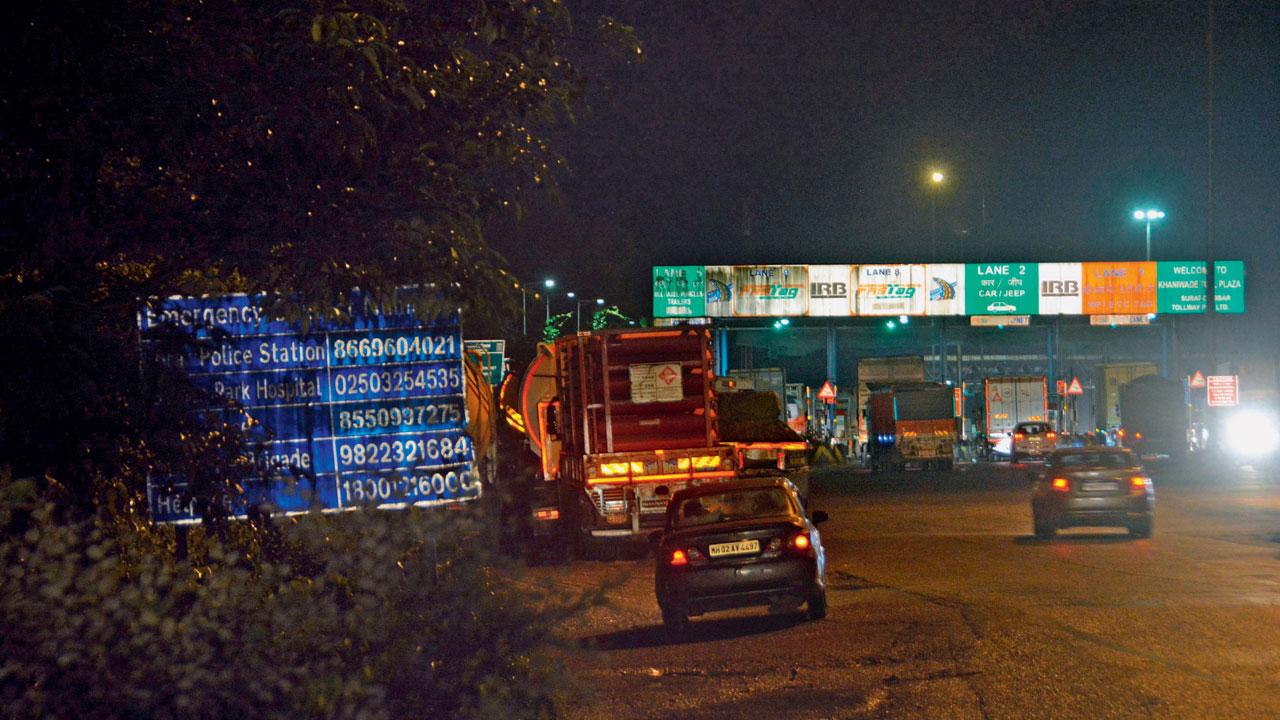 At Khaniwade toll plaza, the information board on the left can be barely seen due to overgrown foliage
Just before the bridge where Cyrus Mistry was killed in an accident, there is a flyover on the highway. mid-day found that a few of the lights on the flyover were working. On our way back to Mumbai, we found a handful of lights working on the Varai bridge. Dekhale and Nalasopara bridges were well illuminated.
Lights out
>> Sasunavghar bridge opposite Suvi Palace
>> Maljipada bridge opposite Krishna Resorts
>> Naigaon junction (Juhuchandra flyover) 
>> Bhiwandi flyover (Chinchoti) junction, hotel Royal Hills
>> Vasai Phata junction bridge 
>> Sativali bridge 
>> Vasai Road bridge
>> Bellar bridge 
>> Virar Phata bridge 
>> Shirsad bridge 
>> Kopar bridge
>> Kharadtara bridge 
>> Khaniwada bridge 
>> Bhalivali bridge 
>> Sakwar bridge 
>> Varai bridge - only 2-3 lights working
>> Bot bridge
>> Manor bridge
>> Boisar flyover, reflectors in bad shape
>> Charoti highway police bridge - few lights working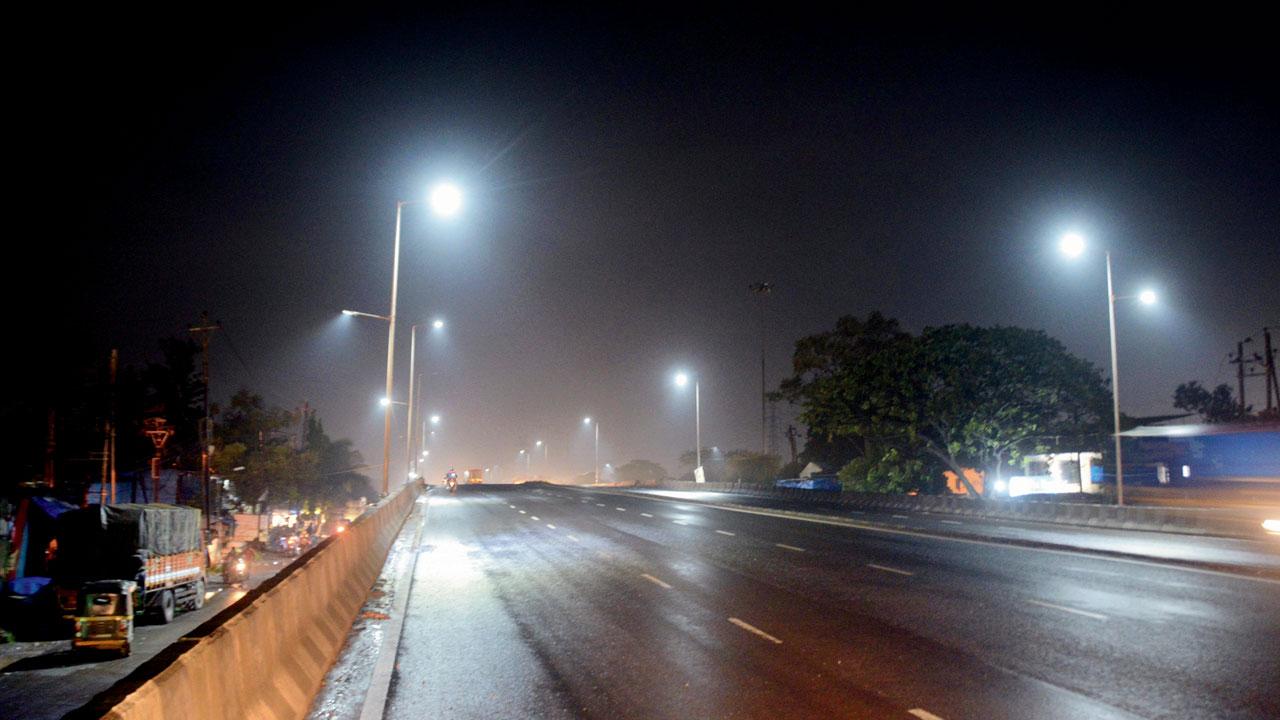 Execptions
1. Nallasopar bridge lights were working 
2. Dhekale bridge all lights are working  
66
No of people killed on the Mumbai-Charoti stretch this year Do you think Uddhav Thackeray will hold Dussehra rally at Shivaji Park in Mumbai?