Country's top human rights group, Peoples Union for Civil Liberties, on Saturday condemned the incidents of "communal violence" in Maharashtra's Kolhapur on June 8, 2023 and the caste based killing of a Dalit youth in Nanded on June 2, 2023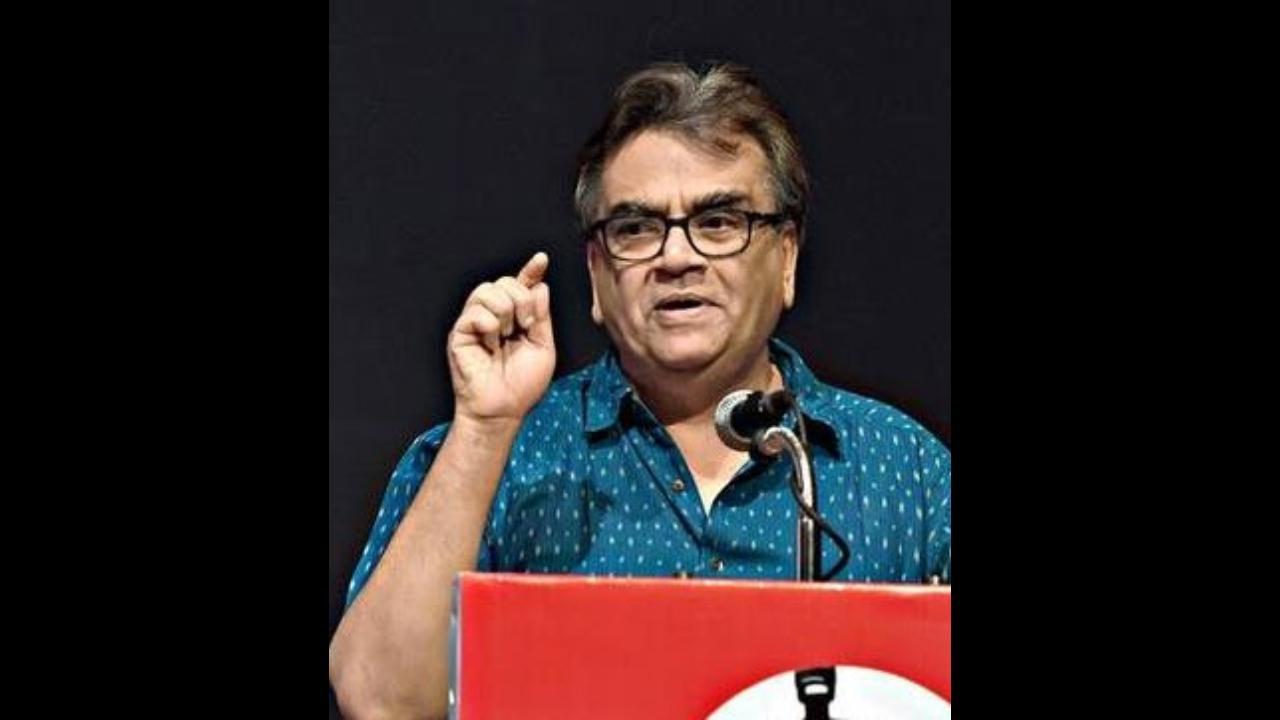 Peoples Union for Civil Liberties Maharashtra President, Mihir Desai, Pic/Twitter
Country's top human rights group, Peoples Union for Civil Liberties, on Saturday condemned the incidents of "communal violence" in Maharashtra's Kolhapur on June 8, 2023 and the caste based killing of a Dalit youth in Nanded on June 2, 2023.
In a statement the Maharashtra unit of PUCL Maharashtra expressed concern over the manner in which vested interests are spreading hate and inciting caste and communal violence with "impunity" in Maharashtra and demanded urgent action by the Maharashtra government and police authorities to restore peace and harmony in the state.
ADVERTISEMENT
"People's Union of Civil Liberties (Maharashtra) is shocked and disturbed over the outbreak of communal violence in Kolhapur earlier this week and the killing of a Dalit youth in Nanded last week and strongly condemns the manner in which vested interests are stoking caste and communal conflicts in Maharashtra. These are just the latest in a series of incidents of violence against religious minorities, Dalits and Adivasis reported in the state," it said in a statement.
On June 2, 2023, Akshay Sharavan Bhalerao, a dalit youth and active member of a local Ambedkarite group, was stabbed to death by nine persons, as he had taken a leading role in organising a rally to celebrate Ambedkar Jayanti in Bhondar in Nanded district on April 30, 2023. Bhalerao, who had gone to a grocery store, was attacked by members of a marriage procession.
On June 7, 2023, in Kolhapur, a large mob, mainly comprising youth owning allegiance to various pro-Hindutva organisations, had assembled at the Chhatrapati Shivaji Chowk in Kolhapur, in response to a bandh call by some groups, to protest social media posts that shared posters of the 17th Century Mughal Emperor Aurangzeb and the 18th Century Mysore king Tipu Sultan, PUCL said in the statement.
Also read: Mumbai drug bust: NCB nabs three from Dongri, seizes mephedrone worth Rs 50 cr
Media reports quoting police officers state that these posters were allegedly displayed in an Urs procession of Dam Bara Hazari Baba dargah in Fakirwada area of Ahmednagar around 9.15 pm on June 4, 2023. Following the news of this incident, the Sakal Hindu Samaj took out a rally called the 'Bhavya Bhagwa Morcha' in Sangamner town in Ahmednagar. At the rally communal hate speech and calls to incite violence against Muslims were reportedly made. Stone pelting and the vandalising of vehicles was reported in Samnapur village of Sangamner.  Earlier, on May 28, 2023, a minor traffic issue in Sangamner had escalated into a communal clash. On May 15-16, 2023, violent clashes also took place in Akola and Shevgaon town in Ahmednagar, after a procession was taken out to mark the birth anniversary of Chhatrapati Sambhaji Maharaj.
"It must be noted that divisive forces are making all attempts to break peoples' unity. Indeed, barely two weeks ago, on May 24, 2023 the Tanpir Dargah or the Hajrat Peer Shahduddin Khattalshah Wali Dargah shrine at the historical Panhalgad Fort in Kolhapur district as vandalised by unidentified miscreants but local residents from both communities immediately came forward to repair the damage and ensure that peace prevails in the area. Indeed, the courageous efforts by citizens to preserve and protect the syncretic traditions of the region, known for the progressive values nurtured by Shahu Maharaj, must be encouraged and strengthened."
PUCL Maharashtra said it is gravely concerned at these repeated conflagrations following public meetings and morchas organised by hindutva organisations like the Sakal Hindu Samaj on divisive topics and spreading communal propaganda like love jihad, land jihad, alleging forced conversion and cow slaughter and calling for economic and social boycott of Muslims and violence. Despite court orders regulating these gatherings and directing police to act to prevent and prosecute hate speech, these organisations operate with impunity to provoke violence and instability. "The increasing incidents of violence are a fallout of the inaction of the police and state to prevent hate speech, prosecute offenders and ensure law and order in Maharashtra."
The statement drew attention to the unseemly and irresponsible remarks made in response to the incident by no less a person than Maharashtra's Deputy Chief Minister Devendra Fadnavis, also in charge of Home Affairs, about "sons of Aurangzeb" who he said were trying to disrupt law and order. Not only do such remarks stereotype members of one community and further vitiate the atmosphere, but they also deflect from the real perpetrators of the violence. The need of the hour is a call for reason and calm, not for provocation and incitement, especially from those holding political office and power in the state.
PUCL Maharashtra demanded protection for witnesses and a fast-track court hearing in the case of caste based killing of Akshay Bhalerao, and further demands that all measures be taken to ensure adequate protection and compensation to his family. "… calls upon the Maharashtra government to take immediate and urgent steps to stop the spread of hate speech and communal propaganda in Maharashtra and prosecute offenders of hate speech, including the arrest and prosecution of individuals making hateful and provocative speeches at the rallies organized by Sakal Hindu Samaj and related organisations."
In the statement, PUCL Maharashtra called upon the Maharashtra government to take speedy action against the main culprits of violence in all the incidents of communal violence, including the arrest of leaders of groups intent on fomenting trouble in the state and to exert all its efforts to restore and maintain peace and harmony in Maharashtra." Do you like to interpret your dreams?