Uddhav Thackeray, while speaking on the Supreme Court case over disqualification of MLAs, also asked why the EC froze the Shiv Sena name and its 'bow and arrow' symbol when it has not been used by the rival Eknath Shinde faction yet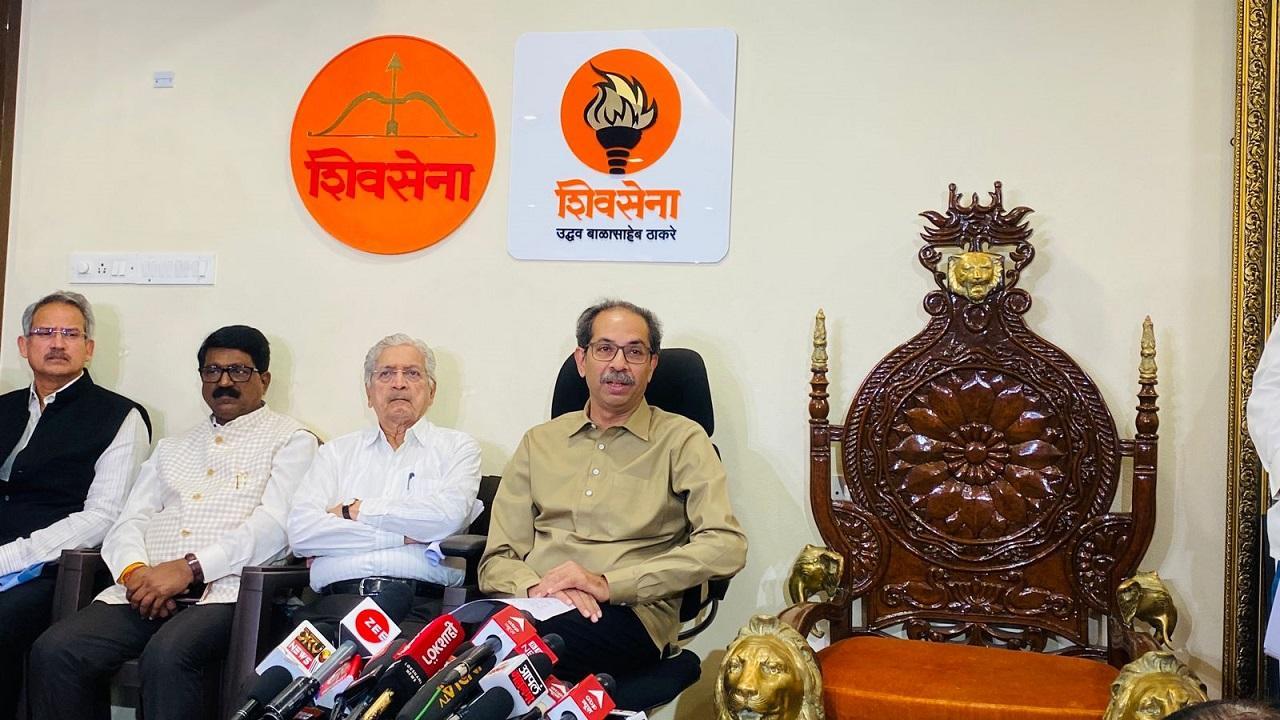 Uddhav Thackeray. Pic/Shadab Khan
Uddhav Thackeray, who heads a faction of the Shiv Sena, on Wednesday said that the decision by the Supreme Court on the disqualification of the party's rebel MLAs should come first and then by the Election Commission on who the original party belongs to.
Addressing a press conference, Thackeray said, "if only the elected people form the party, tomorrow anyone with money will become Prime Minister or the Chief Minister."
"There is only one Shiv Sena. I don't consider the other group as Shiv Sena," he added.
Uddhav Thackeray, while speaking on the Supreme Court case over disqualification of MLAs, also asked why the EC froze the Shiv Sena name and its 'bow and arrow' symbol when it has not been used by the rival Eknath Shinde faction yet.
Also Read: Mumbai: Aaditya Thackeray's challenge to CM for poll fight in Worli 'childish', says Shinde camp
"The decision on disqualification should come first and then by the Election Commission (which faction Shiv Sena belongs to)," Uddhav Thackeray said, adding that the apex court will start hearing the matter related to the disqualification of rebel MLAs on a daily basis from February 14.
"There is a strong possibility that 16 people will be disqualified. We don't want the Election Commission to tell us what to do," he added.
The Sena was split last June after a rebellion led by Shinde, prompting his faction and the one headed by Uddhav Thackeray to try to stake claim over the party's name and its symbol. 
Giving the sequence of events, Thackeray said the MLAs rebelled in June after which the Shiv Sena approached the Supreme Court seeking their disqualification, while the dissidents sought to stake claim over the party in July.
On January 30, the Thackeray and Shinde factions made their final submissions before the EC, asserting their claim to the party organisation and its poll symbol.
Stressing that the legislative wing of the party is not the original party, Thackeray said if this logic is taken into consideration, then anyone can become the prime minister or chief minister in the country using the power of money.
Thackeray also took a dig at the designation of "chief leader" used by Chief Minister Eknath Shinde. He said the term "Shiv Sena pramukh (chief)" was used by his father and party founder Bal Thackeray. So after his father's death, Thackeray said he assumed the role of the party chief. There is no post of ¿chief leader¿ in Shiv Sena's constitution, he said.
Thackeray said the EC is yet to give its nod to conduct elections in the party. Thackeray's tenure ended on January 23.
Rival Sena factions, Shiv Sena (Uddhav Balasaheb Thackeray) and Shinde-led Balashebanchi Sena, have already been allotted interim poll symbols which could be used in the upcoming by-elections in Maharashtra, EC functionaries had said on Monday, dismissing suggestions that the poll panel could issue an early final order on their dispute.