Parents of girl student from Dadar's Sharadashram International School admit they were late to pay fees owing to a robbery at their home; scared child who was kept alone in class for 2 hours refuses to return to school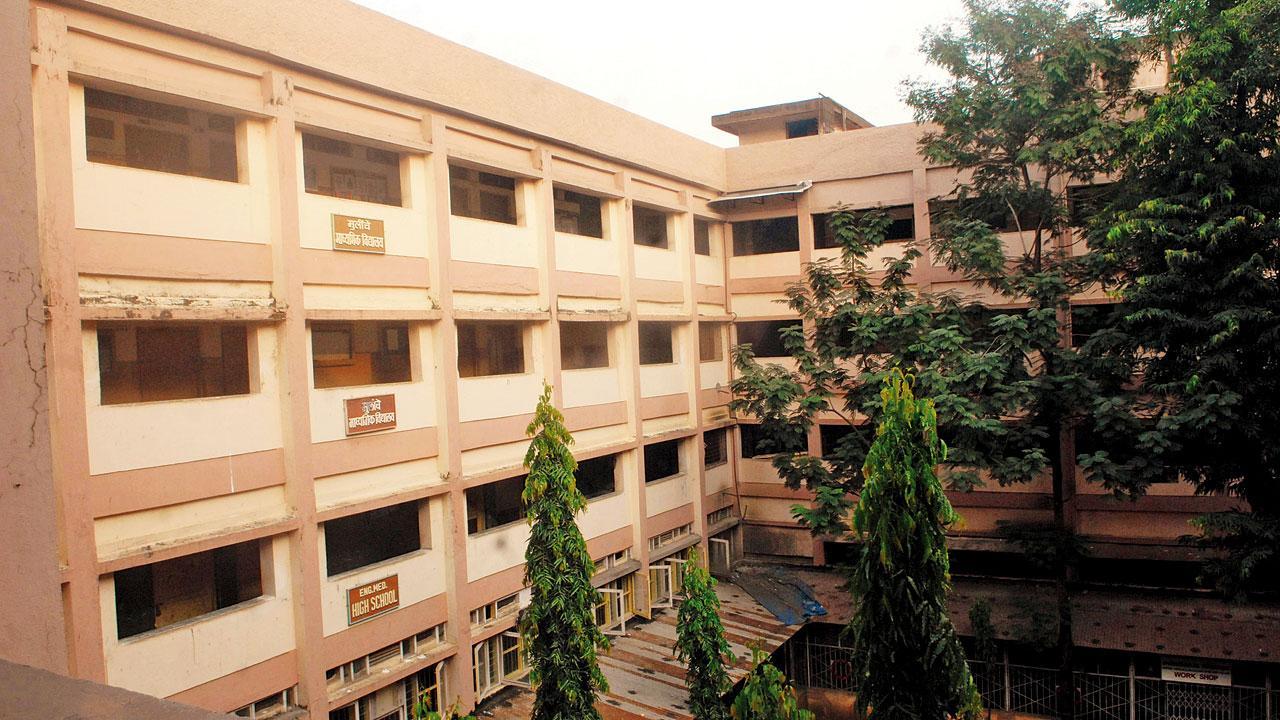 Sharadashram International School, Dadar says last year's fees was also delayed. File pic/Atul Kamble
An eight-year-old girl was allegedly humiliated by Sharadashram Vidyamandir International School in Dadar over non-payment of fees. The Std II student alleged that the teacher did not allow her to appear for an exam and made her sit in a separate room away from her classmates as punishment for over two hours on Wednesday. When her father went to pick her up, he claimed she was forced to wait at the school's staircase.
This has traumatised her, said her parents and she is now afraid and ashamed of going back to school. The parents have approached the state child rights commission, and education department and complained to the local police station. mid-day is in possession of the complaint letters by the girl's father. The Sharadashram Vidyamandir trust runs both Sharadashram Vidyamandir where former cricketer Sachin Tendulkar studied, and the Sharadashram Vidyamandir International school.
ADVERTISEMENT
'My child is scared'
The father of the girl said the fees are around Rs 78,000 and of this he has to pay Rs 60,460. "I understand that the fee payment has been delayed, however, they cannot humiliate a child like this before her classmates. Also, if they had already decided to punish her by not allowing her to appear for the exam, why was she subjected to such humiliation by being forced to  sit in a room alone for two hours? The teacher could have simply called us to school and sent her back with us. This has instilled a deep fear in my daughter's mind. She cried and told us that the teacher did not come to see her even once. Her friends called her out in recess after which she was made to stand near the staircase," said Mrugendra Rane, the girl's father.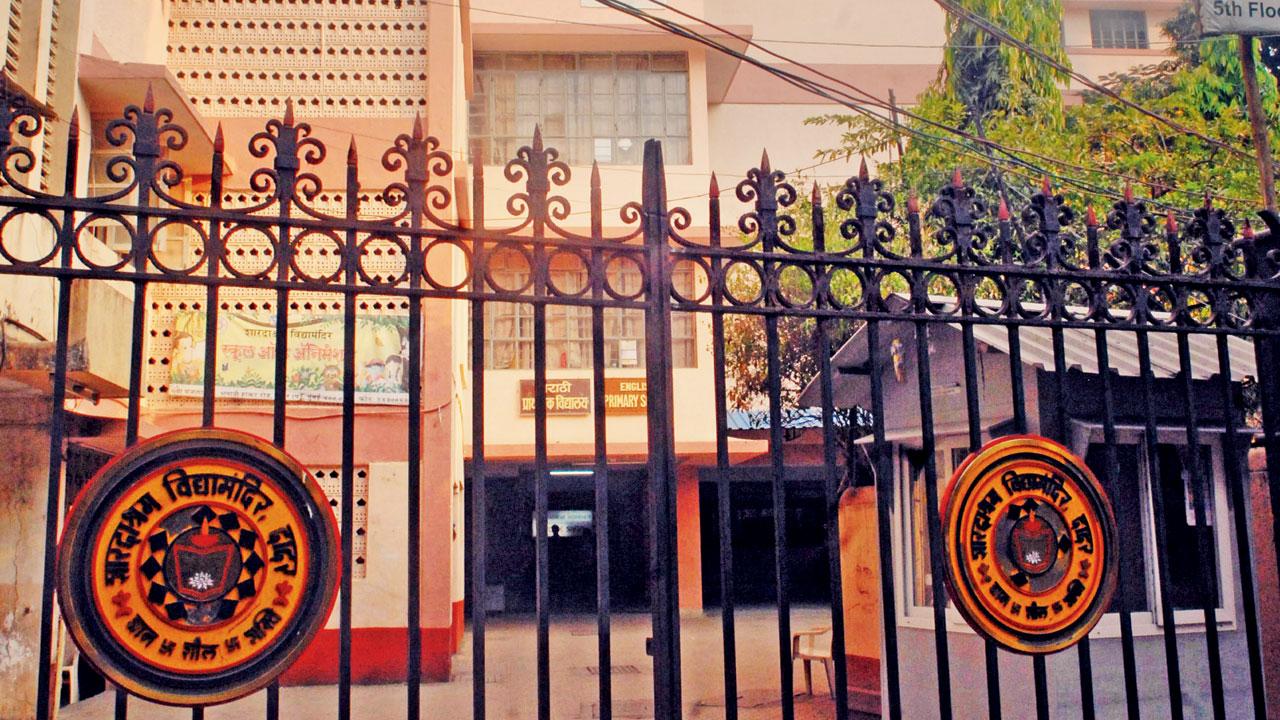 Sharadashram Vidyamandir International School at Dadar. File pic/Atul Kamble
Citing financial crisis the parent had requested and assured the school that even though the payment of the fees had been delayed, he would pay them. However, the school sent a letter to them warning that the child would not be allowed to take the exam. The letter, parents allege, reached a day before the exam, on January 10.
"When I met the class teacher, questioning her why my daughter was subjected to such torture, she told me I must speak to the headmistress. When I met the headmistress of the school, Rajita Bale, she told me, don't you know you have to pay the fees? She told me that my daughter will not be allowed to appear for the exam. Also, there was no regret that they did something like this to a Std II student," Rane told mid-day.
Also Read: Where are our reimbursements for admissions under RTE: Private schools
Rane added, "We are already going through a crisis. Last year there was a robbery at my home. This year in November my daughter was hospitalised after she contracted dengue. Hence I assured them that the fees would be paid gradually. I will not leave this matter, otherwise, some other child will be subjected to such harassment in the future."
Chairman speak
"This was just a unit test, not some terminal exam. We had already informed them about this to make the parents pay the fees. Her father didn't pay the fees even last year when the kid was in Std I. He cleared the fees in the next academic year in the month of June. Again this year he is still not paying the fees. When we asked him what was the issue, he told us he does not have money. We suggested that if there was a financial problem he could send his child to our aided school or a BMC school nearby. We even allowed him to pay quarterly or monthly fees according to his convenience. But not paying the fees for a long time cannot be an option, that does not work for us. We have to pay the salary of teachers and other staff and pay for the facilities and infrastructure that we offer," said Gajendra Shetty, chairman of Sharadashram Vidyamandir International School.
Shetty added, "We also ask parents to submit their financial proof or salary slips, and if they are genuine, will waive a certain amount of fees. Also, the allegation of the parent that the child was made to sit alone in a room for two hours is wrong. We have CCTV cameras all over the school. Let the parent prove his claims."
Rs 60,460
Fee amount the parents are yet to pay Will the newly created special police commissioner post help Mumbai with better policing?