Civic officials make provisions for monthly and quarterly membership, as well as refund for cancellation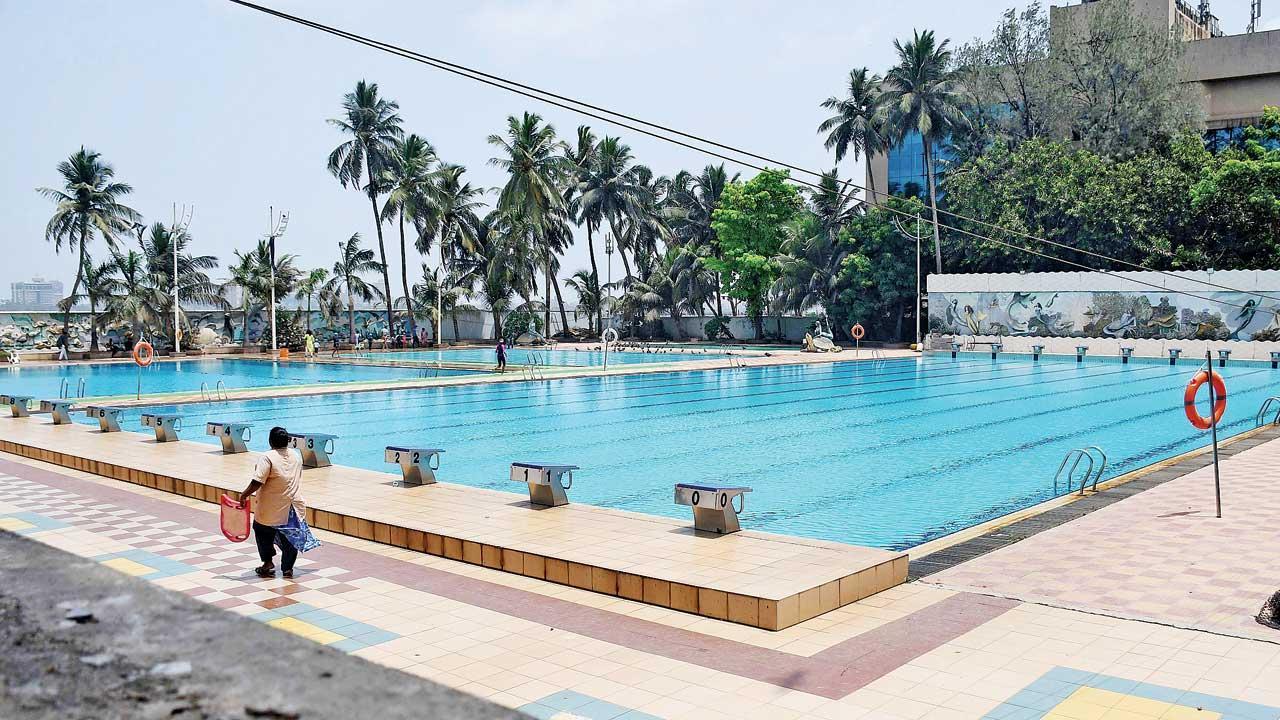 Memberships at Dadar swimming pool (in pic) were full within hours after online registration opened in August. File pic
Membership at the civic-run Dadar swimming pool will reopen again with 700 spots. New members will be allowed from January 3. When the swimming pool reopened in August, membership was full within hours. The BMC has also decided to start monthly and quarterly membership instead of the earlier annual one for all of its pools. In addition, it has made provisions to seek refund for membership cancellation, and registration for waiting list.
The Brihanmumbai Municipal Corporation currently has only four functional swimming pools which offer the services at affordable rates. However, due to the high demand, it gets difficult to get memberships. The civic body made the process of registration online in August and all the spots at the Dadar pool were booked that same day. With some of the annual memberships ending in December, the BMC has now come out with additional seats. As per the civic body, the Dadar pool has 700 seats while the Dahisar one will have 550 new seats.
ADVERTISEMENT
"In order to bring transparency, the BMC has developed an online membership registration system and opened it for citizens from August 23. Now apart from this, new facilities like a waiting list, monthly/quarterly membership, refund for cancellation will start from January 3," said Kishor Gandhi, deputy municipal commissioner. He added that the monthly/quarterly membership won't be available for summer or Diwali vacation.
Also read: Mumbai: All Dadar pool slots booked in a few hours
Another official said that people seeking membership can opt to be on the waiting list for a nominal fee of Rs 500 in case the swimming pool is at full capacity. The amount will be adjusted at the time of taking membership. The timing for the women's session has been changed. Instead of afternoon, now two slots will be reserved for women from 11 am to 12 pm and from 5 pm to 6 pm.
Apart from this, the session system has been closed and members can now avail the swimming pool anytime during the working hours. The earlier time limit of 45 minutes for one session has also been extended to 60 minutes. In case a member uses the pool over 60 minutes, his membership period will be adjusted accordingly. 
The BMC has undertaken works to build six new swimming pools at Worli Hill Reservoir; Chacha Nehru Garden in Malad West; Indira Gandhi Entertainment Park in Andheri West; Kondivita in Andheri East; Rajarshi Shahu Maharaj Kridangan, Tagore Nagar, Vikhroli East; and Gyandhara Garden in Dahisar. Of these six, the Malad and Dahisar ones, built at a cost of Rs 17 crore, are expected to open in January 2023.
Membership availability
>> Mahatma Gandhi Memorial Olympic Swimming Pool, Dadar West: 700
>> General Arun Kumar Vaidya Olympic Swimming Pool, Chembur West: 350
>> Sri Murbali Devi Swimming Pool, Dahisar East: 825
>> Sardar Vallabhbhai Patel Olympic Swimming Pool, Kandivli West: 550
How to apply
Log on to: https://portal.mcgm.gov.in and submit your application online.
550
No of available seats at Dahisar swimming pool Till the time Covid has settled down, we need to follow Covid-appropriate behaviours. Do you agree?