Abandoned animal had a birth defect causing constant discharge from eyes, threatened to infect other organs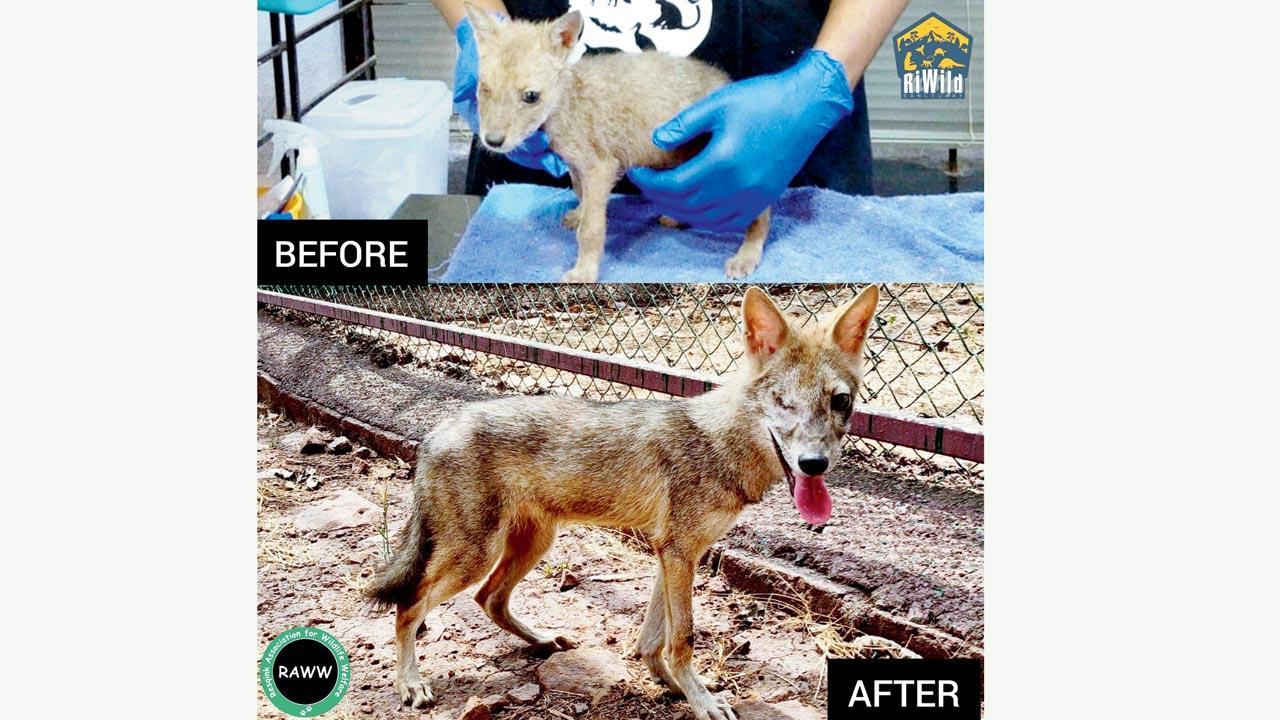 The pup before and after the surgery
An abandoned jackal pup rescued from a mangrove patch near Navi Mumbai in March has been nursed back to health after doctors operated upon it for a birth defect. The rescue of the mammal was the first of its kind in the Mumbai Metropolitan Region. The baby jackal, now active and playful, had an infection in an eye socket that was spreading throughout its body fast.
It was RAWW, an NGO working towards human-wildlife conflict mitigation and promoting urban wildlife conservation, that took it upon itself to care for the jackal pup. Its president Pawan Sharma told mid-day, "An abandoned juvenile jackal that came to us with a critical case of congenital anomaly underwent a successful enucleation surgery performed by veterinarian Dr Rina Dev and because of the timely treatment, the mammal got a second life after months of rehabilitation."
A crab farmer and animal lover from Navi Mumbai had found the baby jackal. It was handed over to RAWW by the forest department to carry out a detailed medical examination as it looked very sick. 
"Medically examined and handraised by Dr Dev and her team of vets for initial crucial months, the mammal's prognosis was guarded as it had a history of anaemia, dehydration, and high WBC count. Reports revealed that the jackal's eye had a congenital anomaly making it prone to constant infection and pain and hence while it was being rehabbed it underwent an enucleation surgery." Added Pawan
The procedure was also aimed at preventing the spread of other diseases, fatal infections and maggot wounds due to constant watery discharge from its eye.
"The surgery has been successful and it [jackal pup] is currently being stabilised by our rehab team. 
Its further rehab plan will be charted in consultation with vets and the forest department," said Pawan Sharma.
There are many mangrove patches in the Mumbai Metropolitan Region, including in areas like a portion of the Thane Creek Flamingos Sanctuary, Bhandup pumping station, Charkop, Versova, Vasai, Bhayander and Ghodbunder Road. While there have been many sightings of jackals in these locations, there is no detailed study on these elusive animals.
Jackals play a significant role in forest ecosystems. They are omnivorous and feed on a variety of small mammals, birds, fishes, hares and even fruits. The species is protected under the Wildlife Protection Act, 1972, and its estimated wild population is said to be 80,000. However, habitat fragmentation, hunting, wildlife trafficking, man-animal conflicts and road accidents threaten their existence. 
March
Month when the baby jackal was rescued