Despite fears that slums may again be hit hard during the third wave, most slum pockets report very low number of cases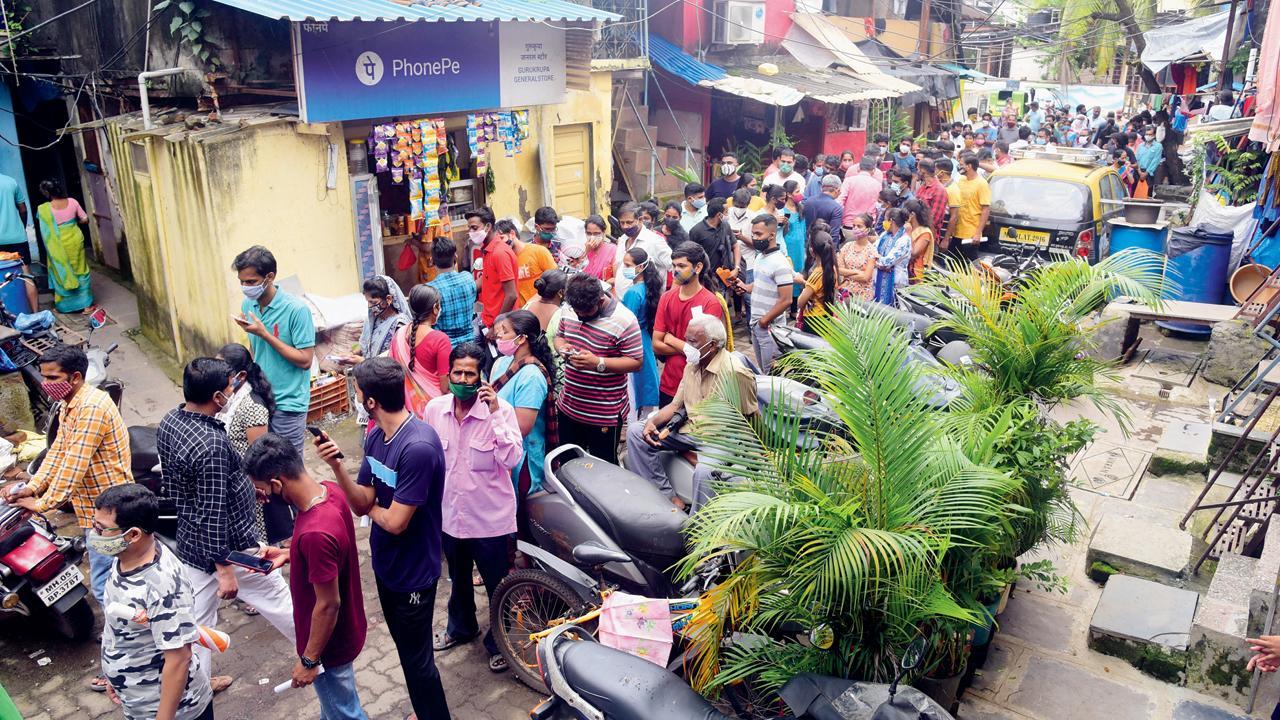 Residents of Worli Koliwada slum queue for the vaccine last year. Pic/Shadab Khan
Even as the previous sero survey suggested declining antibodies in the slum population, the densely populated areas in the city have mostly remained untouched in the third wave. While it may be attributed to less testing, slums are contributing around 20 per cent of daily Covid-19 cases as compared to high-rises.
During the first wave, after the initial cases reported in towers in April-May 2020, slums remained at the centre with maximum cases and fatalities. The Brihanmumbai Municipal Corporation faced challenges to curb the infection in these densely populated areas. The second wave, though, hit high-rises harder. Sero surveys conducted after the second wave suggested that the third wave may hit the slums again. But, three weeks into the wave, cases from slums account for 10 to 15 per cent of the total cases.
ADVERTISEMENT
"Most of the new cases are from high-rises. Cases started emerging from the shanties but they were scattered and there isn't any specific area with many cases," said Dr Ajit Pimpatwar, medical officer of K-West ward, which has the maximum active cases and total cases till now. The ward has registered around 12,972 cases in the past week, of which 10 per cent were from slum pockets.
In Dharavi, which had been one of the hotspots during earlier waves, cases started rising above 100 after January 5 and reached a peak of 150 on January 7—the highest till date. However, in the same ward, Mahim and Dadar, which have more high-rises, reported 308 and 223 cases, respectively. During the first wave Dharavi reported the highest of 94 cases on May 3, 2020 and during the second wave the number stood at 99 on April 8, 2021. 
In M-East ward, consisting of Deonar, Mankhurd, Govandi, where around 90 per cent population lives in slums, the proportion of cases in slums are low. Mahendra Ubale, assistant commissioner of M-East ward, said most of the cases are from BARC or other colonies, not slums. Even the L ward, which has large slums, did not report many cases despite over 9 lakh people residing in slums. 
"The reason behind the low number of cases may be lesser testing in these areas. If contact tracing increases, cases may rise slightly but even after that, it will not match the cases in buildings," said a health official from the BMC. In addition, during the first week 10 to 12 slum pockets were declared as containment zones. "As cases declined, now not a single unit in the slums is in containment zone," said another BMC official. 
150
No. of highest daily cases in Dharavi