Thackeray said the BJP had given loudspeakers to its A, B, and C teams and asked them to visit Aurangzeb's tomb and recite Hanuman Chalisa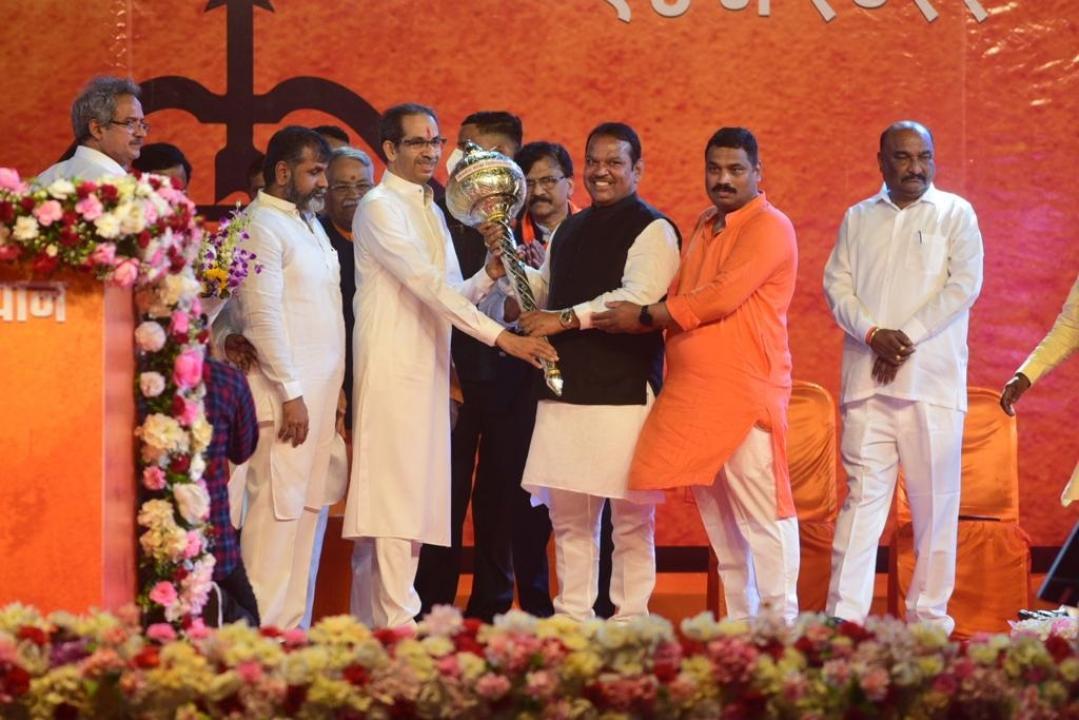 Uddhav Thackeray. Pic/Ashish Rane
Sounding the bugle for elections to the Mumbai municipal corporation and several other civic bodies in the state which are due this year, Maharashtra Chief Minister Uddhav Thackeray on Saturday slammed the BJP and said the attempts to "separate Mumbai" from the state will never succeed.
The BJP was peddling "fake Hindutva and diverting attention from real issues," he said. Thackeray, who heads the Shiv Sena, also accused the former ally of doing dirty politics, and wondered if it was the same BJP which the Sena considered to be its friend for 25 years. Notably, the chief minister addressed his first open air public meeting in two years. Thackeray had undergone a spine surgery in November 2021 and was confined to home for several weeks. The BJP has "A ,B ,C teams" and "gives them loudspeakers and asks them to visit Mughal Emperor Aurangzeb's tomb or recite the Hanuman Chalisa," an aggressive Thackeray said, making reference to recent political controversies in the state.
"The BJP will only watch the tamasha (drama) and address press conferences ," he added. Without naming his estranged cousin and Maharashtra Navnirman Sena chief Raj Thackeray, the chief minister said like Sanjay Dutt's character in the film "Lage Raho Munnabhai" thinks he is conversing with Mahatma Gandhi, some people think they are Sena founder Bal Thackeray. He also hit out at BJP leader and former chief minister Devendra Fadnavis over the latter's alleged remark that "Mumbai will be freed." "This was not a slip of tongue, it was what was in his mind," Thackeray said. "Such attempts (to separate Mumbai from Maharashtra) will never be allowed to succeed. Maharashtra has got Mumbai after a lot of struggle and shedding blood," the chief minister said.