The exhibition by JJ School of Art students and alumni on the ground-floor Runanubandha Hall of the centre aims to "shift the focus away from his murder, to his life and lessons," said organisers at the outset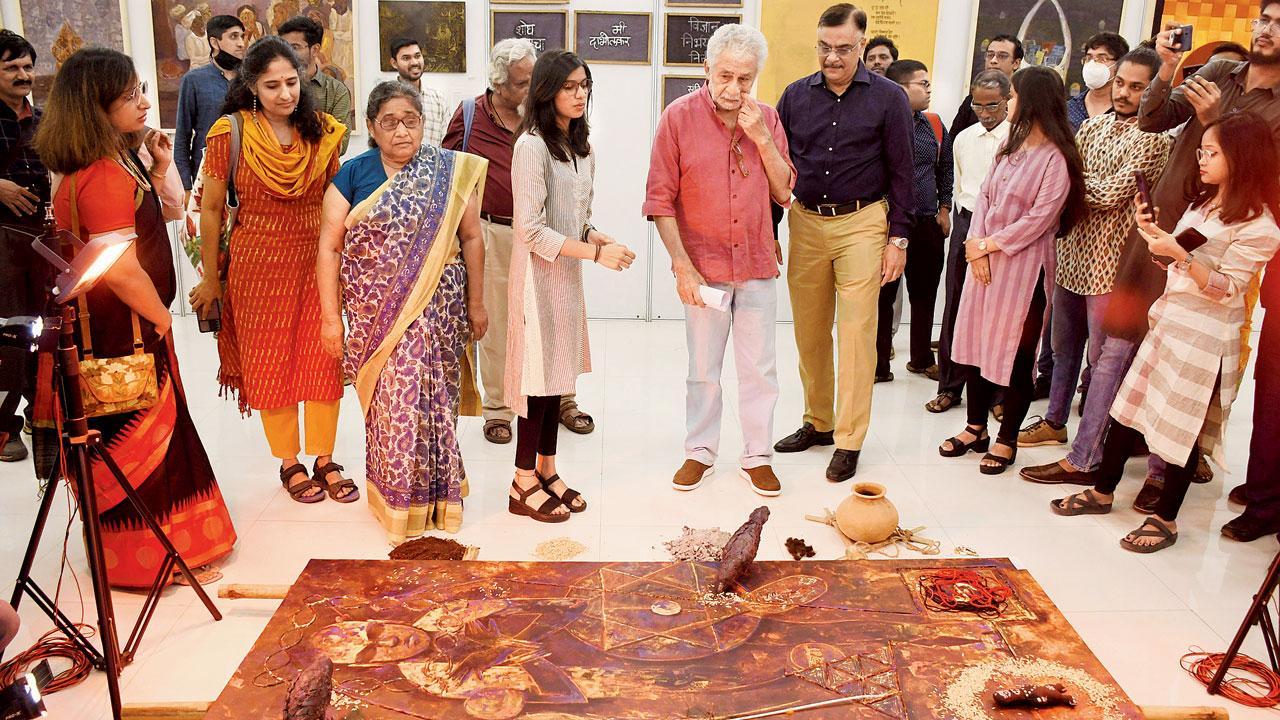 Naseeruddin Shah looks at an exhibit at YB Chavan Centre on Friday. Pics/Ashish Raje
The YB Chavan Centre in Nariman Point sang a paean to rationalism on Friday morning. The SoBo venue is playing host to an exhibition on slain rationalist, anti-superstition campaigner, and social reformist Dr Narendra Dabholkar. On August 20, 2013, he was gunned down while on a morning walk in Pune. His 'enemies'—those who were irked by his stress on science, rational thought and caution against blind belief—had got him at last. "He never thought he would be killed," said his wife Shaila Dabholkar at the opening address for the exhibition named 'We are on Trial' which goes on till November 1. Shaila Dabholkar added, "I had been on a journey with him for 45 years. I learnt so much through that time. He used to say: to fight or to battle is to win."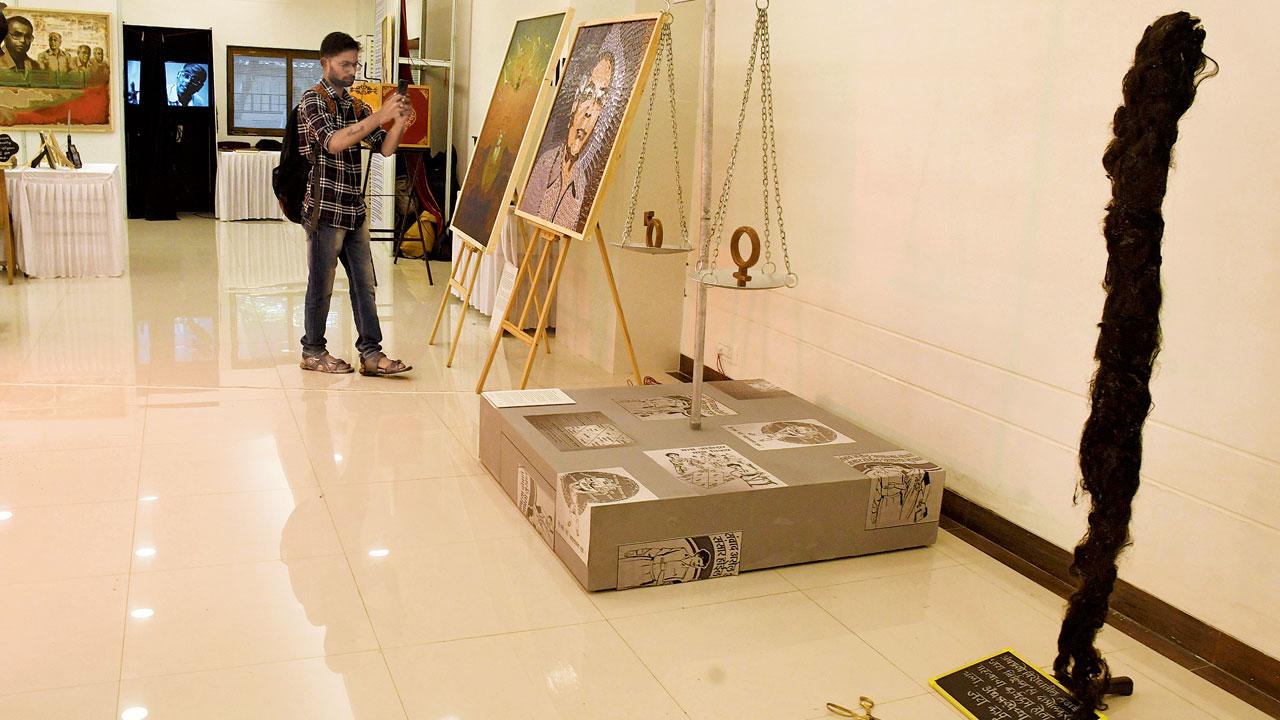 Courage and conviction: The exhibits
ADVERTISEMENT
The exhibition by JJ School of Art students and alumni on the ground-floor Runanubandha Hall of the centre aims to "shift the focus away from his murder, to his life and lessons," said organisers at the outset. The movers and shakers behind the initiative, a group called 'Friends of Dabholkar', said that "attempts are made to tarnish his contribution but we have to take the true legacy to the people."
Also Read: Green Mumbai: The tyre that never retires
Speaking out
The legacy came alive through various compelling creative exhibits in the hall. The students had done their homework and through their displays, in different mediums were accentuating anti-superstition. Anamika B, whose work showed a 'smashaan' in the midst of the hall, said, "Dr Dabholkar never said believe this or do not believe that. What he said was: think, question, look for scientific, empirical evidence. I want to show that some of the instruments used for black magic are the same as used in poojas or worship. What we do is simply change the way we view and use these, look at it through a different prism." 
There was Rahul K's work, using an embossing technique. "I want to show that everybody has simply closed their eyes to the real culprits in the case," he said. Asima S had newspaper cuttings about Dabholkar hanging like lamps. "I want the luminosity to signify enlightenment, which is what he stood for," she explained, adding, "He was the light, an inspiration." Student Shefali H's colourful work showed objects like chappals, black dots, "sometimes used in superstitious practice. I believe in spirituality. Science and spirituality can go together."
Work, vision
A huge weighing scale with gender symbols was a shout out to equality. Abhishek M said, "My exhibit is about the parity he preached and practised. This equality stretched not just to gender but all aspects of society." Vijaya G's art work was heavy with symbolism, a chain breaking and birds flying, "everything to do with freedom," she stated.
A miniature model office, work desk, bookshelf and a little award pinned behind was eye-catching. "This is Dabholkar's office space, which I have tried to recreate and the little award is the Padma Shri, which he got posthumously," said Nisha B. While the Padma Shri was formal recognition of his work, the bigger reward was surely the artistic merit of the displays by students which showed the thought and vision while conceptualising.
Last words
As one exited the space, words rang out in the foyer as Advocate Abhay Nevagi, representing the family, said, "I do not know where this legal war is going to lead us. At many junctures, I thought I had cracked the case, but suddenly there would be a turn and we were back to square one." While Nevagi cited support during the legal battle, he also stated, "There are many hidden enemies. I got high blood pressure while fighting this case. I am a corporate lawyer and I lost some clients during this fight, but I know the battle will go on. I am not going to give up."
There was Chief Guest actor Naseeruddin Shah who quoted Henry Wadsworth Longfellow: "Lives of great men all remind us, we can make our lives sublime, and, departing, leave behind us, footprints on the sands of time." Shah told his listeners of people who are "in jail just for speaking the truth." He reminded people "of the girls in Iran who are losing their lives fighting to remove the hijab."
It was a solemn and memorable time that was artsy, erudite, and at times disturbing because the shadow of the murder fell long. The thought-provoking morning put scientific temper, rationalism, questioning and freedom of expression on the highest pedestal.
20
Day in August 2013 when Dabholkar was killed