Govt asks several depts to address people's complaints and applications pending within 15 days; matters from before Sept 10 will be taken up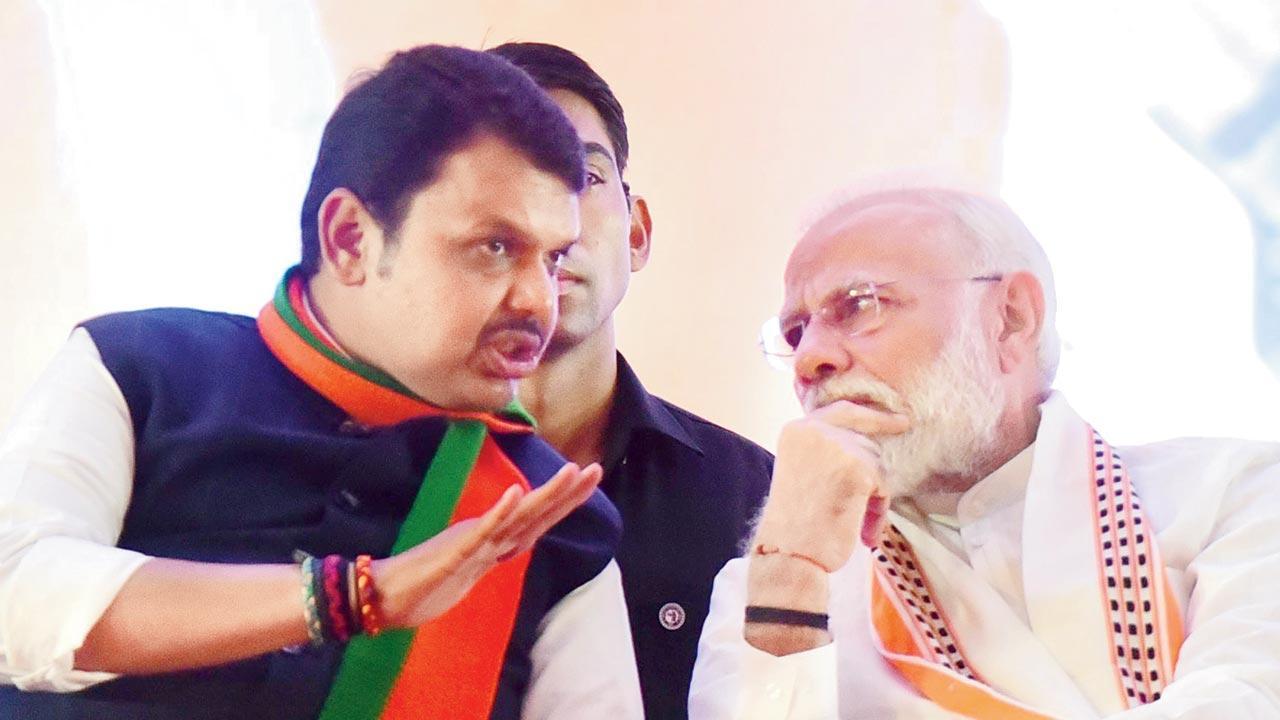 Dy CM Fadnavis with PM Narendra Modi at BKC. File pic/Ashish Rane
If you have a complaint or your application is pending for a long time, then expect a resolution within 15 days, from Saturday onwards. The matters received before September 10 will be taken up under a special, one-time initiative.
The state government on Monday announced the initiative that has been launched to celebrate the birthday of Prime Minister Narendra Modi (September 17) and the birth anniversary of Mahatma Gandhi (October 2).
Named 'Rashtraneta to Rashtrapita Fortnight', the initiative is expected to resolve the citizens' complaints and process pending applications "in a time-bound manner" within 15 days.
The matters that would be looked into are from state-run departments and state-controlled local self-governments, such as municipal corporations and electricity suppliers Mahavitaran and BEST.
After a cabinet meeting on Monday, Deputy Chief Minister Devendra Fadnavis said, "PM Modi-ji doesn't allow birthday celebrations. He asks us to serve the people instead. Hence we have come up with 'Rashtraneta to Rashtrapita Fortnight' service to serve the people in a time-|bound fashion."
He added that Chief Minister Eknath Shinde has instructed divisional and district heads to implement and submit a compliance report to the cabinet for review by October 10.
The state had made the Maharashtra Right to Public Service Act in 2015 to ensure that the citizens shall be provided government services in a transparent, efficient and time-bound manner, but things haven't changed as expected. Last week, Shinde convened a meeting of the good governance guidelines committee to find ways to get complaints/grievances resolved at local level instead of making the citizens line up at Mantralaya.
Also Read: Maharashtra: Not unhappy with party, says NCP leader Ajit Pawar
The services offered
. Land transfer, name change
. New ration card
. Marriage registration certificate
. Property registration
. New water connection
. Property tax assessment and demand letter
. New residential electricity connection     
. Assistance to rain-hit farmers
. Pending cases of Kisan Samman Nidhi
. Registration of beneficiaries under Birsa Munda irrigation scheme
. Forest land approval for tribal people
. Certificate of disability    
. Certificate of non-creamy layer Do you think political and commercial banners should be allowed at public places across the city?