Stalin D of Vanashakti NGO says truckloads of debris being dumped on wetland at Anjur-Dive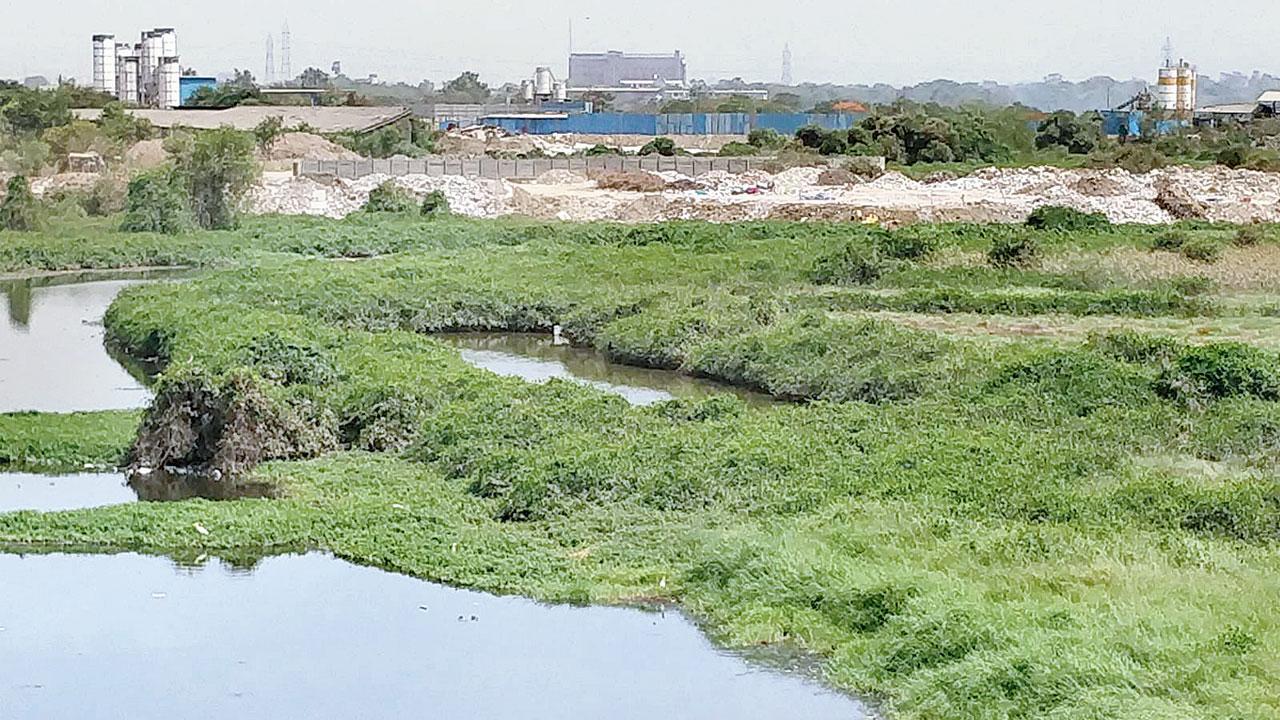 The NGO says the makeshift road on mangroves stretches over 1 km
The land mafia has allegedly built a makeshift road by dumping construction debris on a patch of mangroves near Thane, with an environmentalist accusing authorities of turning a blind eye to the brazen destruction of green cover. The road stretches over 1 km, said Stalin D from NGO Vanashakti. He fears some structures will be built on the spot and sold to unsuspecting buyers.
Stalin wondered how the police and officials from the local body have failed to notice the dumping of hundreds of truckloads of waste into the coastal wetland at Anjur-Dive village. He said the area sits within the limits of the Bhiwandi Nijampur Municipal Council.
Vanashakti has complained about the alleged ecological damage to the Thane collector, the Bhiwandi Nijampur civic body, divisional commissioner office, Konkan division, mangroves department, revenue department of Konkan region and Thane police commissioner.
"Water has been blocked and it does not flow into this site. Almost two hundred truckloads of debris has been dumped on the mangroves and wetlands and the tidal water spread has been blocked as well. Access to the site has been blocked by installing tall metal sheets and deploying security guards. But it can be seen from the Thane–Bhiwandi–Nashik road near Anjur village," said Stalin.
He accused authorities of consistently defying court orders and the directions of the mangrove/wetland committees. "Soon, buildings and structures will come up on this land and innocent buyers will invest money, while builders and violators will vanish," said Stalin, urging all government bodies concerned to take immediate action and save the wetland. Stalin said his NGO has also shared video clips and photographs with the authorities to back its claims.
"Please stop work immediately at the site and file FIRs against the landowners. Please put up boards warning people not to buy flats/shops/structures built on mangroves and wetlands. We urge immediate restoration of the sites instead of making reports that remain in files for posterity while lands get built on, sold and occupied. Please note that there is a history of almost 8 years of violations of environment, CRZ laws at Anjur Dive. No action beyond making panchnamas has happened so the violations continue. Please take proper action," he added.
While Vijaykumar Mhasal, commissioner of Bhiwandi Nijampur civic body, was unavailable for comment, an official from the Mangrove Cell of the forest department said, "We have visited the area but it is private land."