Health workers to ask NCD patients in their area this question; public health dept issues circular to register patients with hypertension, diabetes, give them free medicines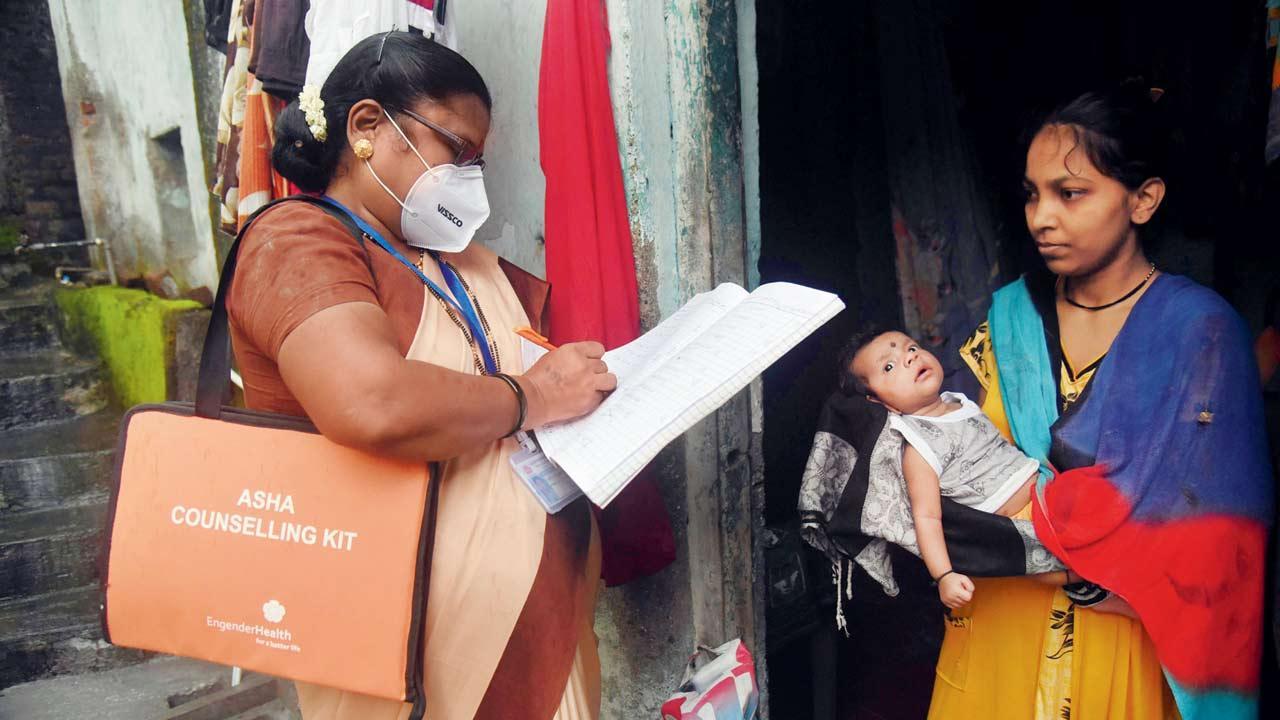 An Asha worker during a home visit. File pic
Good news for those suffering from hypertension and diabetes, as community nurses and health workers will soon start following up with them about whether they are taking their medicines regularly. The state health department has issued a circular to this effect in view of the increasing number of people suffering from non-communicable diseases (NCDs). Lakhs of patients suffer from diabetes and hypertension in Maharashtra and the state health department is making efforts to help them so that they do not discontinue their treatment.
In the circular addressed to the medical officers of municipal corporations, the public health department has mentioned that it is important to carry out such follow-ups at least once a month to ensure the patients continue the treatment. It directed all Urban Primary Health Centres and Urban Community Health Centres under municipal corporations to register patients with NCDs under the National Programme for Prevention and Control of Cancer, Diabetes, Cardiovascular Diseases and Stroke (NPCDCS).
ADVERTISEMENT
It also added that patients registered under the scheme would be given medicines free of cost and for that UPHCs and UCHCs need to be supplied with medicines that will be sufficient for three months. These centres have, in turn, been asked to distribute 1-month supply of medicines to patients at a time. In case, the patients are not able to come to the centres themselves, the Auxiliary Nurse Midwife (ANM) and Asha workers will be tasked with distributing the same during their field visits. Further, the health workers will need to follow up with the patients over phone to ensure they are taking the medicines. 
Additional Mission Director of National Urban Health Mission, Maharashtra Dr Satish Pawar said, "Patients suffering from ailments like hypertension and diabetes need to take medicines on time, but many patients are irregular, so ANM and Asha workers will get a list of 20-30 patients each in their area and will follow-up with them. They will have to counsel the patients to continue taking medicines and if all patients assigned to them follow, the health workers will be given an incentive of Rs 170-Rs 200 each month."
Last year from November 16 to December 31, the state health department conducted a free screening programme for 17.60 lakh people aged above 30 of whom around 1 lakh were diagnosed with diabetes and hypertension. The state government has set up 481 NCD clinics in district hospitals, rural hospitals, sub-district hospitals and women's hospitals.
The joint executive health officer, BMC and head of the NCD programme in Mumbai said, "Currently, there are 35,000 patients who take treatment from our dispensaries across the city. We have also started giving one-month's medicines to the patients and asked community health workers to follow-up."
1 lakh
No of people diagnosed with NCDs in last year's survey