The aim of the 'Savarkar Gaurav Yatra' is to spread awareness about the works of V D Savarkar among people and mark their protest against those who are speaking against the freedom fighter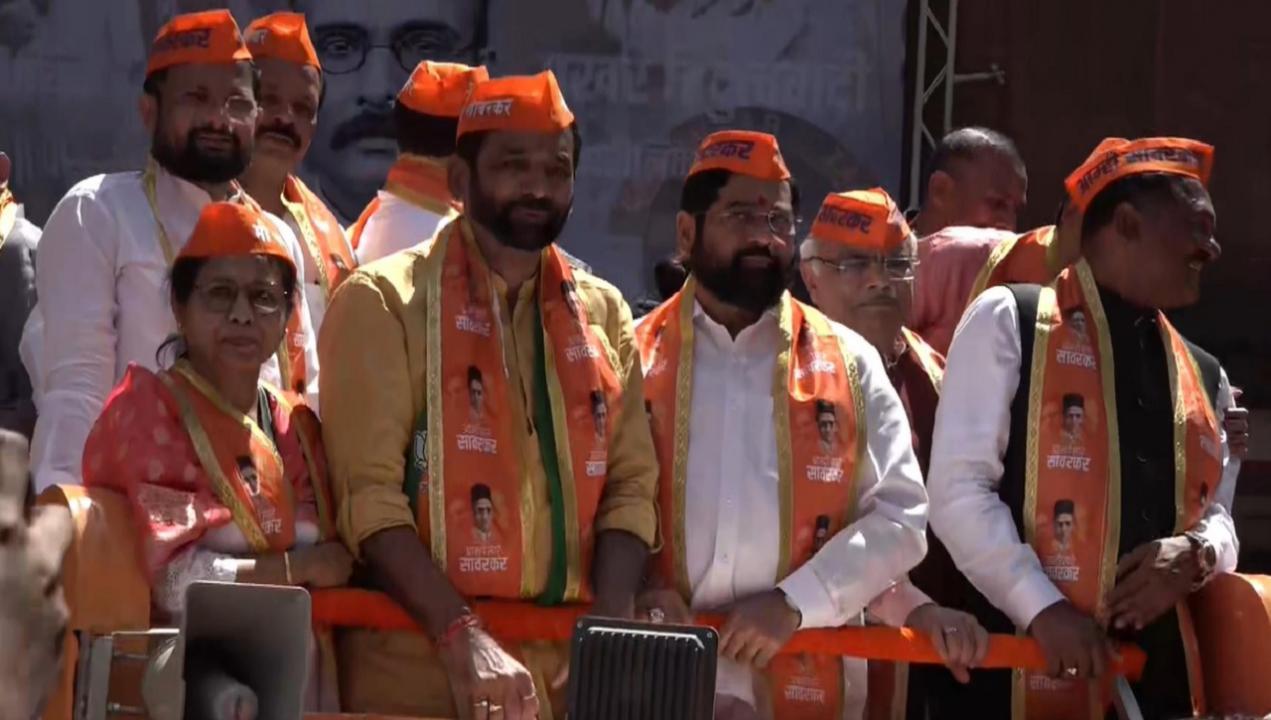 Eknath Shinde takes part in 'Savarkar Gaurav Yatra' in Thane. Screengrab
Maharashtra Chief Minister Eknath Shinde on Sunday took part in 'Savarkar Gaurav Yatra' in Thane in which hundreds of people took part to honour late Hindutva ideologue V D Savarkar.
The aim of the 'Savarkar Gaurav Yatra' is to spread awareness about the works of V D Savarkar among people and mark their protest against those who are speaking against the freedom fighter.
ADVERTISEMENT
सावरकर गौरव यात्रा | ठाणे https://t.co/Hy9kpr6rqR

— Eknath Shinde - एकनाथ शिंदे (@mieknathshinde) April 2, 2023
The Bharatiya Janata Party and Shinde-led Shiv Sena had last month announced that Savarkar Gaurav Yatras would be taken out in each district of Maharashtra to honour Savarkar's contribution to the country and to counter Congress leader Rahul Gandhi's criticism against him.
On Sunday, the yatra participants, wearing saffron caps with 'Mi Savarkar' (I am Savarkar) and other messages written on them, paid floral tributes to Savarkar at the Ram Ganesh Gadkari Rangayatan auditorium in Thane city from where the yatra commenced.
A tableau displaying information related to Savarkar was also part of the yatra.

Shinde and some other leaders of the ruling Shiv Sena-BJP coalition participated in the yatra on a makeshift 'chariot' and waved to citizens as the yatra moved to cover four Assembly segments in the city.
Flowers were showered on the participants as several of them moved around Thane city using more than 200 motorbikes and around 100 auto-rickshaws raising slogans in praise of Savarkar and the country.
BJP leader Dr Vinay Sahasrabuddhe, Thane MLA Sanjay Kelkar, Thane BJP chief and MLC Niranjan Davkhare, former mayor Naresh Mhaske, Shiv Sena MLA Pratap Sarnaik and many other local leaders of the ruling coalition participated in the yatra.
Huge hoardings of Savarkar were put up in the city, patriotic songs were played during the yatra and rangolis (colourful patterns) were made at various places.
A number of women in colourful attire and carrying lezims also participated in the yatra. 
Last week, Maharashtra CM Eknath Shinde targeted Shiv Sena (UBT) leader Uddhav Thackeray over Rahul Gandhi's remarks on late Hindutva ideologue V D Savarkar.
Shinde, who was addressing reporters alongside Deputy CM Devendra Fadnavis, asked Thackeray to show "courage" to oppose these remarks.
Shinde said the Thackeray-led outfit had crossed all limits when they joined the Congress in opposing Rahul Gandhi's disqualification as Lok Sabha MP last week.
Gandhi was disqualified on March 24 after a court in Surat in Gujarat sentenced him to two years in jail in a defamation case.
"What are you (Thackeray) going to do when you say you are not going to tolerate Savarkar's insult. You need to show that courage," Shinde told reporters.
Shinde said Shiv Sena founder late Bal Thackeray had launched a "joda mara abhiyaan" (hitting with slippers) in 2004 against the then Union minister and Congressman Mani Shankar Aiyar for his remarks against Savarkar.
"Those talking about Hindutva, their MLAs saying we will not tolerate Savarkar's insult were quiet for (the sake of) politics and Maha Vikas Aghadi. This is their double standards," Shinde alleged.
(With inputs from PTI)