Visually impaired singing troupe regales audience; hopes for uptick in opportunities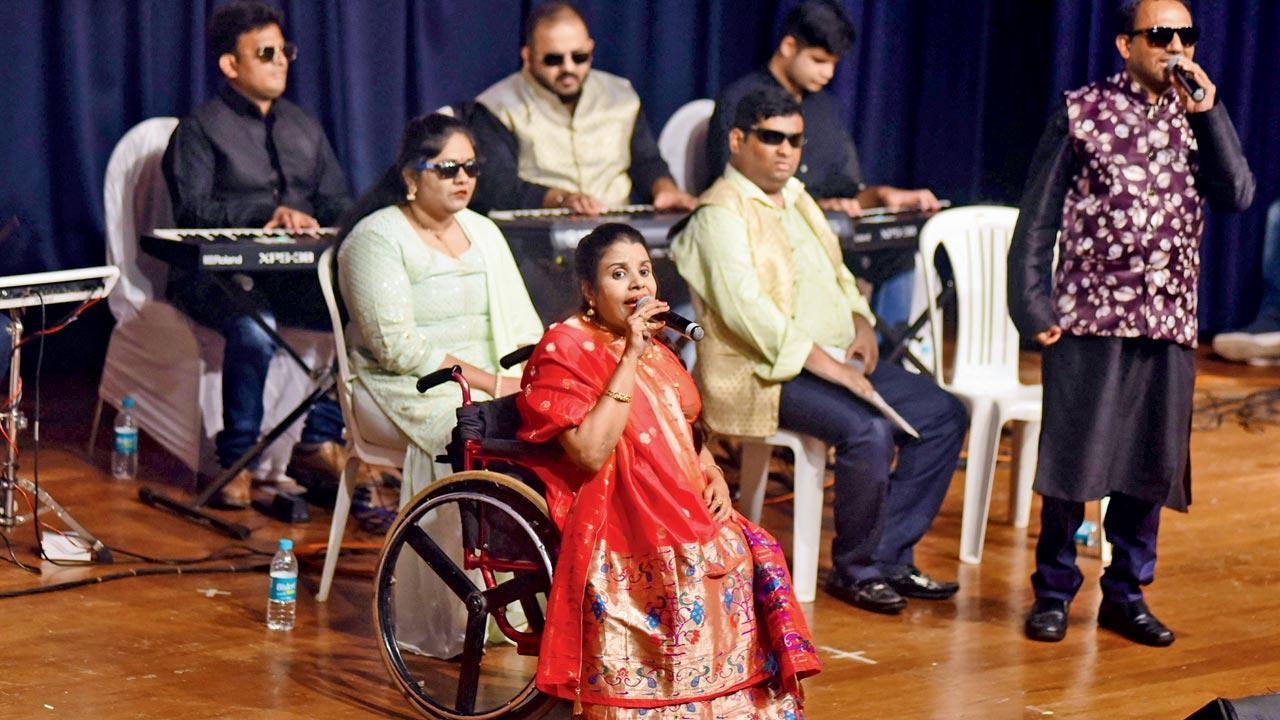 The troupe belts it out. Pic/Shadab Khan
Applause is especially important for the visually impaired artiste, as that is the only way that the performer knows the audience is enjoying itself. There was plenty of that on Sunday evening as blind singers regaled a compact crowd at the P L Deshpande mini-auditorium within the Ravindra Natya Mandir complex in Prabhadevi. Artistes from the Soor Drushti organisation performed Bollywood hits and a few other popular numbers.
Soor Drushti President Kaustubh Ghaisas stated, "I started Soor Drushti, a non-governmental organisation (NGO) just before the COVID-19 pandemic. I teach music to the visually challenged. These persons have a limited livelihood source, so I train them and really want to see that their skills are recognized."
Vitamin See
There were nine artistes. Out of these seven were blind and two were physically challenged. Three blind artistes were on the keyboard. They sang solo belting out golden oldies like, 'Babuji dheere chalna' where the audience cheered. As the soulful more contemporary, "Aapki madhosh nazare' garnered foot taps and wah wahs, we knew we were on to a good thing. The number, 'jaane man, jaane man tere do nayan…" actually had the audience singing in unison too. Post the  programme, a number of people actually climbed on to the dais as the group was wrapping up, and musical instruments were being packed away to congratulate the troupe for a zingy Sunday.
Also Read: Hope plans to reduce weight of school bags work
Audio ahoy
Debutant singer Samiksha Patil, who is blind, is pursuing an MBA at a Bandra College. She said as the event concluded and she was still on stage, accepting congratulations, "This was my first live stage performance. It may not have been evident but I was battling stage fear initially. We may be unable to see the audience but we certainly know that there are people, we do feel their presence."
The young woman when asked about life outside the stage, negotiating the city as a visually-impaired person said, "things are improving but we need to up the ante on audio announcements when it comes to infrastructure. More audio books will be helpful too. I hope we have some more avenues for our livelihood." The avenue bit may be closer than Patil imagined. There was a representative of a top corporate house on stage, post event. The company gives opportunities to the differently-abled, and the representative was just about to speak to this MBA student.
Avenues, please
The 'Gujjubhai' of the group as he called himself, who had also belted out a number in Gujarati, Ashok Parmar, a Borivli resident, works as a singer/artiste in a Matheran resort. He said,  "Awareness is increasing. Yet, we have had a tough time because of Coronavirus where all performers were adversely impacted. Of course, we were hurt most of all, as the window for opportunity is thinner for us. I think the government/entertainment industry authorities must impose some kind of restrictions on DJs. At least some regulations, so that we artistes have more chances."
Anchor Buddhagosh Kasare, who handled the programme with deft maturity and humour said, "Even though this is a 'live' performance, we cannot see the facial expressions of the audience. Yet, we can gauge from the applause that it was from the heart and we have touched a chord." Kasareadded, "We hope to get some opportunities for dubbing. I do not think many persons are aware that we can do dubbing. We can sing advertisement jingles too, if given the chance." Artiste Siddhesh Patil, added idealistically, "An artiste lives not just on food in his belly but audience appreciation. Seeing the latter, today, my stomach is full." Ghaisas signed off, "no more sympathy, only opportunity, we are working towards that. Even when there are programmes with differently-abled persons, you may have a troupe of sighted persons, and one blind person in that group. With this, I wanted to prove you can have an entire troupe that is differently-abled and they can get an audience to its feet, asking for an encore, like they did here." Do you follow any winter skincare routine?