Sena puts up brave face after Sharad Pawar goes incommunicado and Amit Shah says "everything need not be made public" about alleged clandestine NCP-BJP meet in Gujarat over weekend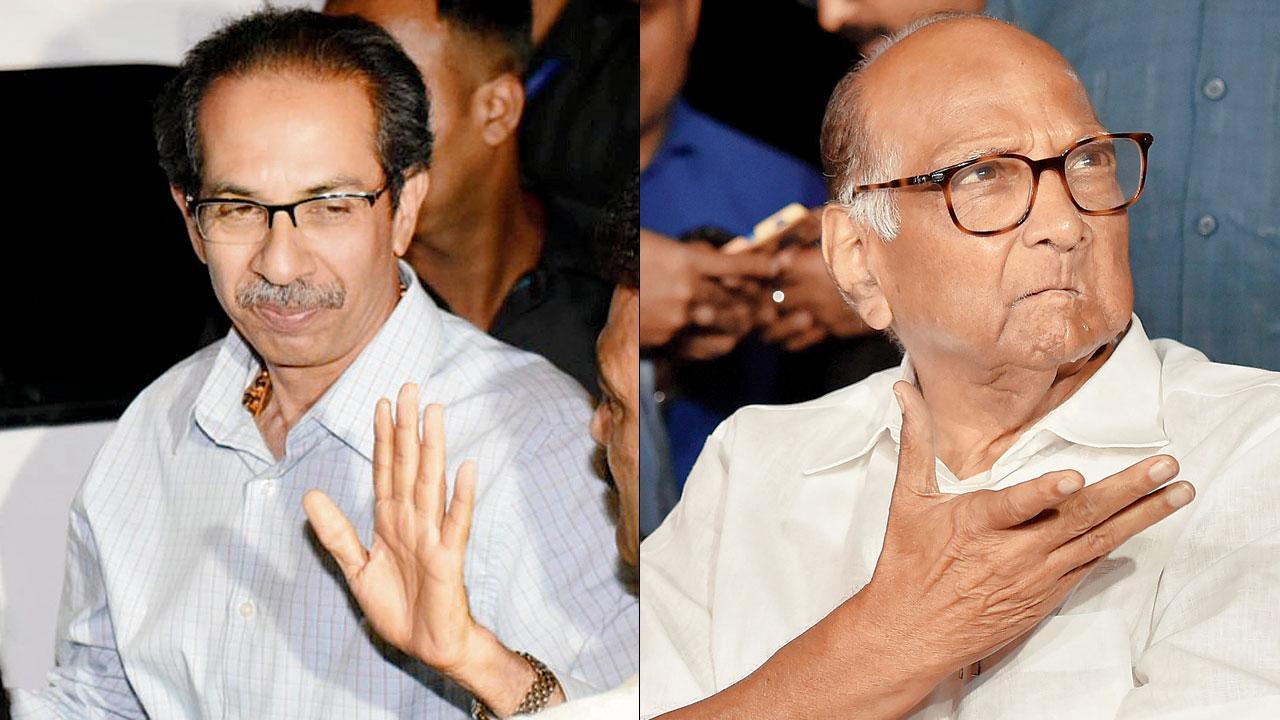 Chief Minister Uddhav Thackeray and NCP chief Sharad Pawar
Exactly seven weeks after he denied ever promising Uddhav Thackeray a rotational chief ministership during a pre-poll meeting in 2019 at Matoshree, Amit Shah on Sunday was at it again, saying "everything need not be made public", when asked about a much-rumoured dinner meeting between him and NCP chief Sharad Pawar at a Gujarat industrialist's invitation.

Union Home Minister Amit Shah
The leaders were reportedly hosted by a common industrialist friend in Ahmedabad on Saturday night. The NCP boss' trusted lieutenant Praful Patel accompanied them, said reports coming in from Gujarat.
NCP spokesperson Nawab Malik was prompt in denying the meeting, but BJP leaders, including Shah, neither denied nor confirmed it, giving rise to speculation that the two parties were up to something. Pawar was not available for comment because he had to be hospitalised for treatment.
Amit Shah's reply, "Everything need not be made public," added an element of suspense around the meeting. Relying on Shah's response, BJP leaders in Maharashtra said the meeting did really take place. "Why would Amitbhai say so? He could have denied when asked if he met Pawar," said state BJP president Chandrakant Patil, who is seen as a close associate of Shah.
Would the BJP go with NCP, yet again? Patil said it is up to his party bosses to decide. "Whatever they say would be the Maharashtra BJP's command," he added.

Chief Minister Uddhav Thackeray with NCP chief and MVA architect Sharad Pawar. File pic
The development shifted focus to the 'failed union' of the BJP and NCP in 2019, and its revival, if need be. In 2014, Pawar had declared unconditional support to the BJP's minority government, which the Sena joined a month later.
Deepening trust deficit
Remember a meeting in which Shah is said to have promised Uddhav Thackeray an equal share in power and the chief minister's post that later led to the Sena-BJP break up? Despite repeated reminders and allegations of betrayal from the Sena, Shah neither confirmed nor denied the supposed promise. He talked about the issue after the MVA completed a year in office, denying giving an assurance. Shah has followed the same strategy with regard to the dinner diplomacy with Pawar, allowing others to deny or confirm.
The three MVA partners are looking at each other with great suspicion and are expected to have a deepened trust deficit. Citizens already stressed amid the pandemic, have another reason to be perplexed and worried.

Union Home Minister Amit Shah. File Pic
In the past, a meeting between Prime Minister Narendra Modi and Pawar took place in November 2019 when the MVA was about to take shape. The two leaders were reported to have discussed the possibility of the alliance, which didn't materialise. The revelations about this meeting came much later in some books and through BJP leaders, who, in 2019, had denied Shah making any promises.
Commenting on Shah's response, Shiv Sena spokesperson Sanjay Raut said, "Shah had said something like a closed-door meeting between him (Shah) and Thackeray could not be made public, but he spoke about it later (at the inauguration of  a medical college of Narayan Rane's in Sindhudurg in February this year)."
NCP-BJP's failed alliance
In 2019, formed with the NCP's splinter group, Devendra Fadnavis' second government had failed to prove a majority. NCP's Ajit Pawar had taken the oath of deputy chief minister's office. Ajit returned to his uncle's camp with the same post and Pawar made Shiv Sena president Thackeray the CM. But a lot of developments have happened since then. It is said in political circles that the alliance's honeymoon period is over, and a critical time has taken over the bonhomie.
Of late, NCP and Sena are under fire in cases related to the explosives found in a car near industrialist Mukesh Ambani's South Mumbai residence. In over a month's time, a criminal case has turned into a situation akin to a political crisis. The MVA has thwarted the BJP's attempts in the past but is left wanting on many fronts in the current scenario, creating a blame-game between the partners.
Out to seek advantage by projecting it as the perfect case for the MVA to fall, BJP insiders have again started giving a new deadline for installing its government. The ruling party in the Centre hasn't stopped threatening a President's Rule over failing law and order and encouragement of corruption. This, especially in the police department with former Mumbai top cop Param Bir Singh approaching the court against state Home Minister Anil Deshmukh. In the past, central agencies have taken up investigations in some important cases and against some political individuals, making the MVA accuse the Centre of a witchhunt.
Sena speaks
Does the Pawar-Shah meeting harm MVA's stability? Raut didn't see such a threat. "Nothing will happen to this government. It will rule for the full five-year term. Political leaders cutting across parties do meet. There is no secret about such meetings. Pawar is one of the senior-most leaders of the country. He may have issues of public importance to discuss with the Union Home Minister. What's wrong in it?" he said on Monday.
A senior Congress leader said the unpredictable NCP could do anything. "We haven't planned anything that can damage the MVA government. But we can't say the same for NCP because of its unpredictable nature," he said.