Around 5.15 am, electricity was disconnected to the area in the vicinity of the Nagpur Central Jail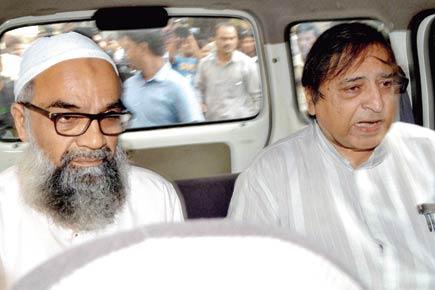 Lights out
Around 5.15 am, electricity was disconnected to the area in the vicinity of the Nagpur Central Jail. Not even a streetlight was on. Around 20 minutes later, power was restored.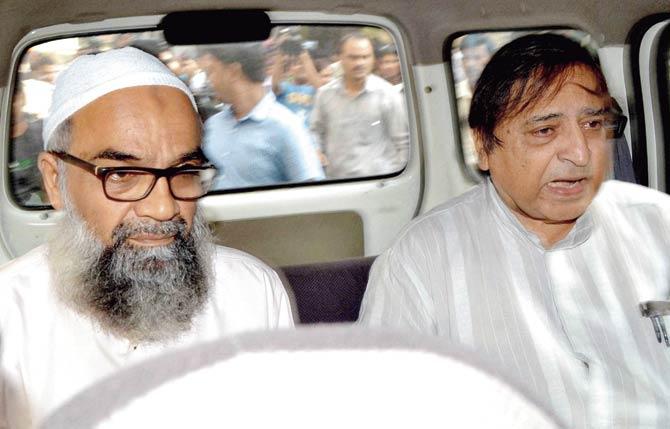 Yakub Memon's brother Suleman (left) and cousin Usman headed to the Nagpur Central Jail after Yakub's hanging. Pic/PTI
The disconnection and restoration was done by the Nagpur Police as a form of signal communications to indicate to the jail authorities that the bandobast, including Force One teams, was in place and they could go ahead with the hanging.
Will on plain sheet
Yakub made his will on Wednesday night. Since the jail did not have stamp paper, they asked him to write it on a plain sheet. Yakub's will says his property should be divided in three equal parts. One part should go to his wife Raheen, one to daughter Zubeida and the third to his brother Suleman, as the latter had spent a lot of money on Yakub's legal expenses.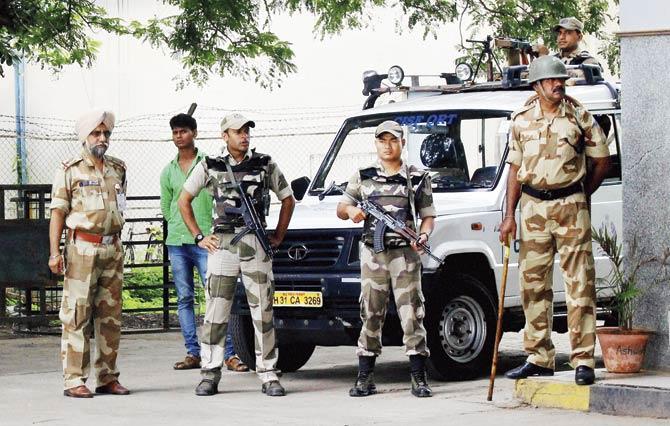 Security personnel stand guard outside the Nagpur airport
Jail Superintendent Yogesh Desai and a witness have signed on the sheet of paper, which will be considered Yakub's official will. The 1993 blasts convict had Rs 6,500 with him, which was handed over to his family. All his other belongings will also be handed over soon.
'Going to sleep forever'
"On Monday and Tuesday night, Yakub had not slept and had planned to remain awake till his last breath, saying there was no point sleeping since he was going to sleep forever anyway. Some of his fellow inmates skipped lunch on Wednesday to spend time with him.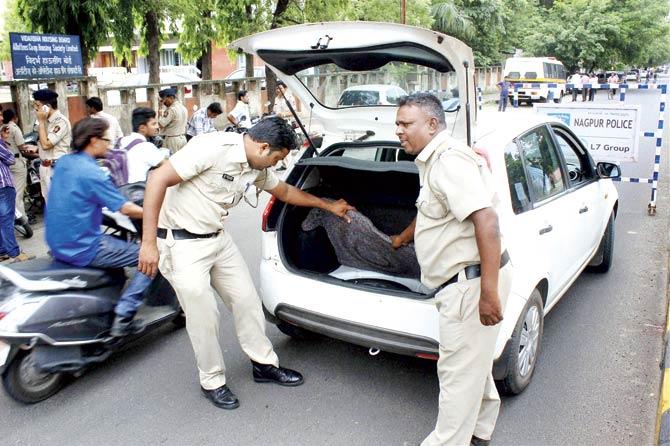 A car being checked at a nakabandi in Nagpur yesterday. Pics/PTI
Later, he was shifted to an isolated cell near the Faasi yard and, while leaving, he wished them luck and said 'God bless all'," said a jail official. "When he was asked whether he wanted to shave or dye his hair on Wednesday, he said he preferred to keep it the way it is.
He skipped dinner the night before his hanging and kept reading the Quran. Around midnight, he requested the jail officer to be allowed to meet his fellow inmates. A couple of hours later, around 2 am on Thursday, he couldn't stay awake anymore, and fell asleep," he added.
'I am innocent... this is injustice'
According to jail officials, after Yakub slept at 2 am, it took three attempts from them to wake him up. When he got up, he offered prayers and was given a bucket of hot water, which had some rose water in it, for a bath. During the bath, he was chanting God's name and reciting various phrases of the Quran.
Doctors examined him, checked his blood pressure, which was normal, and then a senior jailer and three constables marched him to the gallows. Yakub kept saying: "Main begunah hoon (I am innocent). This is injustice." A few minutes before the hanging, as per the jail manual, a spiritual leader asked Yakub to confess his sin, but he replied that he was innocent.
Yakub then recited a phrase from the Quran which meant, "And it is He Who gave you life, and it is He who will cause you to die, and it is He Who will then resurrect you. Man is indeed extremely prone to denying the Truth." He went on to say, "No soul can ever die except with the permission of Allah and justice will be given to him in Allah's court, which is Supreme."
'Allah was his last word'
"Before the hood was placed on Yakub's face, he insisted that he wanted to see the rising sun, which we could not allow as the hanging had to take place before sunrise. He kept taking Allah's name, only getting louder as the noose was tied around his neck. He was calm, however, and showed no remorse," said a jail official.
"'Allah, the Almighty, is All wise and the Knower of All things. I am innocent and I must not be hanged. It's injustice and I am a victim of political murder,' Yakub said. Even when the lever was pulled, he kept chanting God's name and reciting verses from the Quran. Allah was his last word," he added.
Hangman: He showed no remorse, why should we?
Two of the three hangmen who carried out Yakub's execution were the same men who had executed Pakistani national Ajmal Qasab on October 21, 2012 at Yerawada Central Jail. While one of them said it was his third hanging, another said it was his second. Speaking to mid-day, one of the hangmen said, "It's our duty.
If you put aside the individual viewpoint for a second, you realise that getting an opportunity to hang a terrorist who has harmed, this is a privilege as an Indian. After the execution, I went home, had a bath, slept for three hours and then resumed my duty. Yakub showed no remorse, so why should we?"
He wished daughter Happy B'day
According to a jail official, on Wednesday evening, he wished to have a last telephonic conversation with his daughter and wished her Happy Birthday in advance for July 31.
"Yakub said sorry for never ever being able to give her happy times, for not being able to celebrate her birthday and for not being able to be a good father. His last wish was to get a last glimpse of his daughter," he said.