As promised, a bevy of famous faces made their way to the Gateway of India on Thursday night for an under-the-stars Dior fashion showcase that the city will puff its chest over for a while to come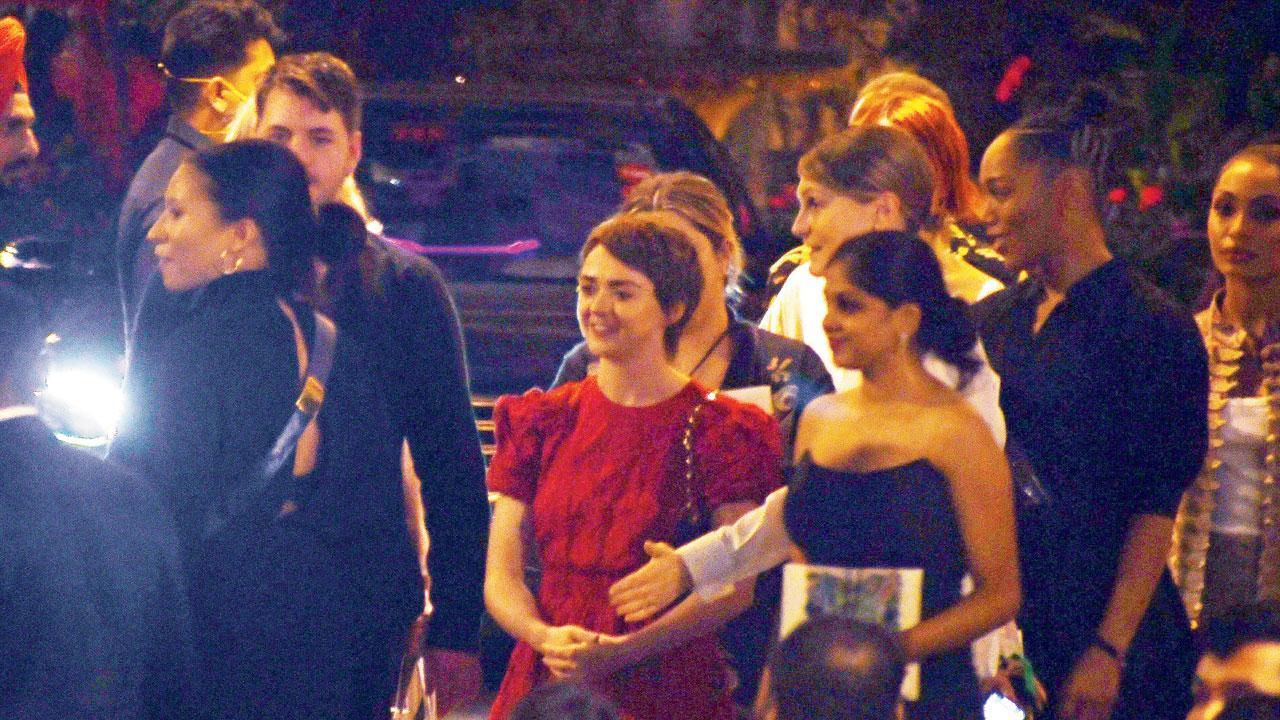 GoT actress Maisie Williams outside the Taj hotel, on Thursday. Pic/Ashish Raje
Mumbai is lit tonight," we overheard one of the guests say after taking a long and careful look at those seated in the show area at the Gateway of India on Thursday night where the Dior Fall 2023 runway showcase was scheduled to begin.
And lit it was. From veteran Bollywood actress Rekha to British actress and supermodel Cara Delevingne to magician shoemaker Christian Louboutin, Bridgerton's Simone Ashley to Shweta Bachchan, Karisma Kapoor and Sawai Padmanabh Singh or Pacho, everyone who mattered was present. Isha Ambani walked in with an entourage of masked bodyguards. We also spotted Anushka Shankar, Lakshmi Menon, Indrani Dasgupta Paul, Ujjwala Raut, Masaba Gupta, Arjun Kapoor, Ananya Pandey, Khushi Kapoor and  Virat Kohli. Sonam Kapoor sat alongside Business of Fashion's Imran Amed. Delayed by an hour, interestingly the show started right after Rekha made her grand entry in the trademark Kanjeevaram. Despite a smorgasbord of famous faces, the star of the evening remained the majestic Gateway, its basalt exterior gathering a warm sheen under the lights.
ADVERTISEMENT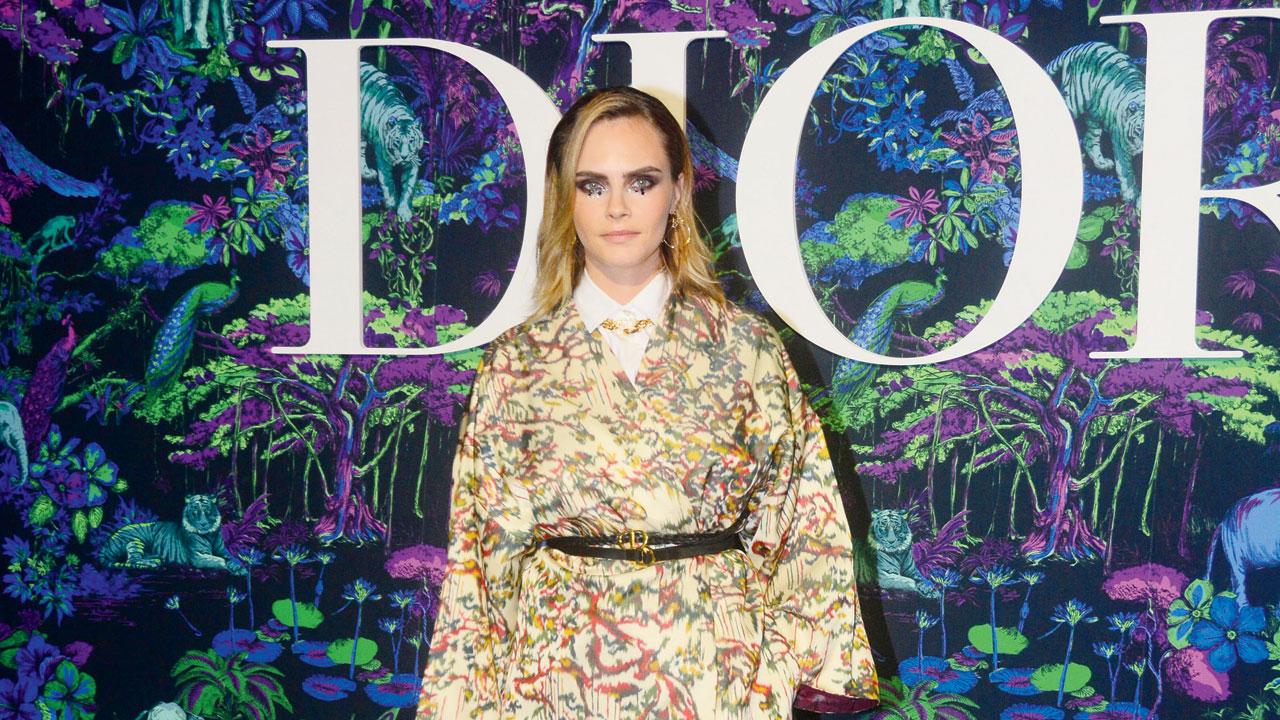 British model and actress Cara Delevingne poses for the shutter bugs. Pic/Satej Shinde
Highlighting it was a collaboration between Christian Dior and Mumbai's Chanakya School of Craft — The Toran, an ephemeral, site-specific public artwork made under the stewardship of Karishma Swali, who imagined the 46-foot-tall installation as a poetic representation of the power of community and her 25-year collaboration with Dior's Maria Grazia Chiuri. Over the seasons, Chanakya and Dior have worked together to highlight and celebrate Indian artisanship, and to allow women to express themselves.
The handcrafted artwork replicated the triumphal arch of the Gateway embellished with a decorative hanging, reminiscent of the doorways of Indian homes bedecked with fabric, embroidery and beadwork. The women karigars of Chanakya and master artisans handcrafted the Toran, which had a base of natural fibers and used 25 craft techniques including phulkari, mirror work, french knotting, and kantha. Folk iconography including elephants, mandalas, lotus, tigers, and the peacock brought the Toran alive.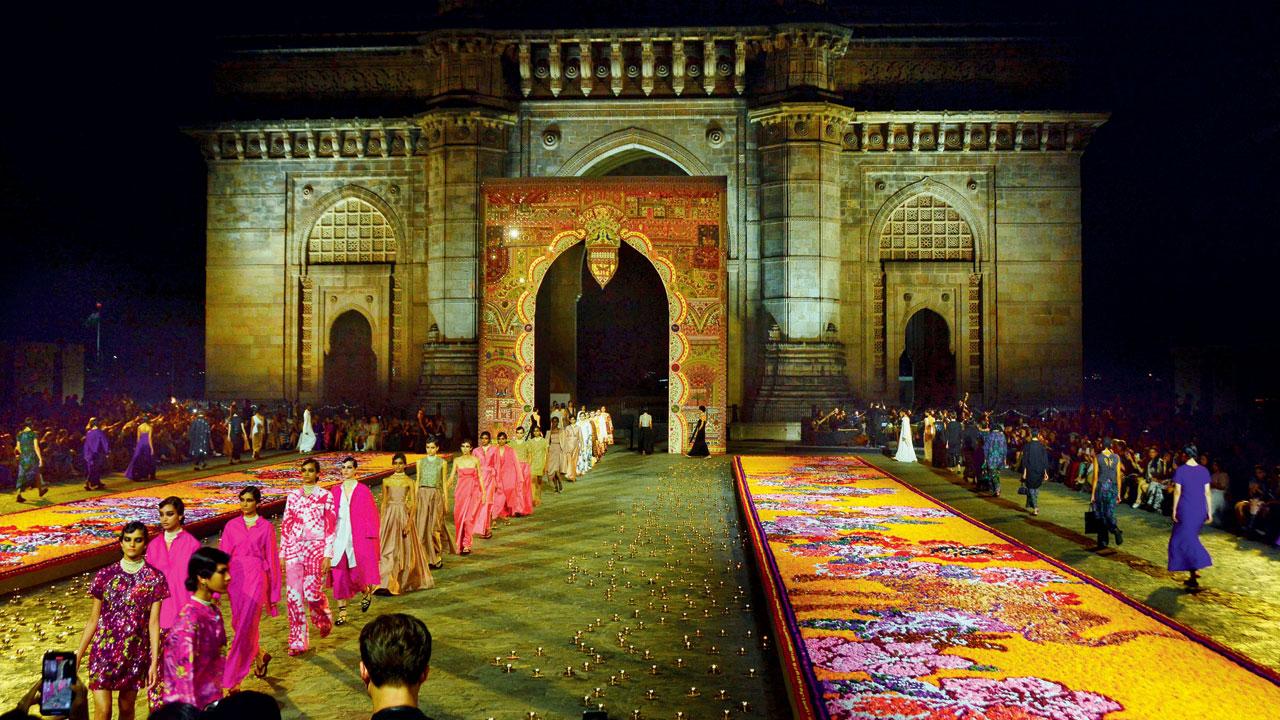 Models walk the ramp at the fashion show against the backdrop of the Gateway of India, on Thursday. Pic/Satej Shinde
In an ostentatious but fitting tribute to India, the runway was lit with diyas flanked by beds of marigold flowers. To the rhythm of the tabla and strains of the sitar, the models wafted onto the stage like celestial beings, showcasing mirrored and sequined embroidery, hot pinks and turmeric yellows (we loved the clever little Madras check saree drape-inspired gown), all deftly elevated to a level of sophistication that could only be the result of a legendary French couture house jamming with heritage Indian crafts. Is Delhi still the fashion capital? Just checking.