Moving to Delhi as a teen, I discovered the figure of the "crass Punjabi". Those who considered themselves refined shuddered at the thought of crass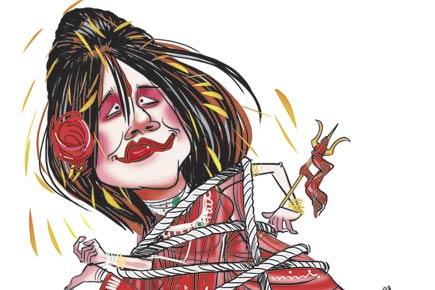 Moving to Delhi as a teen, I discovered the figure of the "crass Punjabi". Those who considered themselves refined shuddered at the thought of crass. They didn't mean those who lived in posh places like Sujan Singh Park, but post-Partition migrants, gaining a commercial foothold in the city. They had money, but alas, no taste. Those shuddering at them may or may not have had money — but apparently, they had "class." One example of crass was "may-roon" lipstick (as some not convent-educated Punjabi ladies mispronounced maroon) — "loud" as opposed to "subtle" rose pink and beige chiffon. Your money didn't make you privy to the aesthetic and cultural codes established by people who had money before you. That's how insiders and outsiders, jumped-up impostors and authentic inheritors were sorted. Social change ignored via snobbery.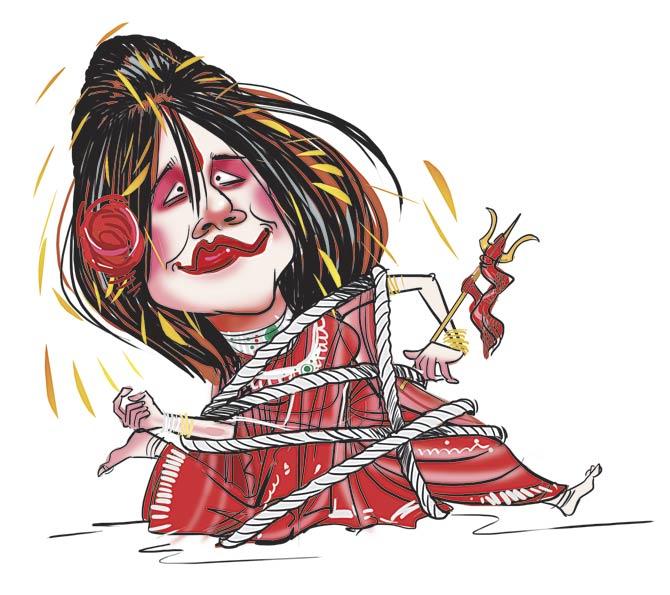 This dastaan-e-lipstick has now gone national via Radhe Maa. The dowry case enters discussion almost as an afterthought. Why discuss dowry — we may find that's a crass custom shared by insiders and outsiders, hai na? But folks are very keen to denounce Radhe Ma for her aesthetics.
For instance, Rishi Kapoor appeared on TV to express his disparagement (a doctorate conferred by the University of Twitter). He seemed partly outraged that apparently (he heard), Radhe Maa had violated the Trishul Usage Code by once using her trishul as comb. Partly, he objected to calling a human being 'god'. Mr Kapoor also declared his abiding belief in Mata Vaishno Devi. The news anchor, going by her questions, was baffled by Radhe Maa's devotees but never wondered why Mr Kapoor's belief in the divinity of an idol is authentic, while belief that divinity resides in a woman dressed as a bridal goddess is counterfeit. After all, if you believe in belief, then who decides which faith is more correct?
Radhe Maa's aesthetic universe is blingy. Her outfits — sometimes, bridal, sometimes, stylized honeymoon wear, Western ensembles combined with Balaji soap style sindoor and chuda — speak of drag queen aesthetics. There is a queer energy in the somehow borderless, libidinal kitsch of her satsangs, where disciples dance with her to Bollywood songs, passing her around like a doll. It's trance, transplanted from the provincial countryside to Bombay's outer suburbs. If it was called Sunburn, some of us would pay for it too.
Maybe, it is obscene, as one lawyer has alleged. Maybe, it just looks obscene to those who imagine gurus as conforming to another "classy" aesthetic. It's another example of the crass Vs. class divide — the "I'm not religious, I'm spiritual" divide.
According to this belief, religion is desi, provincial, backward, superstitious, tacky. Spirituality is authentic, saatvik, insightful, tasteful. Religion is material. Spirituality is ethereal, not concerning the body.
The idea that spirituality breaks away from orthodoxy, forged among those whose bodies and beings were marginalised, because of caste, gender or sexuality, becomes gentrified by A-list gurus via subtle, sufiyana aesthetic which minimises the body. The body sweats, smells, decays, desires, attracts, repels, limits us. Spirit is somehow odourless and formless, above these limitations. This aesthetic, equalising on the surface, masks the divide between crass material and pure ethereal.
Of course, no A-list guru seems to suggest their A-list followers abandon the material wealth and cultural power on which A-listness depends. Such gurus are not mocked, but invited to conferences and news shows.

Paromita Vohra is an award-winning Mumbai-based filmmaker, writer and curator working with fiction and non-fiction. Reach her at www.parodevi.com