BMC-appointed committee to look into the annual traffic nightmares in waterlogged areas during monsoon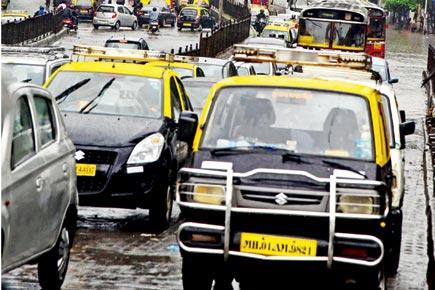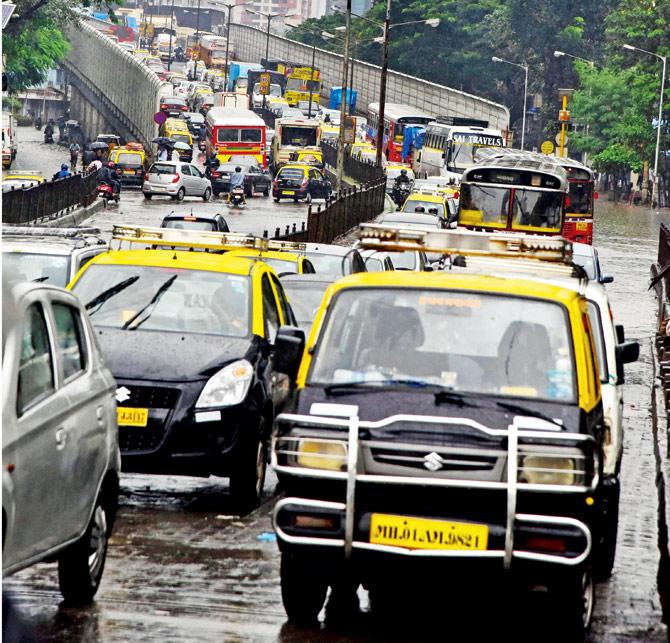 A file photograph of a traffic snarl across water-logged Parel and Hindmata flyovers. Pic-Atul Kamble
After the deluge that followed the heavy rain on August 29, when the city came to a standstill, the Brihanmumbai Municipal Corporation (BMC) has gone into damage control mode. In a review meeting held by civic chief Ajoy Mehta on Friday with ward officers and heads of BMC departments, there were discussions about elevating the Parel flyover and Gandhi Market flyover in Sion so that traffic can be streamlined.
As the civic body has been stating for several years, the low-lying and saucer-shaped areas of Hindmata and Gandhi Market areas get heavily flooded after rainfall of more than 100 mm, causing traffic disruptions in the city. Civic officials discussed an alternative for traffic movement by creating an elevation apart from augmenting the drainage network of the city. Keshav Ubale, ward officer, F north, that comprises areas susceptible to flooding, suggested elevating the Parel flyover so that it connected directly to Hindmata flyover. This, he said, would ensure that traffic moves directly from one flyover to the next. He said, "Owing to flooding at ground level, vehicles get stuck, and we cannot afford an arterial road like Dr BA Road to be affected owing to flooding."
Mehta has instructed the 24 ward officers to come up with a detailed study of their areas and submit solutions to a two-member committee of Director VP Chithore and Additional Municipal Commissioner Vijay Singhal. The two will be preparing an action plan for the city to avoid such a situation in the future by taking into account the solutions listed by the ward officials and storm water drain department officials.