Celebrations marking the 350th anniversary of the coronation of Chhatrapati Shivaji Maharaj began at the Raigad fort in Maharashtra on Friday morning in presence of state Chief Minister Eknath Shinde and Deputy CM Devendra Fadnavis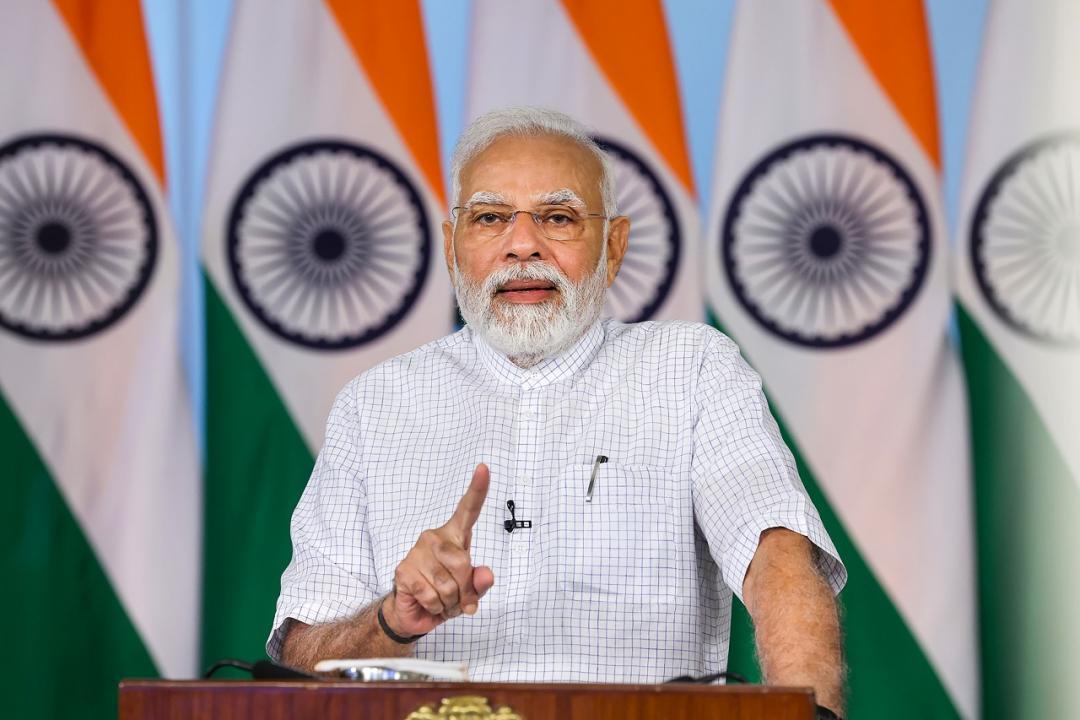 Prime Minister Narendra Modi. File Pic
Prime Minister Narendra Modi on Friday said Chhatrapati Shivaji Maharaj epitomises courage and his life as well as ideals are a source of inspiration.
PM Modi said this in a video message that was played at the state-level function being held to celebrate the 350th anniversary of the coronation of the Maratha warrior king at Raigad fort in Maharashtra.
ADVERTISEMENT
"Welfare of the state and its people was the basic principle of Chhatrapati Shivaji Maharaj's rule. The 350th anniversary of the coronation of Chhatrapati Shivaji Maharaj is an inspiration and source of energy and an important chapter of India's history," PM Modi said.
"The main aim of a leader is to keep his people motivated. Shivaji Maharaj ended the mindset of slavery among people, protected them and the state from invaders and instilled among people the confidence of self-rule. He not only set up 'swarajya' (self-rule), but also implemented 'sushasan' (good governance)," he said.
His life and times continue to inspire us. The manner in which he expanded his Navy, and built sea forts, is inspiring, the prime minister added. 
Celebrations marking the 350th anniversary of the coronation of Chhatrapati Shivaji Maharaj began at the Raigad fort in Maharashtra on Friday morning in presence of state Chief Minister Eknath Shinde and Deputy CM Devendra Fadnavis.
Shinde and Fadnavis took part in various rituals to mark the coronation of Shivaji Maharaj at the Raigad fort, around 170 km from here. Culture Minister Sudhir Mungantiwar performed 'jalabhishek' (ritual of offering water) on the idol of the 17th century king. The water was collected from rivers across Maharashtra.
A state police band paid obeisance to the founder of the Maratha empire by playing Maharashtra's state song 'Jai Jai Maharashtra Majha, Garja Maharashtra Majha'. Flower petals were showered on the statue of Shivaji Maharaj from a helicopter.
The state government has organised week-long programmes to celebrate the coronation anniversary at the fort.
Both Shinde and Fadnavis greeted people of the state on the 350th anniversary of "Shivrajyaabhishek'.
Fadnavis tweeted, "Do join the year long series of grand celebrations of 350th Year of ShivRajyabhishek, the Coronation Ceremony of Chhatrapati Shivaji Maharaj in Maharashtra."
In a tweet posted on Thursday, CM Shinde said in order to propagate the ideals of Chhatrapati Shivaji Maharaj to each and every home, the government has organised various programmes till June 7.
(With inputs from PTI)