Preparing for Lok Sabha polls in 2024, BJP is looking at bringing upper and backward classes, like the Kushwaha community, together against RJD-JD(U) alliance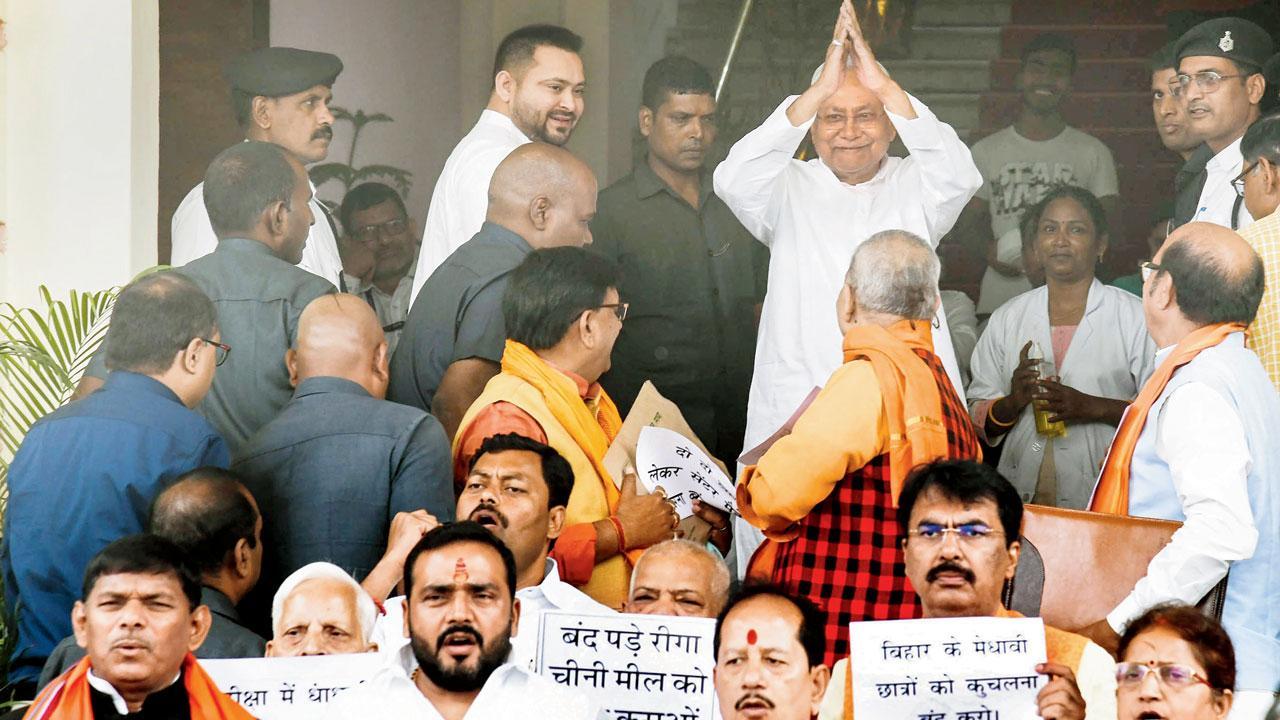 Bihar CM Nitish Kumar and Deputy CM Tejashwi Yadav arrive as Opposition leader in Bihar Assembly Vijay Kumar Sinha with BJP legislators stages a protest during the Budget Session, in Patna. PIC/PTI
The BJP is eyeing a rare social coalition including "upper" castes and a majority of backward classes in Bihar for the 2024 Lok Sabha polls. With this the party bids to vanquish the formidable RJD-JD(U) alliance, which had inflicted a crushing defeat on it in the 2015 assembly elections.
While Lalu Prasad Yadav's Rashtriya Janata Dal (RJD) may be the strongest party in the Bihar ruling alliance, the BJP believes that its road to success lies in the dismantlement of the support base of Chief Minister Nitish Kumar's Janata Dal (United), which has long enjoyed the backing of a collection of non-Yadav backward castes and some Dalit communities. Union Home Minister Amit Shah will on Sunday attend programmes to mark the birth anniversary of the great Maurya emperor Ashoka, in Patna.
ADVERTISEMENT
Also Read: Bihar: No hike in electricity bill, CM Nitish Kumar announces subsidy of Rs 13,114 cr
On his fourth visit to Bihar in the last seven months, Shah's programmes are seen as part of the BJP's ambitious drive to woo the numerically strong Kushwaha (Koeri) community, which believes that the emperor came from their stock. Believed to be around 7-8 per cent of the state's population—the second-highest after the Yadavs—the backward caste has often backed Kumar in the polls.
By appointing Samrat Choudhary, a Kushwaha, as its state unit president, the BJP has shown its intent to go all out to court the community. With both the Yadavs and the Kurmis, the caste Kumar comes from, having had their chief ministers, there is a view among the Kushwahas that it is their turn now. The BJP may exploit this to its advantage, party leaders said. Nagmani, veteran Bihar politician and bitter critic of the RJD-JD(U) leadership, said people are fed up by the over-three-decade rule of "Lalu-Nitish". The Yadavs and the Kurmis have had their share in power but the Kushwahas have been left behind, he said.
Getting set for MP
In MP ahead of the 2023 state polls, Congress banks on anti-incumbency, while BJP relies on 'Modi Magic'. Congress leaders believe there is voter fatigue and decreasing popularity of CM Shivraj Singh Chouhan, which will be an extra edge for them. BJP, on the other hand, has already put foot soldiers at work in all earnestness to beat the anti-incumbency of four terms.
7-8
per cent of Kushwaha (Koeri) community in Bihar
This story has been sourced from a third party syndicated feed, agencies. Mid-day accepts no responsibility or liability for its dependability, trustworthiness, reliability and data of the text. Mid-day management/mid-day.com reserves the sole right to alter, delete or remove (without notice) the content in its absolute discretion for any reason whatsoever